A chainsaw is generally used for cutting wood with sharp blades linked to a moving chain drive. The guide bar is used to drive the chain. This machine can run on electricity, cordless power, or gas.
It is transportable and has a lightweight construction. This tool helps clear thick bushes, maintain backyards, and remove fallen branches.
It is really important to pick the best chainsaw to avoid unnecessary hassle. Go through this ECHO 500p vs. 501P analysis to find out the best chainsaw for you.
A Quick Comparison Table
Here is a quick comparison table for your better understanding-
| | | |
| --- | --- | --- |
| Specifications | ECHO 500p | ECHO 501p |
| Weight | Heavy | Light |
| Chain Length | Available in 16'', 18'', 20'' bar length | Available in 18'' and 20'' bar length |
| CDI ignition System | Available | Not Available |
| Warranty | 5 years | 5 years |
| Price | $429.99 | $499.99 |
| Fuel Capacity | 16.9 | 16.6 |
Key Differences Between ECHO 500p And 501p Chainsaw
In this part of the article, we will analyze the major differences between these two chainsaw models in detail-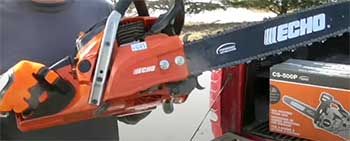 Working with a heavy chainsaw can be a hectic task. Even professionals want chainsaws that are lightweight and easy to carry.
When you cut a block of wood, you need to keep your hand steady. Otherwise, the wood will not be cut perfectly, and accidents can also happen.
So, to avoid these issues, you should always look for lightweight chainsaws.
ECHO 501p stands out in that case. ECHO 501p is slightly more lightweight than a 500p chainsaw. This feature will make your task a lot easier.
The weight of a chainsaw also depends on the length of the chains. In the next point, you will have a clear idea about this matter.
It is crucial to consider the nature of your work and the type of your activity when choosing the chain length.
A chainsaw with an 18'' or 20'' bar length is ideal for cutting average sizes of wood. But if you want a lightweight chainsaw, you can consider choosing a 16'' bar length chainsaw.
You might think that a 16'' bar length chainsaw is slower than the large ones, or it will take you a while to cut the wood. But the fact is, if the engine works perfectly, bar or chain length does not matter a lot.
ECHO 500p chainsaw gives a little bit of advantage in this case. It provides more options in the case of chain and bar length. So, if you think the chain length is important to you, go for ECHO 500p.
the CDI Ignition system operates by running an electrical current over the capacitor. The ignition coil receives the flow of electric electricity as soon as it passes through a capacitor.
Instead of absorbing any energy, the charged ignition coil functions as a transformer and lets the energy travel through it.
When a CDI ignition system is available on your chainsaw, you do not have to worry about the fluctuations of the voltage.
This system takes care of these ups and downs as well as protects the engine.
So, if you are the one who constantly gets worried about the health of the engine, ECHO 500p is for you because it has a CDI ignition system in it.
Customer Satisfaction and Reviews
ECHO has been a pioneer in the design and production of professional-grade, portable outdoor power equipment for both the industrial and consumer industries for the past 50 years.
The company now has 6,600 independent dealers selling its goods across North America through eight wholesalers.
A total of 24 more distributors in Latin America provide ECHO products via a range of distribution methods. So, the company's reputation and customer satisfaction have always been at their peak.
But there can be found some exceptions sometimes. ECHO 500p chainsaw got some negative reviews from the customers over time. The negative reviews are mostly about their warranty policy.
ECHO 500p and 501p both provide 5 years warranty for the residential application, a 1-year warranty for commercial application, and 90 days warranty for rental application.
But in some reviews, customers said that they faced difficulties while using the 500p chainsaw and did not receive proper service from the company's end.
Price is one of the most crucial factors for many of us when we decide to buy something. So, keeping the cost variation in mind can help you to dispute the dilemma.
ECHO 500p is clearly the less expensive one here. If you have a limited budget, just go for the ECHO 500p chainsaw. It will give you almost the same features as ECHO 501p at a lower rate.
Other Specifications and Features
ECHO is one of the best chainsaw providers in the market. Their 500p and 501p chainsaw models are considered to be the most popular ones. The reason behind this is obviously their specs and features.
Though the specs and features of 500p and 501p are almost the same, let's have a look into some other major specifications of the 500p chainsaw: 50.2 cc professional-grade motor (2-Stroke), performance cutting system, spring-Assisted Easy Start-Up, two-piece flocked Air Filter Engine Protect, automatic oiler, and Anti-Vibration System made the ECHO 500p chainsaw superior to other available options in the market.
ECHO 501p chainsaw is not any less than 500p.
It also has some amazing features. 50.2 cc professional-grade, 2-stroke engine, Professional-grade bar and chain, G-Force Engine Air Pre-Cleaner, Captive bar nuts, Automatic, adjustable clutch-driven oiler, Top-mounted, tool-less access, two-piece air filter, Ergonomic aluminum front handle, Decompression valve – these features and specs made 501p chainsaw super unique.
Watch the video for a complete overview.
Final Words
The invention of the chainsaw revolutionized the way we cut wood. It allows one man to complete the task of ten men in less time. If you are the one who needs to cut wood frequently, a good chainsaw is a must for you.
But many people get confused while buying a chainsaw because there are plenty of options in the market. We hope that the ECHO 500p vs. 501P comparative analysis will help you pick the best one and tell you what factors should be considered while buying a chainsaw.