Husqvarna Chainsaws are made from high-quality components. They can take a lot of abuse. Plus, these cutting tools are fuel efficient. Their products are environmentally safe since they offer reduced emissions.
Husqvarna manufactures various types of chainsaws.
You may feel confused about choosing a particular one from dozens of choices. Here, I come up with a comparison session on Husqvarna 460 and 460R Chainsaw. Each model has distinctive features and can show reliable performance.
Let's learn about both cutting tools.
A Quick Comparison Table
Wondering how Husqvarna 460 is different from 460R Chainsaw? Here are their primary differences. This will help you to get a quick idea about both products.
| | | |
| --- | --- | --- |
| Specifications | Husqvarna 460 Chainsaw | Husqvarna 460R Chainsaw |
| Dimension | Slightly smaller Chainsaw | Larger Chainsaw |
| Handle Type | Half Wrap handle | Full wrap handle |
| Engine | 3.62-HP X-Torque engine | 3.62-HP X-Torque engine |
| Oiler Type | Automatic oiler | HO oiler |
| Bar length | 24 in | 24 in |
| Durability | Good | Better |
| Price | Slightly lower | Higher |
In-depth Differences Between Husqvarna 460 And 460R Chainsaw
So, you got a hint about both chainsaws. But is it enough to make the best purchase decision? Maybe not! That's why we come up with an in-depth comparison session.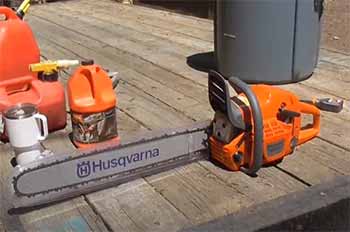 Both chainsaws feature a 3.62-HP X-Torque engine. This powerful engine has impressive fuel efficiency.
Handling demanding cutting jobs will be more easygoing with such a high torque engine.
Also, you will not see any crawling issues. They will cut trees smoothly.
Reaching a high top speed is simple for both chainsaws since their engine has increased power and torque. So, you can cut trees more quickly. The motor utilizes gas by 2-cycle engines.
It will have a higher compression. You can use this engine to cut bigger and tougher trees.
Husqvarna 460 has an automatic oiler that can lubricate the chain continuously at the right amount.
Apart from ensuring optimal safety, it makes the Chainsaw more efficient by working in its fullest manner.
On the other hand, Husqvarna 460R has a High output oiler. The advantage of this oiler is that it allows you to control the lubrication level.
This comes in handy when you are working demanding jobs. You can lubricate more or less during continuous cutting sessions.   
Both Chainsaw comes with a 24-in bar. Since they have a powerful engine, their long bar can get more energy from the engine.
 Keeping the saw in the right direction will be more easygoing due to its extra weight. You can use this type of bar for larger wood and limbs.
However, you need to be a little bit cautious while operating it. After all, they are less safe than shorter bars.
If you prefer to have a speed of production, a more extended bar comes in handy. But you need to endure a little more weight on your hands, which can lead to fatigue issues.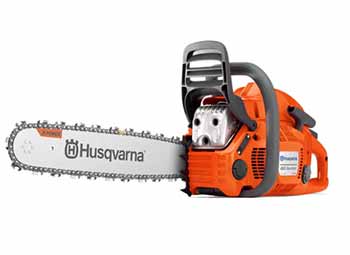 Both 460R Chainsaw and 460 Chainsaw will last for a long time.
After all, they are from the same brand and have similar construction.
However, 460R is slightly more durable than 460 due to its additional safety features.
It has a deeper sprocket cover, chip deflector, and heavier AV buffers.
Its professional-grade construction ensures long-lasting durability even after continuous and regular usage. Each model will last a minimum of 10 years easily.
But if you take care of them well and use them cautiously, they can last 20 years or more. But, the lifespan of a 460 Chainsaw may reduce significantly from intense heavy usage.
Though both units come with a similar bar length, the overall length of the Husqvarna 460R Chainsaw is slightly longer than Husqvarna 460.
Husqvarna 460R has dimension of 35″L x 10.98″W x 9″H, whereas Husqvarna 460 Chainsaw comes with a 34″L x 10″W x 10″H dimension.
Due to some additional features in the460R, its total length has increased slightly. However, there will not be any compromise in their cutting ability.
Adopting the right stance and correctly holding a Chainsaw requires a comfortable handle. Though both units have an ergonomic handle, they are slightly different.
Husqvarna 460 Chainsaw Comes with a half wrap handle, whereas Husqvarna 460R Chainsaw has a full wrap handle. You can use Husqvarna 460 for cutting any regular trees
Limbing and bucking with a full wrap handle is easier, especially in unfavorable conditions. You can cut items from the safe side of the tree.
A full wrap handle is more convenient because you don't need to walk around to the other side. This will save you time. Husqvarna 460R is better for uncommon trees.
Compared to Husqvarna 460, Husqvarna 460R is slightly more expensive. But it is worth the extra money you invest. Its additional features make the unit safer and more convenient to use.
Plus, 460R is a better choice for challenging jobs. But if you only handle typical and lightweight jobs, Husqvarna 460 is a good choice.
Which Chainsaw Is The Best For Your Job?
Not all of us use chainsaws for similar purposes. If you want to handle professional tasks or more demanding jobs, Husqvarna 460R is a more appropriate choice. You can cut or trim firewood, clear heavy brushy, chop old pallets or pallets, and fall trees.
However, Husqvarna 460 can handle almost any type of wood well. Apart from cutting wood, you can cut thin metal after reinforcing it with diamond or carbide tips.
Moreover, its high-powered motors allow you to cut various types of plastic such as Polycarbonate, Polyethylene, Polycarbonate, Lexan, etc.
Frequently Asked Questions (FAQs)
Is Husqvarna 460 a pro saw?
According to Husqvarna Company, Husqvarna 460 is a Prosumer-grade saw.
How much horsepower does a Husqvarna 460 have?
A Husqvarna 460 has 3.62 horsepower.
How many CC's is a 460 Husqvarna?
A 460 Husqvarna has a 60.3-CC.
How much does a 460 Husqvarna weigh?
The average weight of a 460 Husqvarna is around 14.5 Pounds.
Final Thought
Which Chainsaw have you decided to pick between Husqvarna 460 and 460R?
If you have a reasonable budget and regularly handle heavy-duty jobs, Husqvarna 460R is a better choice.
But you can choose Husqvarna 460 to use for lightweight tasks. Hopefully, you got a clear overview regarding both chainsaws. You can buy either option based on your requirement.