Any interior design is brought to life by the best interior paint. The vibe associated with a room is determined by the color and finish of the interior paint.
Dutch Boy and Pittsburgh Paint are the two most popular interior paints in the market though they have some differentiation in price, longevity, customer reviews, etc.
The type of paint and its finish greatly influence the room's attractiveness. So, go through this article, and you will be able to decide which interior paint will be the best choice for your home and why.
A Quick Comparison Table
Look at this quick comparison table to get to know the differentiations between these two brands of paints easily
| | | |
| --- | --- | --- |
| Specifications | Dutch Boy Paint | Pittsburgh Paint |
| Base Material | Solvent-based | Latex-based |
| Durability | More | Less |
| Drying Time | Slow | Fast |
| Coverage Quality | Good | Better |
| Abrasion resistance | Good | Poor |
| Price | Expensive | Inexpensive |
Key Differentiation Between Dutch Boy And Pittsburgh Paint
Now let's dig deep into the key differentiations between these two so that you can decide which paint to buy to brighten your home-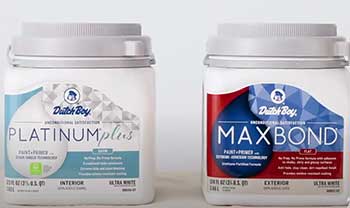 The first decision to make when selecting the best paint for walls is whether to use water-based or oil-based paint.
Dutch boy is a solvent-based paint, and Pittsburgh is a latex-based paint.
To assist you in overcoming the initial challenge of the process, let's discuss the comparative characteristics of the two types of paints.
Solvent-based paints either contain artificial alkyds or natural oils like linseed oil. They are made of a pigment and a resin in a thinner solvent. The thinner layer evaporates, leaving behind a hard coating made of resin.
On the other hand, the term "latex-based paint" is a general term used to describe water-based coating emulsions made using artificial acrylic binders. On metallic substrates, they serve as protective coating layers to stave off corrosion.
Oil-based AKA solvent-based paints are thicker and hence more challenging to apply. Solvent-based paints can only be applied in one coat at a time since they are heavier, but latex paints can be applied in many applications to spread them out more evenly.
Oil-based paints frequently contain bubbles, so it's crucial to swirl rather than shake them before mixing. While painting, latex paints do not produce bubbles.
Solvent-based paints are excellent for moldings and trim because of their exceptional durability and ability to resist frequent touch.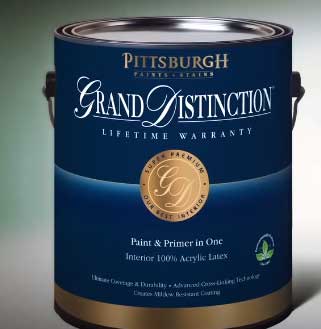 Additionally, this choice resists stains and rust over time because the resin in solvent-based paint generates a hard, impermeable layer that is not breathable.
This is why latex paints are utilized for interior painting, especially if inexperienced painters are using them, whereas oil-based paints are used for spaces like kitchens, bathrooms, trimmings, and other exteriors.
So, considering that, Dutch Boy Paint is more durable.
But keep in mind that oil-based paints require more effort to clean than Pittsburgh Paint which is latex paint.
Pittsburgh paint lacks a glossy finish as it is a latex-based paint. It might be necessary to use several coats of paint to get the ideal finish. The benefit of using this paint is that it greatly helps in masking the flaws in the wall.
Solvent-based paints have a shine and gloss to them by nature. As Dutch Boy Paint is a solvent-based paint, it typically needs one or, at most, two coats to completely cover the wall surface.
The drawback of these paints is that rather than covering up wall flaws, the sheen may actually draw attention to them. And that's why Pittsburgh's coverage quality is better than the Dutch Boy's.
Pittsburgh Paint is a good choice with a reasonable price if you're on a tight budget. This paint offers outstanding coverage and an easy-to-clean finish for updating your living room, foyer, bedroom, or home office.
However, Dutch Boy Paint contains up to 75% pigment, which is a sign of heavy pigment. And that's why Dutch Boy is a bit costlier than Pittsburgh Paints.
According to the J.D. Power Paint Satisfaction Study, Dutch Boy Paints got more positive reviews from customers than Pittsburgh Paints. The customer said about Dutch Boy that it has a wonderful thickness.
It only needs two coats of paint after the primer. But the two factors of Dutch Boy that bothered the customers were the drying time and strong smell.
Pittsburgh Paints also got a lot of positive reviews, but as it is not much durable and has a tendency to fade, it could not keep up with the Dutch Boy Paints.
Frequently Asked Questions (FAQs)
Is Dutch Boy paint made by Sherwin-Williams?
Yes, Dutch Boy Paint is a part of Sherwin Williams company.
Is Pittsburgh paint a good paint?
The paint from Pittsburgh is of good quality. It is a great interior paint with excellent coverage at a low price point.
Is Dutch boy a good paint?
Yes. One of the greatest house paint today is still Dutch Boy despite the wide range of options. It has been around forever and keeps getting better, including a new paint that contains baking soda from Arm & Hammer to control odors.
This paint is available in a wide range of gorgeous colors that can be readily matched to any room or decor and is available in gloss, semi-gloss, and flat textures.
What is the highest rated interior paint?
The Sherwin-Williams Cashmere paint is the highest-rated interior paint. The application of this acrylic latex paint and primer mix is buttery smooth.
You'll get a rich, ultra-silky texture on your walls after they have dried, which looks fantastic from all sides. It is also available in five distinct sheens.
Final Thoughts
It can be difficult to choose the best interior paint for your home because there are so many brands and colors available.
However, if you do your research before beginning, you may save yourself a lot of time and hassle and be able to enjoy the finished product—a freshly painted wall or room in the color of your dreams.
I hope this Dutch Boy vs. Pittsburgh paint analysis will come to your help and you can take the right decision between these two interior paint brands.