Are you looking to install or replace the tiles at your place? 
Then, you should be thinking about some kind of tile adhesive. It's important to choose a quality option. Otherwise, you will just end up with a mess around the place.
Considering that factor, I have this Dunlop tile adhesive review for you. Dunlop tile adhesive is already a known name that you will come across when you go off looking for tile adhesives. 
So, if you are curious about knowing whether they are worth a try or not, this is the place to be.
Features Of The Dunlop Tile Adhesive 
Well, the worth of a product lies in its features. Here, I will go through all the features this tile adhesive has to offer, so you can see whether they meet your needs or not. Let's get going.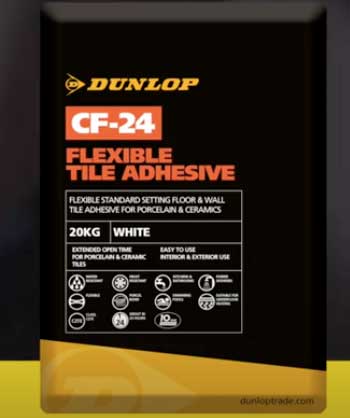 The first thing that will convince you to get this tile adhesive is the fact that it works wonders on your tiling work.
From the moment you apply this as an adhesive for your tiles, you won't have to worry about the tiles coming off the surface at all.
The adhesion this provides is simply amazing.
Unless you are pulling your tiles off of the ground, it should be good right from the get-go of your installation.
Suitable For A Lot Of Surfaces 
One of the key factors for getting this tile adhesive is its compatibility or suitability for different surfaces.
The adhesive works on most surfaces; whether they are regular tiles or stone-like tiles doesn't matter.
You can use them indoors, outdoors and even in the swimming pool if you want. These tiles even work on timber floors if you want that in your adhesive. 
It also works on concrete, ceramic tile, plasterboard, metal surfaces, fiber-cement sheet, and so forth. In short, no matter what surface you are dealing with, this adhesive should work out for most of them.
It's A Non-Slumping Formula
A lot of the time, one issue with your adhesive is the fact that it slumps up. When that happens, the whole application and adhesive process get messed up. 
But with the Dunlop adhesive, that's not the case.
It comes with a non-slumping formula that makes the adhesive very smooth in use. It doesn't slump around places, causing imperfections in the tiling. This is something that you will surely love to get out of your tile adhesive.
Usable Over Waterproofing 
If you are using the Dunlop waterproofing on your tile application, this is the perfect adhesive to go with it. You can use this adhesive over the Dunlop waterproofing membranes without any extra steps or trouble at all.
Because of this, you don't have to wait for a long time or avoid using adhesives on your tiles. You can simply use both of them on your tiling to ensure you are getting the best tile installation in your home. 
It's just the perfect tiling solution combo.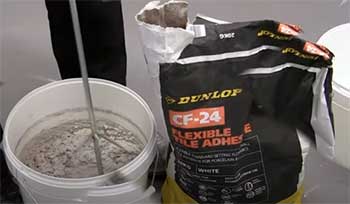 Now, something that makes this tile adhesive worth a try is the affordable pricing they have on this.
With the low-price tag, you can surely give this one a try without worrying too much about wasting money.
Considering the quality and results in you get out of this adhesive, I would say the pricing is just too good on the adhesive. It's not that expensive to begin with, and the results are pretty effective at the same time. 
So, it's a value for money kind of thing with this one.
Lastly, I have to praise the ease of application factor of the tile adhesive. In most cases, you may need to go through quite a bit of trouble for application with other tile adhesives. 
But with this one, it's just super easy to apply.
You won't have to think about mixing or creating anything else to apply the adhesive. You just put a layer of adhesives and lay down your tiles. 
Also, the adhesive is very easy to handle without causing any kind of a mess. So, the cleanup afterward is also quite simple with this choice.
There you go, now you know what features and values this tile adhesive has to provide. You can see that some handy and helpful features make the adhesive worth trying out. 
But is it all good when it comes to this adhesive? Let's find that out below.
What Could Have Been Better With Dunlop Tile Adhesive?
While it has some great features and excellent value, it does have its drawbacks. Some things surely could have made the tile adhesive a near-perfect choice. Let's check them out quickly –
The Coverage Isn't The Best
Now, the first issue you may have with this tile adhesive is the coverage. It may not cover the whole area you plan to use it. 
As a result, you get a larger quantity of adhesive for your tiling purposes.
Instructions May Seem Unclear
The instruction for application may seem a bit tricky or unclear at times. So, as a beginner, you might struggle with the application a little bit.
Well, these aren't necessarily deal-breaking cons of the adhesive. You can simply work around the coverage thing with a bit more adhesive. Since it doesn't cost too much and comes in various sizes, you don't have to worry about that.
As for the instructions, I mean, there are so many instructional videos out there on the internet that you can follow to apply this properly.
Conclusion 
Summing up the Dunlop tile adhesive review, I would say it's an excellent choice to try out for your tiling work. You can easily get the most value out of this thing because of the adhesive's pricing and effectiveness. 
It provides amazing results that will surely surprise you.
Also, the fact that you can use this on most of the surfaces makes it a better choice than other options. It's something you should check out for sure if you are tiling your home.