When it comes to high-quality bonding capability on household floors, you need a decent adhesive. It should be compatible to use with various wood floorings.
Mapei is a reliable brand if you are searching for tough and versatile adhesives.
Mapei Ultrabond ECO 995 is one of the best woods flooring adhesives. This unit has many remarkable features that make it stand out from any average adhesives.
Check out Mapei Ultrabond ECO 995 reviews to get a complete idea of this well-known adhesive.
Features of Mapei Ultrabond ECO 995 Wood Flooring Adhesive
Choosing a particular wood flooring adhesive requires determining what valuable features it will offer. Here are some noteworthy features of Mapei Ultrabond ECO 995 to check out.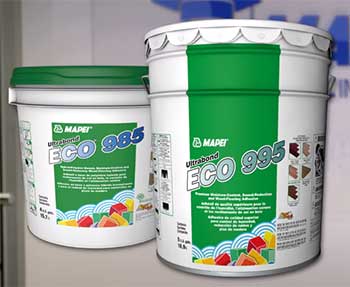 Since they are Urethane structural adhesives, creating a good bond between various types of woods and plastics is relatively easier for them.
Worry about dissimilar materials?
This type of adhesive has an excellent capability to combine and show a flexible performance in different situations.
Other than these, temperatures and solvents will cause minimal harm to such type adhesive. They have a decent hardness.
Moisture Barrier Adhesives
Does your floor prone to dampness or excess moisture? It can happen if your basement is below-grade.
This type of adhesive creates strong, flexible bonds to prevent the ingress of water and oxygen from getting inside the subfloor.
Plus, you can use them in conjunction with barrier-coated films, which won't cause any issues in the future.
Mapei flooring adhesive is recommended for most types of wood flooring, such as solid hardwood, engineered hardwood, bamboo, and others.
It is commonly applied on subfloors like concrete, cured leveling compound, plywood, or rubber underlay.
When it comes to new wood frame construction, a good amount of sounds are likely to be produced from tractions and other reasons.
Mapei Ultrabond ECO 995 is an outstanding choice for efficiently controlling and reducing low-frequency sounds.
One of the most important steps before any installation is reading and thoroughly understanding the technical data sheet and the label on the product.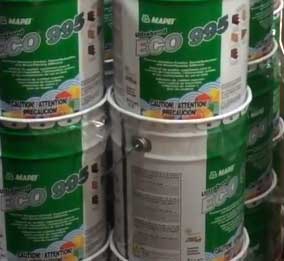 Here, you will find critical information, such as proper trial selection, suitable subfloors, coverage rates, cure time, and open times.
Always prepare the substrate by cleaning and scraping according to the manufacturing guidelines.
This installer-friendly adhesive flows out of the pail and is easy to trial. Mapei Ultrabond ECO 995 is a wet set adhesive. It means no flash.
Preventing board movement from any adhesive memory is easy-going for this high-quality product.
It also has an excellent thixotropic index, which means the adhesives will hold the shape of the trial ridges and provide no hollow spot technology by holding the shape of the ridges. This makes the installation process smoother.
This will reduce the number of callbacks due to hollow spots. Unlike many other wood flooring adhesives, Mapei Ultrabond ECO 995 has virtually no odor and is safe for use in both commercial and residential applications.
Simple to work with Trowel-ridge Holdout
Mapei Ultrabond ECO 995 is designed to meet all these needs when used in conjunction with the supplied trowel-ridge holdout.
The trowel-ridge holdout allows the installer to apply a near monolithic adhesive membrane that becomes monolithic when the wood plank is seated into the adhesive.
Without the trowel clip, you can't achieve the 100 coverage that's required for sound and moisture control. So, the result won't be as effective as you expected.
You will also end up spending a higher amount of solutions for not using the tool.
The toweled adhesive ridges will not slum and can fill voids that may exist between wood floors and subfloor. Therefore it will help to reduce floor hollowness.
The adhesive is also formulated to provide optimal viscosity. So contractors will not face issues like adhesive spilling out of stair nosing during installation.
Often, human mishandling can cause the adhesive to drop on wood floors, which can be troublesome to clean up, especially on pre-finished wood.
Removing Mapei Ultrabond ECO 995on wood floors is just so easy. The elastomeric characteristic of this wood flooring adhesive enables the floor to absorb better impact from foot traffic.
Additionally, it can precisely work to dampen the side in environments with significant temperature and humidity changes.
If the wood is particularly sensitive to moisture, the wood flooring will inevitably expand and contract slightly. A flexible adhesive like Mapeican accommodates such movements, and issues like floor buckling can be minimized accordingly.
Perfect Transformation Of Heat
A subfloor heating system is commonly installed in places with a cold climate. It is important that the wood flooring adhesive layer also acts as a heat transfer medium in such an environment.
Mapei Ultrabond ECO 995provides a higher thermal conductivity compared with some commonly used flooring adhesives on the market. This makes the wood flooring heating system more energy efficient.
Eco-friendly Flooring Adhesive
Mapei Ultrabond ECO 995is free of harsh chemicals, like solvent and isocyanate. It is odorless and contains low VOCs. Also, it is compliant with South Coast Air Quality Management District rules.
Therefore, it is certified to be environmentally friendly and safe for both applicators and building occupants, giving you total peace of mind.
Mapei wood flooring adhesive is easy to use, eco-friendly, and high-performance for delivering your ideal wood flooring professional quality results. Watch this video to have a better understanding.
What Could've Been Better With Mapei Ultrabond ECO 995?
Wondering what could be the bad side of this highly valuable wood flooring adhesive? Here are they:
Though Mapei wood flooring adhesive is an affordable solution, it is not the most inexpensive option on the market.
There are many more affordable solutions available. But the price you pay for owning such a valuable product is really worth it. 
Joints May Wear Over Time
A few users complained their wood flooring joints had shown weary signs after a particular period. This mainly depends on foot traffics.
Everything has a limited lifespan, and so does the wood flooring adhesive. After a particular period, changing the wood flooring will be vital.
However, your installation process and using style will affect the durability. But we are not also giving any excuse for the quality of the product.
A Little Cautiousness Is Required
Though Mapei is an excellent wood flooring adhesive, beginners need to be more cautious. It is a good rule of thumb to use the flat side of the working tool to create a fine coat over the substrate.
This will aid you in covering all the small corners and nooks precisely.
Trialing the adhesive is also necessary, followed by combing it in a perpendicular direction to your wood floor. Make sure that you do cover the substrate a hundred percent.
This will help you get a warranty and do that three-step trial method.
Conclusion
So, what have you decided after going through the Mapei Ultrabond ECO 995 Reviews? Getting quality results in a minimal period is what you will appreciate about this product.
Beginners may face a little hassle working with it initially. But once they are used to it, they can easily expect to have professional quality results with no difficulties.
Just make to stick with the manufacturer guidelines to get the best bang.