Do you know 85% of flooring installation failures are due to improper subfloor preparation? Proper subfloor preparation is vital before installing floor covering, whether it is vinyl, laminate wood, carpet, or ceramic.
Henry is a reliable brand when it comes to self-leveling underlayment. House owners often feel confused about choosing between Henry 555 Vs. 565.
Here we go for in-depth details about both products to help you choose the best one.
A Quick Comparison Between Two Self-Leveling Underlayments
Want to know both items briefly? No worries. You can go through the below comparison table to have a quick idea about them.
| | | |
| --- | --- | --- |
| Specification | Henry 555 | Henry 565 |
| Materials | Portland cement-based | Portland cement-based |
| Product Update | Less Update Product | More Updated Product |
| Using purposes | Smooth and flatten interior surfaces to install  new flooring | Level and smooth select interior substrates |
| Drying Time (Hours) | 2.5 hours | 2.5 hours |
| Where to use it | Moisture-insensitive tile, stone, and many other floor coverings | Concrete, ceramic tile, wooden subfloors, and many other floors |
| Tapered capability | Can't be tapered after applying it | Can be tapered to meet existing elevations |
In-Depth Differences Between Henry 555 And 565 Self-Leveling Underlayment
Do you think you can take a practical decision after going through this small table?
It doesn't seem right to make an educative purchase unless you know some crucial specifications about both self-leveling underlayments. So check them out.
Since they both are from the same brand, Henry 555 and 565 are Portland cement-based self-leveling underlayments.
They are designed to create the smooth flat-level surface needed for successful flooring installation.
Since they are Portland cement-based, it does not support the growth of mold and mildew.
This proper subfloor preparation will maximize the long-term performance of your new flooring.
However, Henry 555 is mainly ideal for leveling a floor surface before installing your preferred tiles.
On the contrary, Henry 565 is generally perfect for preparing a floor surface perfectly before installing your preferred tiles.
Compared to Henry 555, Henry 565 is a more updated product. So, its formula is slightly upgraded. You can use the latest one in more floor and tile options than the older one.
You may misunderstand Henry 555 and 565 for a particular purpose. The primary objective of using Henry 555 is to smooth and flatten interior surfaces to install new flooring.
In contrast, house owners mainly use Henry 565 to level and smooth select interior substrates. Hence, knowing the key objective for using a product will help you go for the best option.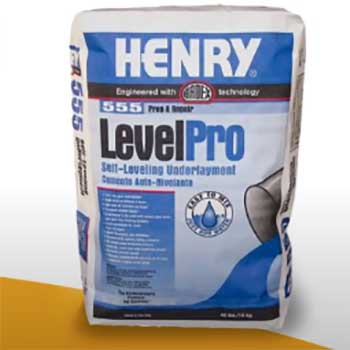 Are you in a hurry? If yes, you must be looking for a quick drying-based self-leveling underlayment.
Since they both are from the same brand and have almost a similar formula, their drying is almost the same.
Usually, both items take around 2.5 hours to dry. But you should let them enough time to cure.
More importantly, their curing time slightly varies based on the flooring tiles' options.
After two hours, you can install moisture and sensitive tiles such as ceramic quarry or porcelain.
But some other floor coverings may take as long as 16 hours before installing them.
Though both self-leveling underlayments are suitable to use for various floors and tiles, Henry 565 is more versatile than Henry 555.
You can use Henry 565 over concrete, ceramic tile, wooden subfloors, and non-water-soluble adhesive residue on concrete, ceramic tile, and stone.
In contrast, Henry 555 is ideal for using moisture-insensitive tile, stone, and many other floor coverings.
Sometimes, some situations may arise where you need to diminish or reduce in thickness of the self-leveling underlayment due to the wrong assumption. But not all underlayment will allow you re-modify it.
With Henry 565, it can be tapered to meet existing elevations. But it is not suitable for Henry 555. So, if you are using it for the first time, Henry 565 is a better choice as it has more forgiving characteristics.
How much are you ready to pay to purchase one unit of self-leveling underlayment? Both models are available in 40 lbs or 18 pounds. They have a low price too.
However, compared to Henry 555, Henry 565 is a little bit pricey. The cost of Henry 555 is around $40.17, while Henry 565 has a price tag of $42.78. This is only a $2 difference.
But when you want to use several rooms with massive square feet coverage, the cost will be slightly higher. The latest version has a slightly higher price tag due to its improved formula and versatility.
Which Self-Leveling Underlayment Will Be Suitable For Your Home?
It is not as simple as it seems when it comes to choosing a decent-quality self-leveling underlayment. You have different vital factors to consider.
If you are searching for an inexpensive and standard self-leveling underlayment, you can choose Henry 555.
On the contrary, Henry 565 is an ideal option when you prefer a more updated and versatile self-leveling underlayment. But in such a case, spending a few extra bucks will be necessary.
Frequently Asked Questions (FAQs)
How much Henry 555 do I need?
Adding the correct quantity of water is necessary with the powder of Henry 555. Experts recommend mixing five gallons of clean water with 40 pounds of Henry 555. Avoid mixing excessive water. This will make the solution weaker.
How long does Henry 555 take to dry?
It mainly depends on where you apply it. For ceramic tile, it will need only 6 hours. But many other floor coverings can take as much as 16 hours. Giving enough time to the surface to dry is crucial to get optimal results.
How do you mix Henry 565?

After adding five gallons of clean water to the 40 pounds of Henry 555, you need to stir it for 2-3 minutes to create an even mixture. Do not overwater. Also, be sure to move the mixing paddle around for proper mixing.
Can you pour self-leveling concrete over plywood?

Yes, you can use self-leveling concrete over plywood if the plywood is a subfloor. But directly applying the self-leveling concrete is crucial. After covering the plywood subfloor, you can get your preferred looking, adding a particular finish.
Can you put self-leveler over wood?

It is mandatory to use a decent quality primer before using any self-leveler over wood floors. The leveler will cause water saturation, make the floor completely covered, and swell the wood perfectly. Ultimately, the wood floor will shrink once its dries properly.
Conclusion
Choosing the right self-leveling underlayment is important to successful your tile installation project. After all, you want to achieve a flat, smooth, and properly layered tile on the floor surface.
Selecting a high-quality self-leveling underlayment will help you get quality results with minimal flaws.
So, what have you decided to choose after going through the discussion on Henry 555 vs. 565? You have your own preference. This requires you first to determine the tiling project you will handle and choose a particular one based on it.
Since both are from the same brand, it won't be bad to choose either option.