If you plan on a drywall project, you will need a material holding and application tool. People generally use Drywall Hawk or mud pan in this case.
But which one should you buy?
To know that, you have to learn their features and difference. This article will give you a clear idea of their features, benefits, and differences.
So, let's get into it.
A Comparison Table Between Hawk and Mud Pan
I will show you a quick comparison table between hawk and mud pan. You can have a glance for a quick idea of how they differ from one another.
| | | |
| --- | --- | --- |
| Features | Drywall Hawk | Mud Pan |
| Material Used | Aluminum; Magnesium | Plastic; Stainless Steel; Galvanized Steel |
| Handle Material | DuraSoft Handle, Wooden Handle | No Handle |
| Sizes | Various Sizes from 8×8 inches to 16×16 inches | 12×12 inches 14×14 inches |
| Benefits | Swivel Ring for Easy Turning | Chemical and Temperature Resistance |
| Weight | about 1.2 lb. for 12×12 inches Hawk | about 1.24 lb. for 12×12 inches mud pan |
| Price | Around $18 for 12×12 inches | Around $16 for 12×12 inches |
Key Differences Between Drywall Hawk and Mud Pan
Drywall Hawk is a construction material application tool that holds mortar, cement, and other materials while plastering and other applications. This unique tool is designed to hold and prevent calluses easily.  
On the other hand, a Mud pan too is a material holding application tool. It is designed to hold material while working.
Its unique design and material make it easy to clean and prevent materials from getting stuck in its corners.
The above comparison table has given you a quick idea about the differences between these two tools possess. But you need more information to make the right decision.
In this part, I will give you the details you must know about them before proceeding with one.
What material is used for making is always crucial for a tool. Especially for material holding tools because you will have to carry them while working.
Drywall Hawks are made of two different materials where you can choose between aluminum-made hawks and magnesium-made hawks. Aluminum hawks are made from uniquely composite hard-rolled aluminum.
Magnesium hawks are lightweight and durable.
On the contrary, Mud pans come with two material options, Plastic and Metal. Here again, you get two metal options. You can choose from stainless steel or galvanized steel. They are also lightweight and durable.
Handle materials play a vital role for both tools. Hawk has a handle that allows its users to hold the tool while working efficiently.
 In contrast, as the name suggests, mud pans are pans and do not have any handle. They have a mechanism to hold them while working.
Drywall hawks offer two types of handles. One is a soft, easy-to-grip DuraSoft handle, and the other is a wooden handle.
While mud pans do not have handles, some come with a non-slip grip at the bottom to hold them comfortably. Some plastic mud pans are slightly textured outside for easy grip.
The right size tool will allow you to hold your materials comfortably and increase productivity. Too big a tool will not help your project as you might not be able to hold them comfortably while working.
The smaller ones will not hold enough materials, and you will have to refill them more frequently. It will kill both your time and energy. So, you should be critical about the size of your tool.
Drywall Hawks have many sizes on their portfolio. Staring from 8 by 8 inches, you will get as big as 16 by 16 inches. All these size options give you the freedom to choose one that fits perfectly in your hand.
On the contrary, there are generally two sizes of mud pans available in the market. They are 12 by 12 inches and 14 by 14 inches. 
While serving the same purpose, both tools offer some additional benefits to consider while selecting one. Drywall hawks have swivel rings that allow you to turn them quickly and make them easy to hold. Besides, they are pretty easy to clean too.
In contrast, Mud pans can hold more material than its counterpart. They are designed to resist chemicals and temperature changes. With sheared edges, knives are easily cleaned.
Weight here is another determinant factor for both these tools. As you will hold and carry them in your hand and work simultaneously, the less weighted one will get the preference.
A 12 by 12 inches hawk weighs precisely 1.2 pounds, whereas a 12 by 12 inches stainless steel mud pan weighs 1.24 pounds. They have the same weight if you can ignore the decimal value. But remember, Drywall Hawks have handles with them.
Price may not be that important if you have already made up your mind. But you should know the prices of all the options available in your hand.
Again, it can be important to people who want to decide based on the price. However, keep in mind that, all the prices mentioned here are subject to change anytime.
You will have to pay around $17.91 for a 12 by 12 inches drywall hawk. On the other hand, a 12 by 12 inches basic stainless steel mud pan will cost around $15. 50.
The price of both tools will vary based on their size.
Which Tool Will Be Suitable For You?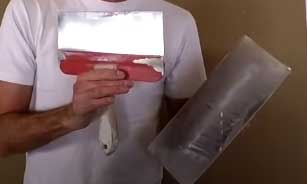 It should be clear which tool will provide optimal usability from the above discussion.
With extensive knowledge of their features and differences, you can easily pick the right one for your project.
Drywall Hawk is easy to hold and clean; it costs more than a mud pan and comes in various sizes.
On the contrary, a mud pan holds more material, offers two sizes, and is cheaper than a hawk.
If you are still confused and ask me, I suggest you buy a Drywall Hawk. It costs slightly more but has a swivel ring in it, and because of it, you will be able to hold and turn your tool quite quickly while working.
Moreover, they are made from high-quality aluminum and magnesium metals and come in various size options. These remarkable qualities and benefits will help you finish your project quickly and effectively.
Frequently Asked Questions (FAQ)
What does a drywall hawk do?
A drywall hawk is used to hold construction materials like plaster, cement, mortar, and others. With it, you will be able to get materials on your tool quickly and easily. It has a metal body and a handle.
Do I need a mud pan?
A drywall mud pan is a holding tool important for those who work as drywall finishers. You can hold and carry drywall materials easily on them while working.
Why is a drywall trowel curved?
Curved drywall trowels are used to add a second coat easily and fast. It adds breathability and makes sure the surface dries fast to add more coating in less time.
How do you use a mud Hawk? 
Holding a mud Hawk and using it while working is pretty straightforward. You can place the mud at the edge of the hawk or in the middle and transfer them with your knife or trowel.
Final Words
The right tool can make your project effortless, substantially fast, and effective. It is similarly valid for your drywall project. I hope your confusion regarding Drywall Hawk or mud pan has cleared after reading my article.
Just make sure you choose the tool based on your need and the one that gives you optimal results—best of luck with your project.