We are all very familiar with stone veneer, right? 
Whether it's for exterior or interior design, everyone loves stone veneer because of its elegance. Stone veneer in the wall or floor has become common in modern architecture.  
But when we think about the base of the stone veneer, it might bring some confusion. Metal lath and cement board are two pretty good options for stone veneer though both have some cons. 
In this article, you will get a thorough analysis of metal lath vs. cement board.
Cement Board And Metal Lath: A Brief Overview 

Metal lath is a kind of mesh made from various kinds of metal such as iron, steel, etc. Metal lath has different types- rib lath, sheet lath, diamond mesh lath, and wire lath are the most common ones. 
Metal lath is widely popular for stone veneers because it helps the mortar to stick firmly with the stone. When metal lath is installed, its holes help capture the stucco and embed it properly. 
Another useful thing for stone veneers is the cement board. Cement board is popular for stone veneers because of its water-resistance quality. 
When the stone veneer is installed on the drywall, there's a chance that the wall can wear off or moisture can affect the wall.
That is why a cement board is used for installing stone veneers. It saves the main wall and keeps the heavy stones away from it. 
A Quick Comparison Table
Here's a quick comparison between the metal lath and cement board for your better understanding-
| | | |
| --- | --- | --- |
| Specification  | Metal Lath | Cement Board |
| Mortar  | Type N, S can be used | Type M should be used |
| Use | Interior | Exterior |
| Material | Steel, Aluminium, Iron | 40-60% of cement, 20-30% of fillers, 8-10% of cellulose, 10-15% of mica |
| Strength | Holds the stones strongly | Strength increases when perfect mortar is used |
| Stone Type | Can hold heavy stones | Suitable for comparatively light stones |
| Price | Average Cost per Square Foot $1.53 | Average Cost per Square Foot $3.95, $5.40 |
Key Differences Between Metal Lath And Cement Board
Though both are used for the same purpose, you should know the key differences between them to choose the suitable one for your stone veneer. 
Here are some key differences between metal lath and cement board in detail- 
Build Material and Structure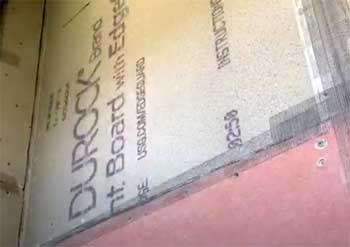 This is a basic difference between metal lath and cement board. You already know from the name that metal lath is made of various metals.
It is a rigid mesh with lots of holes in it. 
The size and shape of the holes are different in different types of metal laths.
As the structure of the metal lath is very bumpy, it can hold heavy stones when a suitable mortar is used. 
The materials of cement boards cannot be guessed by their name because the cement boards are not completely made of cement. Only 40% to 60% cement is used in cement boards; the rest portion is filled with various strengthening materials like cellulose, mica, etc. 
Mortar is a kind of paste used in constructions to bond the stone, brick, tile etc., with the wall or floor. Cement board and metal lath require different types of mortar. 
Type S,N and M has 5.1, 12.5, and 17.25 Mpa compressive strength, respectively. 
As we knew earlier, metal lath is a kind of mesh with lots of holes and the holes help to hold the stones strongly. That's why you can use type S and N mortar without any hesitation. 
On the other hand, the surface of the cement board is very smooth. So, it would be difficult for the Type S and N mortar to hold the heavy stone against the wall. 
In that case, it is recommended to use type M mortar for better grip.
This is one of the key differentiating factors between the cement board and metal lath. When you will install the stone veneer for the exterior design, you should pick cement boards.
Cement board is generally used in the bathroom, kitchen wall/floor where the moisture level is high. Because cement board protects the main drywall from the excess moisture of those areas. 
So, when you will use cement board in the exterior wall, it will protect the inside wall from being damp. 
In the case of interior design, you can choose either cement boards or metal laths because you don't have to worry about moisture. But if the stone is heavy, it's best to pick metal lath for strong bonding.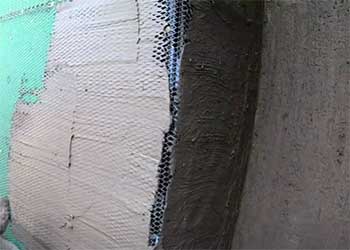 There are several types of stones available in the market.
Whether you should pick metal lath or cement board, depending on which kind of stone you will use for your stone veneer. 
Bluffstone, Cliffstone, CoastalReef, Limestone, Longitude, Marquee, etc., are the most common stones for stone veneer.
Bluffstone, Cliffstone – these types of stones are the heaviest. 
But Limestone, Longitude, etc., are comparatively thin and light. So when you work with heavy stones, make sure that you install metal laths. 
Installing your metal lath or cement board is the most crucial part of the stone veneer as the durability depends on the perfect base. Installing metal lath requires some other elements like a sheet underneath the lath and a wooden or aluminum frame. 
First of all, cut the metal lath according to the size of your wall, and set it up with a few nails. Then plaster the metal lath, and your wall is ready for the stone veneer.
Cement boards are easier to install than metal laths. Cut the cement board with proper measurement, apply thin-set mortar on the rough side of the board, and stick it to the wall.
After it properly bonds with the wall, you can start the next step for the stone veneer.
Frequently Asked Questions (FAQ)
Here are a few frequently asked questions about the metal lath and Cement board. Let's read through to clear some confusion.
Can I install stone veneer over cement board?
Yes, you can. But in that case, you have to apply a strong mortar on the cement board. You can also comb the layer of the mortar so that the surface gets uneven and it can hold the stone tightly. 
Do I need a scratch coat on cement board?
A scratch coat is generally used on the metal lath to increase the rigidity of the metal laths. But if you use cement board, it is not compulsory to use a scratch coat. 
What is the difference between backer board and cement board?
Becker board is a type of cement board, made of cement and other reinforcement materials. The main difference between this two is that the becker board has fiberglass, making them more waterproof. 
Is metal lath needed with cement board?
Metal lath is needed with cement board when you will install the stones on the corner areas. You cannot bend the cement boards. So, to fill the gaps in the corners, you must use metal laths. You can also use metal laths with cement boards in the entire wall for extra strength. 
Does cement stick to cement board?
Yes. Because the cement board is porous. That's why any type of mortar, cement, grout, thin set adhere well to these boards. 
Final Words
Choosing the right base for the stone veneer is a very important task to do. When you install stone veneer for your house or any other constructions, you have to keep in mind what you'll put under it. 
People often get confused about metal lath vs. cement board and pick the wrong one for their stone veneer. 
Go through the points discussed above and find the suitable solution for your stone veneer. Stone and mortar types, installing process- these factors should always be considered.