Precision is arguably the most important thing when cutting tiles for your tiling project. For this purpose, people mostly opt for known brands like Diamondback and Ridgid tile saw.
That brings us to a comparison between Diamondback and Ridgid tile saw.
A poor-quality saw can easily ruin your precious tiles in a matter of seconds. To ensure that doesn't happen, you need a quality tile saw.
The discussion below will help you get the best idea possible about these tile saws and decide according to that.
A Quick Comparison Table
Before we get to the detailed discussion, let's have a quick look at this comparison table first. As we advance, this table will familiarize us with the differences for the upcoming discussion.
Also, if you don't have time to go through the full discussion, this table may suffice.
| | | |
| --- | --- | --- |
| Specification | Diamondback Tile Saw | Ridgid Tile Saw |
| Available Sizes | 7 and 10 inches | 7, 8, and 10 inches |
| Motor | 10 and 15 AMP | 6.5, 12 and 15 AMP |
| Max. RPM | 4000 and 5800 RPM | 3450, 4000, 5000 RPM |
| Diagonal Cut Capacity | 18 inch | 12, 18 and 24 inch |
| RIP Cut Capacity | 24 inch | 12, 18 and 34 inch |
| Folding Stand | Available with all model | Not available with all model |
| Price | Cheaper than Ridgid | Expensive |
In-Depth Differences between Diamondback And Ridgid Tile Saw
Here we are at the key discussion of this article. I have separately discussed different aspects of Diamondback and Ridgid tile saws and see how they perform in them.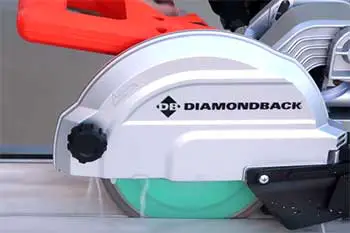 Size is an important consideration while you are buying a tile saw.
Typically, features like portability, power, speed, and sometimes the cost depend on the size.
Usually, you should always aim for a bigger blade size if you have the budget, as they offer deeper cuts and more versatility.
While both Diamondback and Ridgid tile saws come in two sizes, 7 and 10 inches, Ridgid has another extra size of 8 inches.
The motor capacity is important since it partly determines how much performance you can expect from the tile saw. Smaller blades usually need less amperage to operate, so they tend to have a less powerful motor.
While Diamondback tile saws have 10 and 15 amps motor available. Ridgid has a wide variety with 6.5, 12, and 15 AMP.
Both Ridgid and Diamondback offer a decent range of RPMs for residential and industrial tasks. The more the RPM, the smoother the cutting experience will be for you.
While Diamondback tile saws come in 4000 and 5800 RPM, Ridgid offers more versatility for different tasks with 3450, 4000, and 5000 RPM.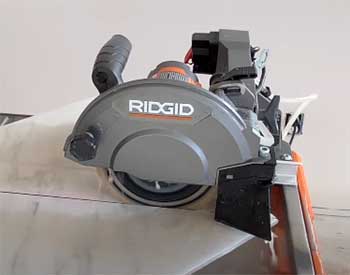 Diamondback and Ridgid offer the same cutting capacity, both diagonal and RIP cutting.
You need to carefully consider the cutting capacity because every project has different requirements.
You have to decide depending on which cut you'll need. Diamondback has a diagonal cut capacity of 18 and 24 inches, respectively.
On the other hand, diagonal cut capacity ranges from 12 to 24 inches, and rip cut ranges from 12 to 34 inches.
A folding stand is a big help if you have one. However, you might not always get a work table or desk to place your tile saw on.
You can also buy one separately, but matching the size can be challenging. In that regard, Ridgid tile saw have variants with folding stands, while Diamondback, unfortunately, doesn't offer that.
Instead of price, you should focus more on the value of the product you are getting. However, the price sometimes becomes the deciding factor, especially for those on a budget.
For them, Diamondback tile saws are a better choice since they are priced between $200 – $400 price tags. On the other hand, Ridgid tile saws cost around $200 to $700 and have extra benefits like a folding stand and more power on paper.
What Will Be The Suitable Choice For Your Home?
As you have seen, both brands have excellent performance in every sector. That's why it's not easy to pick a winner today. However, as Ridgid has a wider lineup of tile saws, my advice will be to go for that.
Though Ridgid tends to be more expensive, they also offer versatility and extra features like the folding stand, adding value to your purchase.
Frequently Asked Question (FAQs)
Who makes Diamondback wet tile saw?
Diamondback is not a brand of its own. Instead, their tile saws are made by another tool company called Harbor Freight. In case you don't know, it's another brand known for making budget-friendly power tools. A few years ago, they launched two tile saws separate from their name and sold them under the banner of Diamondback.
What is a good brand of tile saw?
There are so many brands out there doing a phenomenal job of creating high-quality tile saws. So, naming one out of the bunch can be a bit challenging. But, instead of looking up to the brand, you should consider certain aspects of its tile saw to decide whether it's a good brand. In that regard, the motor, RPM, cutting capacity, and value for money should be considered.
Is an overhead tile saw better?
Overhead tile saws, also known as bridge saws, are a better option in some cases. Because of the movable blade head, cutting larger tiles is more convenient with overhead saws. In addition, overhead tile saws tend to be less affected by contaminated water. That's why they stay sharper for a longer period.
What is better a wet saw or a tile cutter?
Both of these are a good choice for tile cutting. However, to make a decision, you have to consider certain things like the tile, the size of your project, and your experience with handling the machine. In short, if you are planning short-term for smaller projects with a lower budget, go get a tile cuter. Otherwise, a wet saw is a better choice any day. 
Final Thought
That's a wrap for today. I hope my article was informative enough to make a decision. Both brands have their advantages and disadvantages, but one common thing is their performance and reliability.
My article comparing Diamondback vs. Ridgid tile saw was a small attempt to go into a little more detail. All you have to do now is pick a tile saw that matches your need and start your next tile project.