Did you get a new home, or are you planning on renovating your house? Either way, flooring is one of the most important things you must consider. Is it overwhelming?
Definitely!
And that's why I thought of getting into the different features of COREtec and Mannington. Who knows? Maybe you don't have to look anymore. Mannington has aluminum oxide finishing, while COREtec has UV acrylic finishing.
COREtec offers a limited lifetime warranty, whereas Mannington provides a 15-year warranty. Let's unravel the other piece of the puzzle. Read on!
A Quick Distinguishing Table
| | | |
| --- | --- | --- |
| Item Description | COREtec | Mannington |
| Finishing Type | UV acrylic | Aluminum oxide |
| Warranty Term | Limited lifetime | 15-year |
| Technology Used | Core | Microban antimicrobial |
| Locking System | Unilin | Locksolid |
| Quality | Excellent | Good |
| Durability | Great | Excellent |
| Installation | Easy | A bit complex |
| Maintenance | Lower | Higher |
| Styles and Designs | Variety | Not that much |
| Price | $6.50-$8.55 per square foot | $3-$8 per square foot |
Critical Differences Between COREtec And Mannington Flooring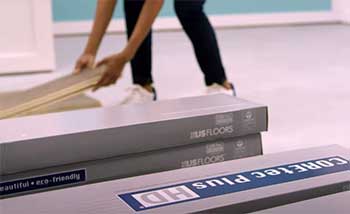 The finishing type of a floor plays a significant role in its longevity.
COREtec has a UV acrylic finish, providing a no glare to a complete gloss look.
The low-sheen sealing maintains the natural, beautiful look of the wood.
On the other hand, Mannington has an aluminum oxide finish that increases the resistance to scratches and dents on this floor. The fact is; floors that have aluminum oxide finishing have a higher lifespan of up to 25 years due to the excellent UV protection it provides.
COREtec flooring provides a limited lifetime warranty to its users, whereby the product is free from defects such as stains caused by pets. However, the cover excludes alterations due to direct sunlight or extremely high temperatures.
In contrast, Mannington offers a 15-year warranty for manufacturing defects. You can choose which flooring to use based on the period and conditions.
COREtec uses core technology, which is innovative and efficient in preventing the warping and peeling of floors due to moisture. And considering they are inevitably exposed to water, you don't have to worry.
On the contrary, Mannington uses microban antimicrobial technology that contains a product protection system that keeps your floor sparkles clean. This technology prevents mold and bacteria growth without damaging the floor's aesthetics.
COREtec has a unilin locking system that involves the arrangement of the flooring panels through angling and snapping. The process is user-friendly, meaning you don't have to spend money on labor; you can easily do it yourself.
On the flip side, Mannington flooring features a locksolid system where the planks are put together and floated on the floor. You might have to get a professional to set it up efficiently for this process.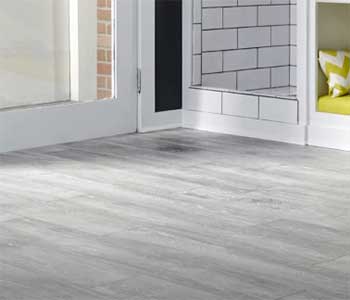 Regarding quality, COREtec leaves a long-lasting impression.
First, the floor is easy to clean, which is very convenient.
Also, walking even barefoot is comfortable if you want to.
And you can use it in kitchens and bathrooms because it is 100% waterproof.
Inversely, Mannington gives good quality.
The material used in the manufacturing is exceptional.
But if you want the absolute best, COREtec is the way to go.
Are you looking for flooring with excellent durability?
Have your way with Mannington. This floor is made of 100% natural wood that is expertly structured to give the durability of a stone. This hard-surfaced product has been constantly tested and is confirmed to have exceeded the expected standards.
Conversely, COREtec is known for its great lifespan thanks to its external layer that prevents excessive wear and increases resistance to dents and chips.
Installation is an essential factor to consider, especially if you plan to do the process yourself. With that in mind, some floors require a professional, which means extra cost. No underlayment is needed in COREtec as it has an integrated cork setting on every plank.
Contrarily, hiring a professional is recommended in Mannington for the best long-term results.
If you have a house with kids and pets, the last thing you want is a floor with high maintenance. COREtec is not only easy to clean but also maintain. You don't have to wipe off spills to avoid staining immediately.
In contrast, Mannington is higher maintenance if you want it to maintain its vibrant look. Failure to which the floor may become dull and fade after a while.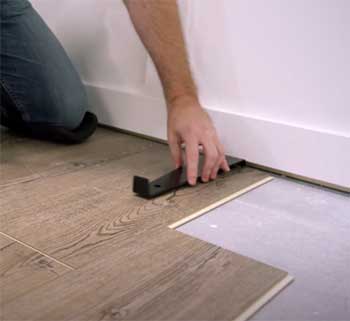 Choosing a floor can be overwhelming, but it's even worse when you are limited to one design.
Good news; COREtec comes in many spectacular styles that you can choose from.
Moreover, every structure has a wear layer that protects the floor from damage.
On the other hand, Mannington has fewer styles and designs.
So, if you are looking for multiple types to give you the flexibility of choosing, go with COREtec.
COREtec costs range between $6.50 and $8.55 per square foot. As for Mannington flooring, you can get it at $3 and $8 per square foot, depending on the style.
Yes, COREtec is more expensive but considering what it brings to the table, it's worth every cent. But if you want a more pocket-friendly flooring type, Mannington is the better pick.
Which Flooring Should You Pick?
With that detailed and comprehensive information, that should be easy to answer. Quality considered and ease of installation, COREtec is the best pick. Better yet, the flooring allows you to choose from multiple designs.
Nonetheless, If you are a sucker for a longer lifespan and want more affordable flooring, Mannington is the answer.
Frequently Asked Questions (FAQ)
What is the best LVP on the market?
COREtec is hands-down the best flooring in the market. This brand has gorgeous, easy-to-clean, durable, waterproof, and high-quality floors.
Is Mannington flooring any good?
Yes, it is! Mannington has excellent resistance to dents and scratches since it has higher density and is built from a rigid material that can easily withstand damage.
What flooring is similar to COREtec?
Home Legend Syncore X, AquaLok, and Dixie Home stainmaster are similar to COREtec in terms of performance, design, value, and easy installation process.
Is Mannington flooring made in China?
No, it's not. On the contrary, 90% of Mannington flooring is manufactured in Alabama and North Carolina.
Wrapping Up
Now that we've fully dug into COREtec and Mannington differentiation, which flooring won your heart? You don't need to research which one to use in your house; the answer is right here!
If you need lower-priced flooring that can serve you for decades, Mannington will work fabulously. Nonetheless, you should settle with COREtec if quality comes top on your list, along with an easy installation procedure.