When it comes to organizing your closet, Closet Evolution and ClosetMaid are two of the most popular closet systems on the market. But with so many options to choose from, how do you know which is the right solution for your needs?
In this comprehensive guide, we'll compare the key features, pros and cons of Closet Evolution and ClosetMaid to help you determine the best closet system for your home.
A Brief Comparison Table
Now that we've covered an overview of each system independently, here is a direct side-by-side comparison of Closet Evolution and ClosetMaid:
| | | |
| --- | --- | --- |
| Comparison | Closet Evolution | ClosetMaid |
| Customization | Fully customizable design | Pre-configured kits |
| Price | premium | budget |
| Materials | Solid wood, steel, aluminum | Wires, plastic, particle boards |
| Installation | Professional recommended | DIY friendly |
| Warranty | Lifetime | 1-5 years |
| Lead Time | 6-8 weeks | 1-2 weeks |
| Accessories | Specialty racks and storage | Standard racks and shelves |
| Weight Tolerance | Heavy duty | Light use recommended |
What is Closet Evolution?
Closet Evolution is a custom modular closet system that allows you to completely customize your closet layout. The system uses adjustable shelves, drawers, racks, and other accessories that can be configured in unlimited ways to maximize your closet space.
Some key features of Closet Evolution include: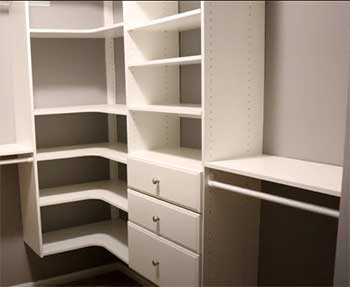 Fully customizable layout – design your perfect closet with adjustable components
High quality materials like wood, steel, and aluminum
Wide range of finishes and colors to match your decor
Can be installed by professionals or DIY
Lifetime warranty on materials and workmanship
The flexibility of Closet Evolution is one of its biggest benefits.
You can truly build your dream closet optimized for your needs with specialized components like jewelry drawers, belt racks, shoe shelves, and more.
While more expensive than some other systems upfront, the lifetime warranty and quality materials ensure it will last for years to come.
What is ClosetMaid?
ClosetMaid is also a modular closet organizing system but offers pre-designed kits that are more budget-friendly and simpler to install. The systems use wire or laminate shelves, racks, and drawers that can be arranged in standard configurations.
Some key things to know about ClosetMaid:
Offered in standard kits for reach-in or walk-in closets
Wire shelving is adjustable but configurations are more limited
Laminate systems feature more customization with adjustable shelving and cabinetry
Budget-friendly price point compared to custom systems
Easy DIY installation
Available at major home improvement stores
The main advantage of ClosetMaid is the lower price point. For those wanting an organized closet without a fully customized system, ClosetMaid kits start at just a couple hundred dollars. The wire systems are also very easy to install and adjust as needed. However, the options for customization and quality are lower compared to Closet Evolution.
Pros of Closet Evolution
Here are some of the biggest pros for Closet Evolution:
The primary advantage of Closet Evolution is the ability to completely customize your closet layout. You can choose the exact shelves, racks, drawers, and other accessories based on your storage needs. This flexibility is perfect for maximizing every inch of space.
Closet Evolution uses high-end materials like wood, steel, and aluminum for maximum durability. With proper care and maintenance, your Closet Evolution system should last a lifetime. The quality materials also give the system a luxurious, custom closet feel.
With Closet Evolution you can add specialized storage features like jewelry drawers, belt racks, and shoe shelves. This allows you to optimize the space for your specific needs.
Investing in a luxury Closet Evolution system can potentially increase the resale value of your home. The custom system will be a major selling point and differentiate your property.
Professional Installation
Closet Evolution offers professional installation to perfectly fit your new system in place. For those who don't want the hassle of a DIY project, professional installation is key.
Cons of Closet Evolution
Along with the pros, here are the main downsides of Closet Evolution to consider:
The investment in a fully custom Closet Evolution system is significant, with the average price range between $2,000-$4,000. The trade-off for the higher cost is higher quality materials and customization.
It can take 6-8 weeks for your Closet Evolution system to ship after ordering. This is because each unit is made to order. Make sure to plan this lead time into your project schedule.
Difficult DIY Installation
While professional installation is recommended for Closet Evolution, some may try to DIY. Because the system is fully customizable, installation is much more complex than other pre-designed kits.
Pros of ClosetMaid
Here are the primary benefits of choosing ClosetMaid: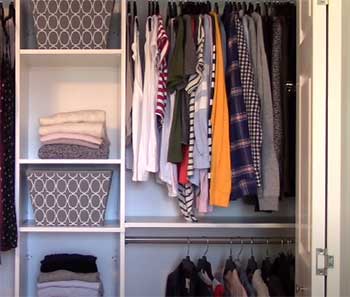 The biggest advantage of ClosetMaid is the budget-friendly price, with standard reach-in kits starting under $200.
This makes it very affordable to get an organized closet.
Since the systems ship as pre-packaged kits, ClosetMaid orders arrive much faster than custom systems – usually within 1-2 weeks.
This allows you to start your project faster.
Assembly instructions are included with ClosetMaid systems, making it one of the most beginner friendly closet kits to install. Even first-time DIYers should have no issue.
The adjustable wire shelving makes it easy to modify configurations even after initial installation. This flexibility is useful when storage needs evolve.
ClosetMaid's pre-set kits are designed to maximize usable space. For smaller closets, the optimized layouts efficiently use every bit of the footprint.
Cons of ClosetMaid
While very budget-friendly, here are some potential downsides of ClosetMaid to note:
The low cost of ClosetMaid comes from the standardized kits. There are fewer options for customizing the layout and accessories to your space.
To meet the lower price points, more budget-friendly materials like wires and particle boards are used. Durability and longevity may be less than premium systems.
ClosetMaid frequently updates their kit designs. Reconfiguring or expanding your system in the future may be difficult if your original kit is discontinued.
Some buyers report ClosetMaid systems look "cheap" or flimsy once installed. This varies by specific kit line though.
The lighter duty materials of most ClosetMaid kits make them unsuitable for very heavy daily usage. They are best suited for occasional access closets.
Recommendations
So when should you choose Closet Evolution or ClosetMaid? Here are some recommendations based on different needs:
For Luxury Custom Closets: Closet Evolution
If budget is no concern and you want a high-end customized closet that feels like expert built-ins, Closet Evolution is a fantastic choice.
For Cost Effective Closet Upgrade: ClosetMaid
If you want an organized closet at the lowest cost, a ClosetMaid kit is a great option that still offers flexibility and modern style.
For Max Storage with Specialty Accessories: Closet Evolution
For specialty spaces like pantries, laundry rooms, and garages, the unique Closet Evolution accessories can provide functionality you can't find in basic kits.
For Small or Simple Closets: ClosetMaid
If your space is limited where customization isn't as important, a standard ClosetMaid kit will maximize your footprint for less.
For DIY Installation: ClosetMaid
For DIY beginners, ClosetMaid's kits with included instructions are far easier to install than a custom Closet Evolution build.
Frequently Asked Questions (FAQ)
Still need help deciding between Closet Evolution and ClosetMaid? Here are answers to some frequently asked questions:
Which closet maid system is best?
For the highest quality fully custom closet, Closet Evolution is best. For the most budget-friendly organized system, ClosetMaid kits are ideal.
What is closet evolution?
Closet Evolution is a high end modular closet system that can be fully customized with premium materials and specialized storage accessories. It costs more than systems like ClosetMaid but offers luxury features.
Is Rubbermaid or Closetmaid better?
Rubbermaid Ready-to-Assemble wire closet systems are similar to ClosetMaid. The quality and price point are comparable. ClosetMaid offers more pre-designed kits for easier install, so it gets a slight edge.
Is Elfa better than Closetmaid?
Elfa is another premium closet system like Closet Evolution. It is higher quality and customizable like Closet Evolution but does cost more. ClosetMaid has a lower price point with more DIY-friendly standard kits.
The Bottom Line
As you can see, choosing between Closet Evolution and ClosetMaid comes down to your budget and how customized you want your closet system to be. Both offer excellent storage options to maximize your closet space.
Closet Evolution provides luxury customization for those that want a personal designer closet. ClosetMaid makes achieving an organized closet very affordable and beginner-friendly.
Carefully evaluate your space, needs and budget to decide if the investment in a custom Closet Evolution system or value of a ClosetMaid kit is the best fit for your home. Either solution will give you a clutter-free, organized closet to help start your day stress-free.