If you've been putting off organizing your cluttered closet, now is the time to consider investing in a closet organization system. Two of the most popular and functional options on the market are Closet Evolution by ClosetMaid and Easy Track by Rubbermaid.
But with so many factors to weigh, from customization to cost, how do you determine which is the best fit?
In this comprehensive guide, we'll compare the key differences between Closet Evolution and Easy Track to help you select the ideal system to transform your closet. By the end, you'll understand the pros and cons of each system and be able to confidently choose the right one for your needs and budget.
Let's dive in!
A Brief Comparison Table
| | | |
| --- | --- | --- |
| Feature | Closet Evolution | Easy Track |
| Quality | High-end materials and construction | Budget-friendly construction |
| Customizability | Fully customizable configurations | Preset modular sections |
| Ease of Installation | Easy tool-free clip together assembly | Requires some tools for assembly |
| Components | Lots of accessories like drawers, jewelry trays, specialty racks | Limited accessories and add-ons |
| Shelving | Ventilated steel wire | Chrome wire grid |
| Adjustability | Adjustable shelves and rods | Adjustable shelves and rods |
| Aesthetics | Industrial wire shelving look | More uniform and integrated wire grid pattern |
| Finishes | White, linen, cappuccino, gray | White, chrome, bronze, black |
Getting To Know Closet Evolution And Easy Track
Before we contrast these two systems, let's get familiar with what each one offers.
Closet Evolution is ClosetMaid's fully customizable, modular closet organizing system. The components include ventilated steel wire shelving, drawers, cabinets, shoe racks, hang rods, and accessories like jewelry trays. You can mix and match the pieces to create a completely custom closet layout.
The benefits of Closet Evolution include: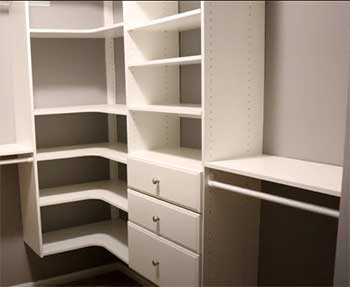 Limitless configurations to maximize your space
High-end materials and construction
Easy tool-free assembly with interlocking components
Lots of accessories and specialty storage options
Improved airflow with ventilated shelving
The downsides are that it comes at a higher price point than budget systems and the wire shelving doesn't look as high-end as wood.
But if customization is key, Closet Evolution is a top choice.
On the other hand, Easy Track from Rubbermaid offers a more basic, budget-friendly take on closet organization. The Easy Track system includes ventilated wire shelving, baskets, drawers, and adjustable rods in chrome, white, bronze and black finishes.
Here are the main pros of Easy Track:
Very affordable and cost-effective
Simplified installation with minimal components
Adjustable shelves and rods to evolve with your needs
Streamlined wire grid aesthetic
Chrome finish options add style
The compromises are that it offers less customization potential, accessories, and overall storage capability versus higher-end systems. But if you want an inexpensive starter system, Easy Track delivers.
Key Differences Between Closet Evolution And Easy Track Closet Organization System
Now that you understand the basics of each system, let's compare them across some key factors.
One of the biggest differences between Closet Evolution and Easy Track is the level of customization each enables.
Closet Evolution is designed for complete configuration flexibility. You can place components like shelves, rods, and drawers exactly where you need them most. It's fully customizable to make use of every inch.
Easy Track offers pre-sized shelving and rod units that attach together in more limiting configurations. You can adjust shelf heights within each unit, but the overall layout flexibility is lacking compared to Closet Evolution.
The Winner: Closet Evolution
For those wanting a fully tailored closet, Closet Evolution is the clear winner when it comes to custom layouts. Easy Track works best for basic needs.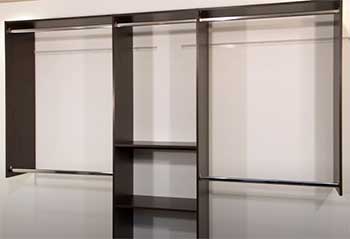 These two systems are built quite differently when it comes to overall quality.
Closet Evolution uses heavy-duty steel construction and thick ventilated wire shelves that feel premium.
The components are made to last and support substantial weight.
Easy Track uses lighter weight wire shelving and chrome rods.
The materials get the job done effectively, but are on the budget side in terms of sturdiness and durability.
The Winner: Closet Evolution
Closet Evolution takes the crown for its high-end, resilient materials meant to handle heavy everyday use and stand the test of time. Easy Track is reasonably well made given its affordable price tag.
One of the most important factors for many shoppers is cost. How do Closet Evolution and Easy Track compare when it comes to affordability?
As a custom designed system made with premium materials, Closet Evolution sits at a higher price point than mass retailer systems. However, it remains competitively priced given its quality and storage potential. The investment pays dividends in longevity and convenience.
Easy Track is one of the most wallet-friendly closet systems you can buy. For those wanting a basic starter system on a tight budget, Easy Track can't be beat. Just know upgrades will come faster than with a higher-end system.
The Winner: Easy Track
Easy Track wins for shoppers wanting reliable closet organization at the lowest possible cost. Closet Evolution offers long-term value, but Easy Track is our budget pick.
Beyond function, the visual appeal of your closet system matters too. These two brands take different aesthetic approaches.
Closet Evolution features ventilated steel wire shelves that have an open, industrial vibe. The benefit is being able to see your belongings easily. The downside is a utilitarian look lacking the richness of wood shelves.
Easy Track uses a tighter wire grid pattern on its shelving that looks more integrated and uniform. Combined with chrome rods, the overall system has a sleeker, more blended aesthetic versus Closet Evolution's industrial feel.
The Winner: Easy Track
For a streamlined, coordinated look, Easy Track is the more aesthetically pleasing system between these two options.
Convenience during assembly and installation is another important point of comparison.
One perk of Closet Evolution is its easy no-tools assembly. The interlocking components click together seamlessly, allowing you to install your system in almost no time.
Easy Track often requires tools like screwdrivers during assembly to attach rods and anchor shelving units. Installation takes a bit more time and handyman skills compared to tool-free Closet Evolution.
The Winner: Closet Evolution
Closet Evolution comes out ahead in hassle-free assembly. Easy Track installation is not terribly difficult, but Closet Evolution's clip-together pieces are far simpler.
Making The Right Choice For You
Now that we've explored the key differences, you can make the best choice for your needs. Here are some quick tips:
If you want maximum customization, ultimate storage, and premium quality, go with Closet Evolution.
If you need an affordable starter system with basic closet organization, Easy Track is the budget-savvy solution.
If a streamlined look is important, Easy Track has a more integrated aesthetic than industrial-style Closet Evolution.
If quick hassle-free assembly is a priority, tool-free Closet Evolution wins over Easy Track.
Take stock of your budget, style preferences, and storage needs. Measure your closet carefully too, so you get components sized to maximize your space. With these factors in mind, you can select the ideal system to organize your closet like a pro!
Frequently Asked Questions (FAQ)
Still have some questions? Here are answers to some of the most commonly asked questions about Closet Evolution and Easy Track.
Which closet maid system is best?
For those wanting maximum customization and quality, ClosetMaid's Closet Evolution is their top system. It allows you to fully tailor your closet with premium components. Easy Track is best for basic storage on a budget.
What is closet evolution?
Closet Evolution is ClosetMaid's fully customizable, modular closet organizing system with components like shelving, drawers and rods that interlock together. You can create completely custom closet layouts to suit your needs with this adjustable system.
Are closet remodels worth it?
For many homeowners, investing in a closet remodel is worth every penny. The right organizational system saves you time, stress, and hassle each day. With customized storage, easily accessible belongings, and clutter-free organization, you'll get your money's worth from a closet remodel over the years.
Is Rubbermaid or Closetmaid better?
Both Rubbermaid and ClosetMaid make quality closet organization systems. ClosetMaid is seen as higher-end, offering more customizable options like Closet Evolution. Rubbermaid's strength is budget-friendly simplicity with systems like Easy Track. ClosetMaid edges out in quality while Rubbermaid wins for affordability.
Final Thoughts
So there you have it – everything you need to know to tackle your closet organization project with confidence. Ready to get organized? Determine whether Closet Evolution or Easy Track is the right fit, then start maximizing your closet space!