If you live in a house, you probably know how hard furniture hunting can be. This is why people choose online furniture stores like Article and Castlery.
Both are amazing, but there are some differentiating factors. Furniture range, shipping and return, cost, and customer service are some of the major ones.
Article and Castlery are two of the leading names when it comes to convenient furniture shopping. That makes it hard to decide which one you should go for. Here is a side-by-side comparison to help you with deciding.
A Quick Summary of Comparison
| | | |
| --- | --- | --- |
| Feature | Castlery Furniture | Article Furniture |
| Furniture range | Better, timeless pieces | Good, more modern furniture |
| Shipping and return | Less efficient, slightly complicated | Efficient and simple |
| Cost | Affordable | Less affordable |
| Customer service | Good | Better |
Done with the gist? Here's a detailed comparison, let's dig in.
Key Differences Between Castlery And Article Furniture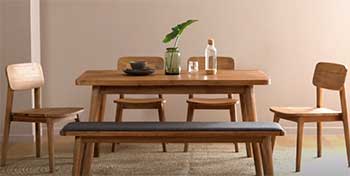 Online furniture outlets are far more convenient than regular ones.
But the thing is, you won't get to physically try things out. So you have to be careful about which one you pick.
Both Castlery and Article are amazing. But when you have to pick one, some comparisons have to be made.
The major differentiating factors between these two shops are their furniture range, shipping and return, cost, and customer service.
Let's see how they make Article and Castlery different from each other.
Castlery has one of the most impressive furniture ranges you'll see in online furniture shops. Article isn't far behind, but there's room for expansion. The main difference between the furniture is probably their style.
Castlery is pretty much the library of Alexandria for furniture. You can find almost everything here. Most furniture comes in a vintage-leaning style.
They're slightly heavier-looking pieces and can be more on the bulky side. But the best part of them is that they have a timeless structure.
No matter what kind of vibe you're going for, you can easily incorporate Castlery furniture pieces in your plan. That's the biggest highlight of this site.
And with a range this big, your chances of finding the perfect piece become pretty high.
The Article furniture is no less. They also have a huge range of furniture. Granted, it is smaller than Castlery but it is still impressive.
Plus their furniture designs are more on the modern side. If you're looking for easy and versatile pieces, you can't go wrong with Article.
The ickiest part of online furniture shopping is probably the shipping.
You always have to worry about whether they'll get the thing in one piece and if the shop accepts a return if there is any problem. These questions have little complicated answers over at Castlery.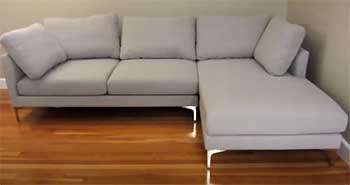 Castlery takes at least two weeks to deliver the furniture you pick, even if it is in stock.
The delivery service is notorious for not always maintaining the given timeframe.
Plus the shipping charge isn't a flat rate. All of these would be somewhat acceptable if the delivery service didn't get so many complaints.
The return policy isn't very nice either. You get 7-12 days to return the product if you want but you'll have to pay. Castlery takes 20% of the price as a return fee. This can very easily add up.
Article, on the other hand, has fewer complaints about their delivery service overall. They also have a flat rate of $49 for shipping.
As for the return policy, they give you more time to return a product. You get 30 days and you can return your item for free.
The whole return process of Article is smoother than Castlery and it doesn't involve any charge either. So yeah, Castlery is taking an L here.
The biggest selling point of Cutlery is its price.  And honestly, that is understandable. On average, Castlery costs less than pretty much every other online furniture shop.
Their sofas range from $639-$4699 while the Article ones can hit $719-$4519. That should give you a general idea about pricing on both websites.
Castlery doesn't have a flat rate for shipping so if the furniture price tag is on the lower side, then the shipping can add up. Article on the other hand has a flat rate so won't have to worry about that adding up.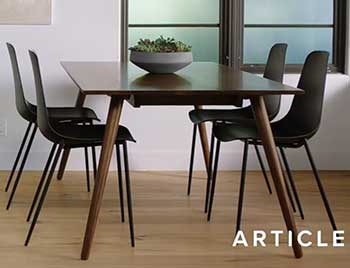 This is probably the biggest difference between Castlery and Article.
Castlery's customer service still has a lot of room for improvement.
Article is comparatively smoother and better equipped.
Castlery's root-level customer service operators often don't know much about their own products except what's written on the website.
So if you need some extra guidance, you may not get it from them.
Article is much better. The support persons are well-informed and very friendly. You won't have to stay on hold for any problem you're facing and you won't have to hear the website description read back to you.
Which Furniture Should You Choose?
As you already know now, both shops are pretty similar in everything. That unfortunately makes the answer to this question a little complicated.
You won't have any simple or straight answers. It will all come down (and depend) on your personal preference and convenience.
But if you want to make a solid and calculated decision, you'll need to do some very serious trade-offs in your head. That will be hard, but definitely not impossible.
If you really want to put your foot down for this, the best thing to do is to note down what you want. Once you're done listing them, you can get to the trade-offs more strategically.
If you're okay with splurging a little more and prefer solid service over anything, Article is the best option for you.
They have a pretty big furniture range you can't really go wrong with. And if you want more modern pieces, this is heaven.
Article also has better customer service and a return policy. So in case you don't feel good about something, you'll face less hassle returning it.
If "affordable" is your primary focus and you're looking for timeless pieces you can easily integrate anywhere, Castlery is the best bet for you.
Their range is huge (to say the least), the furniture is pretty easy to assemble and the site is very convenient.
The only problem is their return policy. It costs a little extra and the customer service could be smoother.
Overall, Article is the better choice between the two shops. But if you want affordable and convenient, feel free to give Castlery a shot.
Frequently Asked Questions (FAQ)
Here are a bunch of questions people ask about Article, Castlery, and online furniture brands in general.
Is Castlery a real company?
Very much, yes. Castlery started in 2013 as a Singapore-based company and later expanded to Australia and the USA.
Where are Castlery products made?
Most of the Castlery furniture is brought from different overseas factories and markets. Some of the in-house designs are made in a Chinese factory Castlery holds the majority shares of.
Where is Castlery furniture based?
Castlery started as a Singapore-based company. Currently, they operate from three bases – Singapore, Australia, and the USA.
Final Verdict
When it comes to online furniture outlets, picking one is hard because there are so many options. Article and Castlery both are top names among the options.
And that makes choosing one between them hard. Hopefully, this Castlery and Article furniture comparison can help you pick one.
But the final decision will always depend on your convenience and preference. So whatever you choose, make sure it works for you above all.