Have you decided to adore your beautiful house with some Jessica Charles furniture?
Three things make Jessica Charles a top choice over its competitors: beautiful design, comfort, and unique fabric collections. But that doesn't mean you will blindly choose them without knowing the details.
After considering verified customer reviews and in-depth online research, we have finally figured out the good and bad of this furniture brand. If you have already determined to buy furniture from this brand, don't miss this article to get some valuable information.
Features of Jessica Charles Furniture
The best part of Jessica Charles Furniture is its comfort and furnishings. Plus, these functional pieces of furniture add a sense of spaciousness.
However, there are many aspects you want to consider to judge a furniture's quality. Let's dive into the details of Jessica Charles Furniture to learn how worthy their products are!
A Wide Range of Furniture Options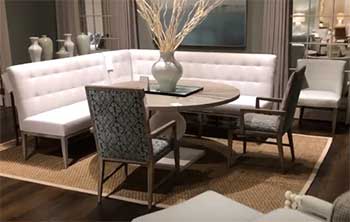 Jessica Charles started its journey in 1975.
But the brand has succeeded in making various types of high-quality and functional furniture products from the very beginning.
Stools, chaise lounges, various types of chairs, sofas, settees, sectionals, ottomans, sleepers, swivel gliders, swivel rockers, etc., are a top choice from this brand.  
These items are well known for their fashionable styling and durable construction.
For example, their sofas are fashionable and pretty comfortable. This shows how committed the brand is to making quality products.
You will also love their ottomans, which are versatile to use as a discreet and subtle storage solution or a seat option.
Top Quality Swivel Rockers
Very few brands come close to Jessica Charles when it comes to swivel rockers.  This furniture is available in different styles such as contemporary, transitional, casual, etc.
You can choose them from 50+ color options. They have a more complex mechanism to make them more comfortable and flexible.
In addition, swivel rockers have several planes of motion, giving you additional customizing options. Their cushions, covered hinges, quietness, ease of use, and footrest features will impress you.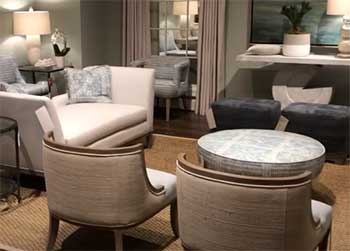 Do you know why fabric is essential for furniture?
Apart from improving the furniture quality, it adds an unparallel ambiance to the interior space.
Jessica Charles has a collection of 700+ fabric items. They come in different grades, from 10 to 340.
These beautiful fabrics are available in different blends, such as 100% silk, polyester, cotton, acrylic, etc.
Now, you must be wondering how to differentiate these fabrics, right?
They have unique textures, designs, prints, and tapestries. These fabrics are simple to clean because they are not prone to get damaged by mildew, fade, stain, and UV.
Beautiful and Distinctive Wood Finishes
Jessica Charles uses Grade-A stains and finishes in their furniture. Before applying the finishes, they hand sand the wood seven times to make the surface soft, silky, and smooth.
38 types of finishes are available from this brand, such as ash, antique cherry, antique ivory, bisque, bramble, ebony, glacier, light cherry, Malacca, etc.
The leading eye-catchy beauty lies in their slight variations and nuances. You can even customize colors and textures based on your preference. But getting the exact match in the color and finish requires you to send a sample.
The appearance of furniture is essential if you focus more on details and prefer an elevated look.  Nail head trim can add a sophisticated look. They are available in various shapes, sizes, colors, and textures. The company offers 26 decorative embellishment options.
You can get these jewelry items in traditional styles or playful designs to match your furniture style. Furthermore, Jessica Charles offers decorative trims or fringes to add to your chairs, sofas, and even pillows.
13 fringe and cords are there, such as AngelAqua, DollyBisque, EdgeGray, SamanthaSand, etc. They can add a fashionable look and show a creative appearance on various furniture items.
What Could've Been Better with Jessica Charles Furniture?
Jessica Charles Furniture undoubtedly manufactures a good quality product. But they could have done better if the company focused more on the following factors.
Fabrics of Jessica Charles Furniture are available in various designs and colors. But their quality is not as good as you want them to be.
For example, some customers complained they experienced fraying issues in their chair fabrics within 4-5 months of regular usage.
The company claimed they use some kind of protector. But, it is questionable how good they really are.  It is best to include an additional warranty for the product to claim the damage.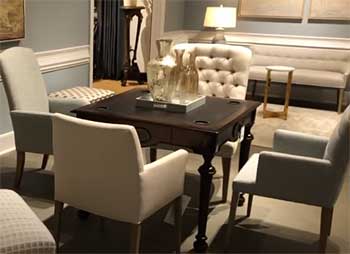 A top brand like Jessica Charles is supposed to have good customer service.
Unfortunately, it is not as good as some prominent brands.
For instance, one customer ordered customized fabric with a few chairs.
But the company failed to deliver the product even after 15 weeks.
However, most competitors deliver their products within 6 to 8 weeks. It is one of the significant areas where the company needs a lot of improvement.
But many customers were impressed with their return policies.  
Jessica Charles furniture is not as costly as many luxurious brands.  But it is also true that many affordable brands are there that offer almost similar quality products at a low price.
 Their sofas, sleepers, swivel rockers, etc., are a little pricey. Since it is a long-term investment, you want to reconsider your decision to get the best value.
However, the comfort, style, and functionality it provides are worth the money you invest.
Frequently Asked Questions (FAQ)
Who makes Jessica Charles furniture?
North Carolina craftsmen hand-make all furniture of Jessica Charles's in Hickory, NC.
Where is Jessica Charles furniture made?
All Jessica Charles furniture is made in High Point, North Carolina
Final Thoughts
So, what's your thought after learning about Jessica Charles furniture reviews? Though the brand needs some improvements in a few aspects, all their positive points give you enough reasons to buy their furniture.
Their wide range of product collections and colossal customization options will impress anyone. But make sure to choose compatible parts and design options based on your interior design and space size.