You can never trust random dealers with kitchen cabinets. That's why a lot of people go for big names like Cardell and Kraftmaid.
Both cabinet brands are amazing and pretty similar. But some factors like build quality, longevity, and delivery safety standards make them different.
First, fit or remodel, choosing the right cabinets for your kitchen is always a little stressful. Both Cardell and Kraftmaid are really good. But if you had to pick one, which one should you go for?
Here's a comparison to help you with that.
A Quick Summary of Comparison
| | | |
| --- | --- | --- |
| Feature | Cardell Cabinets | Kraftmaid Cabinets |
| Build quality | Good | Better |
| Longevity | Good | Better |
| Delivery safety standards | Good | Better |
Have time to dig in? Good, let's get to the details then.
Key Differences Between Cardell And Kraftmaid Cabinets
Comparing similar products are pretty hard, but not impossible. Both Cardell and Kraftmaid bring their own attributes to the table. And those are what make these two manufacturers different.
Build quality, longevity, and delivery safety standards- these are the major differences you'll spot between Cardell and Kraftmaid. Let's see how they compare to each other in these departments.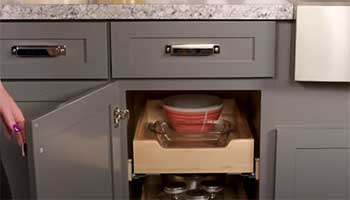 Both manufacturers are USA-based, so outsourcing isn't on the board.
The quality comparison is completely about materials and assembly.
Cardell's product lineup is mostly made of MDF (or particle board) materials.
They do have plywood options but not much. The overall build quality of Cardell is more than the reviews you'll see.
They usually don't have any issues unless you're unlucky.
Unfortunately, getting unlucky with Cardell is more common than it should be. A lot of Cardell cabinets (old and new) get spotty easily, and the paint starts peeling while the cabinet is pretty much new.
Kraftmaid is much better in this department. They have a decent product range for both MDF and plywood but they mostly focus on plywood. The cabinets are much more durable and sturdy.
They sometimes have some paint-peeling issues but that seems pretty uncommon.
Well, this is where your luck strikes. In most cases, both Cardell and Kraftmaid stand the test of time well.
But in rare cases, you might end up with a not-so-lasting unit. Unfortunately, this is a common occurrence with Cardell.
As amazing as their build quality is, Cardell cabinets seem to wear off a little too quickly. Some people do have a good streak and hit 10+ years with Cardell, but the recent production doesn't stand that long.
Kraftmaid isn't free from this, but they have fewer problematic cases. Their cabinets easily last more than 10 years. That's just the beginning though.
Kraftmaid cabinets can last around 20 years without any issues and that's the usual case.
Delivery Safety Standards
This is the ugly part of both manufacturers. Both have had their fair share of controversial cases. Both manufacturers have been known to screw up, but Cardell is pretty much notorious for horrible shipping procedures.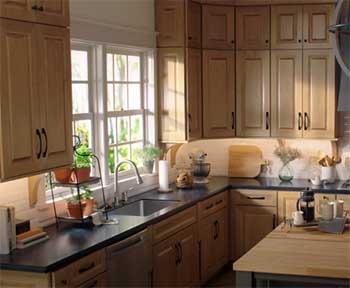 A lot of times Cardell cabinets end up getting damaged during shipping.
It isn't just minor scratches either, you get a range of defects.
Scratches, peeled coating and sometimes even paint splotches- the list goes on.
Kraftmaid also has similar complaints, but the number of them is lower.
What makes the real difference here is how the manufacturers handle the screw-ups. This is where Cardell falls behind with their less-than-ideal policies.
To sum it up, both manufacturers screw up but Kraftmaid has fewer complaints. They also handle these issues better so Cardell really falls behind here.
Which Cabinet Brand Should You Choose?
The answer to that will depend on your personal preference and what you want. Cabinets depend a lot on your luck and the dealer who is hooking you up, so you can only use your choice as a guide.
You'll have to do some serious trade-offs to pick one between Cardell and Kraftmaid considering how similar they are.
Cardell has a pretty rich product line. If you're particularly looking for MDF (or particle boards as some people call it) cabinets, then Cardell is a good option mostly because most of their product lineup is MDF.
The quality is pretty good and you can get them easily.
Plus Cardell is one of the cheaper cabinet brands so if you're trying to save some dough, it is better to go with Cardell. The only problem is that their delivery system can be horrible depending on your luck.
Plus you might have to re-do them sooner than you think. Here is a little demo of it for you.
Kraftmaid on the other hand is pretty much a household name for kitchen cabinets. They last longer, have a beautiful product line and will give you more plywood options.
So if plywood is something you're looking for, you should probably lean towards Kraftmaid.
Kraftmaid also has better longevity records. That means you won't have to worry about re-doing them too soon. Sure, the price will be higher but you'll get your money's worth.
Kraftmaid also has better delivery standards so fewer worries about receiving broken products.
The only problem with Kraftmaid is the higher price tag and harder availability. You may have to look around a little hard before you find a good dealer for them.
Overall, Kraftmaid is the better choice between these two. They have better build quality and a smoother process. But if you're strictly looking to save money, then feel free to give Cardell a shot.
Frequently Asked Questions (FAQ)
Here are a bunch of questions people usually ask about Cardell cabinets, Kraftmaid, and kitchen cabinets in general.
What are the highest-quality cabinets?
There are multiple good options. Kraftmaid, Quality, Cardell, IKEA, Dekora- these are some of the best quality cabinets you'll find.
Are Cardell cabinets wood?
Yes and no. Cardell cabinets are mostly made of engineered wood or MDF. These are also known as particle boards.
Where is Cardell Cabinetry made?
Cardell cabinets are USA-made. According to their website, all their cabinets are manufactured and assembled in their Pennsylvania facility.
Who bought Cardell cabinets?
Cardell Cabinets were bought by Masco Cabinetry in 2013.
Final Verdict
There is a pretty clear winner in the Cardell cabinets vs. Kraftmaid debate, but everything really boils down to what you personally prefer. Kraftmaid cabinet is the better overall choice here.
But if you want to cut back on the cost, feel free to give Cardell a shot.