Whether you are building a kitchen in a new home or redesigning it in an existing home, your cabinets are a very important choice to make.
The cabinets are not only where you will store most of your utensils and appliances; they will also take up most of the space in your kitchen.
So, it is important that you choose cabinets that not only cater to your requirements but also make your kitchen look good. Two kinds of cabinets you can consider for your kitchen are Brighton and KraftMaid cabinets.
The most critical difference between them is that Brighton cabinets are much more customizable with a lot more options.
A Quick Comparison Table
| | | |
| --- | --- | --- |
| Specification | Brighton | KraftMaid |
| Available Wood Choices | Maple, cherry, red oak, hickory, rusted hickory, clear alder, rustic alder, red birch, and more. | Alder, maple, oak, birch, hickory, and cherry |
| Door Styles | 52 different options | 36 different options |
| Finishing styles | 121 different wooden finishes | 50 different wooden finishes |
| Price | $2,000-$12,000 | $7,000-$20,000 |
Key Differences Between Brighton And Kraftmaid Cabinets
After going through the provided comparison table, you should now have a better understanding of the characteristics of both Brighton and KraftMaid cabinets.
Now, let's go a bit more in-depth into the characteristics of the cabinets and really break down and discuss each characteristic separately.
Available Wood Choices For Cabinets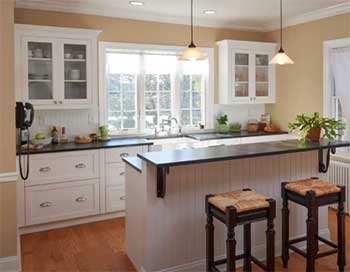 This is arguably the most important characteristic when looking for kitchen cabinets.
The material, color, and finish of the cabinet you choose should ideally match the rest of the house.
With this in mind, Brighton cabinets offer ten different kinds of wood from which they make their cabinets.
Their options include hardwoods such as maple, hickory, alder, and oak. They also have softwood such as cherry and birch.
KraftMaid offers a slightly smaller variety of wood options for their cabinets. Compared to the ten of Brighton cabinets, KraftMaid offers six different kinds of wood for their cabinets.
All of these six options overlap with the ones that Brighton cabinets offer. KraftMaid offers Alder, Maple, Oak, Birch, Hickory, and Cherry.
So, if you want more options to pick from for your cabinets, you should consider Brighton cabinets.
Cabinet Construction And Features
This is another important aspect when considering kitchen cabinets for your home. To make things easier, the construction and features of both Brighton and KraftMaid cabinets have been explained separately.
Brighton Cabinet Features
With 1 1/2″ wide stiles and rails and 3/4″ solid hardwoods, the overlay cabinet front frames are constructed utilizing glued and screwed joinery.
While overlay cabinets will have 1 1/2″ top frame rails, inset wall and tall cabinets will have a 2 1/2″ top rail. With a 4 1/2″ toe space and 30″ high face frames, standard base height cabinetry has an overall height of 34 1/2″.
Standard plywood is 1/2″, and UV-treated birch veneer is used inside. As a customization option, matching wood inside is available. Cabinets come in basic sizes with customization of dimensions allowed to 1/16"
3/4″ UV Birch veneer plywood with a front edge band is used for adjustable shelves. The shelf in 24″ deep tall cabinets is 22 1/4″ deep. The shelf in 24″ deep base cabinets is 17 1/4″ deep. The shelf in wall cabinets is 11 1/4″ deep.
Drawers include 1/4″ maple veneer panel captured bottoms and 5/8″ maple solid side front and back dovetailed construction. Standard drawer box heights are offered in 1″ increments from 2″ to 10''.Full-width drawer boxes in cabinets 39″ wide and wider will have additional bottom support.
Most doors are constructed with 3/4″ frames and 1/2″ solid wood center panels and are made of high-quality kiln-dried hardwoods.
Doors wider than 24″ wide will have two center panels placed side by side. Doors that are taller than 48″ will have two center panels built from top to bottom.
KraftMaid Cabinet Features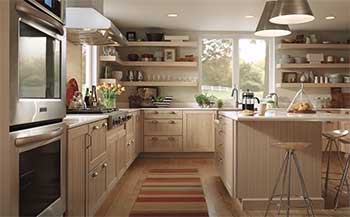 Every cabinet has a special DuraKraft Plus finish.
It is a 14-step high-quality finishing process that offers extra protection and makes the cabinets more durable.
The drawers of the cabinets are made with 3/4'' solid wood with sturdy joins allowing for long-term use.
The drawers also have special Whisper Touch hinges.
Six-way adjustable hinges with ball-bearing slides offer soft and quiet drawer operation with full extension.
The cabinets have 3/4'' face frames. The frame's edges are eased which reduces the risk of snags and scratches. It also allows the wood to hold its finish better.
The cabinets come with 3/4'' fully adjustable shelves. The shelves can be positioned and adjusted to fit any storage requirements. The full-depth shelves offer 25% more storage space than the half-depth ones.
The door style of the kitchen cabinet plays an important part in its overall aesthetic. As the door covers most of the front part of the cabinet, it should be chosen in a way that matches the house.
Brighton cabinets offer over 50 wholly different door styles. They come in many different colors so you have a lot of freedom to customize with Brighton. To see all the styles available, go here.
KraftMaid cabinets offer a lower, 36 different door styles compared to the 52 offered by Brighton.
The finishing is the last application of color or laminate that gives cabinetry the final aesthetic. The finishing is what people look at when considering the cabinet that best matches their design idea.
Brighton cabinets offer an almost overwhelming selection of 121 different finishes.
KraftMaid cabinets, on the other hand, provide a fewer selection of 50 finishes.
Brighton cabinets go for between $2,000 and $12,000 depending on the number of cabinets you buy and your kitchen style.
KraftMaid cabinets are a bit more expensive going for between $7,000 and $20,000. The heftier price tag is offset by its better quality compared to Brighton cabinets.
Which Cabinet Should You Choose?
From the analysis above, we can conclude that Brighton cabinets have a superior selection of cabinets for a lower price tag. KraftMaid meanwhile, offers cabinets of superior quality, but with a lower catalog of options and at a higher price.
So, if what you want is a cheaper cabinet with more customization options, go for Brighton. But if you want higher quality cabinets with better features, choose KraftMaid.
Frequently Asked Questions (FAQ)
Which brand is best for cabinet?
KraftMaid makes the best overall kitchen cabinets.
What are the highest quality cabinets?
MasterBrand Cabinets create the highest quality cabinets.
Which kitchen cabinets are most durable?
Cabinets made from solid hardwood are the most durable.
Who makes KraftMaid cabinets?
The Masco Retail Cabinet Group (MRCG) manufactures KraftMaid cabinets.
Closing Thoughts
The kitchen plays an important role in the overall appearance and aesthetic of a house. So, when designing a kitchen for your home, you should choose carefully which cabinets go the best with the existing aesthetic of your house.
Hopefully, this write-up on Brighton cabinets Vs. KraftMaid helps you make that choice.