Camlock couplings, commonly referred to as Camlock fittings, are incredibly useful and dependable equipment that you may utilize in various applications. They are mainly used for coupling the pipes.
They can quickly and effectively connect or disconnect a hose or pipe without the need for elaborate tools or equipment. The connection also ensures tight and solid bonding.
But if you only know about Camlock coupling and are entirely dependent on it, you should also be aware of some other alternatives. Go through this article to find the best alternatives for Camlock.
Camlock Substitutes For Perfect Fitting
You might already know the uses and benefits of Camlock. It provides a solution to the outdated, risky techniques of pipe connections.
This handy tool's revolutionary concept restores some simplicity to the hose connection procedure.
However, there are some other options available in the market that can give you the same benefits or even more. So, let's dig deep into the substitutes of Camlock so that you can pick the best coupling for your project.
Garden Mile Brass Connector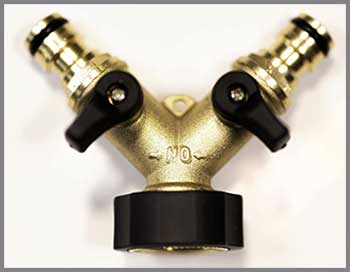 Green Mile brass connector can be a suitable alternative to Camlock.
To ensure the strength of the hose connector and taps adaptor, this connector is composed of heavy-duty environmentally safe brass and features two shut-off valves.
With the Dual shut-off valves, you can easily control the flow of the water.
Levers are made of metal (not plastic) and wrapped in thermoplastic rubber over a mold. This feature ensures your comfort when you turn it off or on.
These creative 2-way double brass hose connectors are made to unite two different hoses into a single outlet for an exterior garden tap. The hosepipe adapter works perfectly with this garden hose splitter nozzle.
The size of these Garden Mile brass connectors is standard and precise. This 2-way double short hose tap adaptor fits Hozelock 1/2″ double-tap adaptor, has one conventional 3/4″ tap connector, two 1/2″ fast connects, and is suited for all hose sizes.
This solid brass connector is also multifunctional. This is one of the best options that you can find easily and can use for outside flower and horticultural watering.
The price is almost similar to Camlock. Camlock can cost you around $6.00-$12.50 for one piece adapter, while a Garden Mile brass adapter will cost you $8.99.
Tech Traders Brass Connector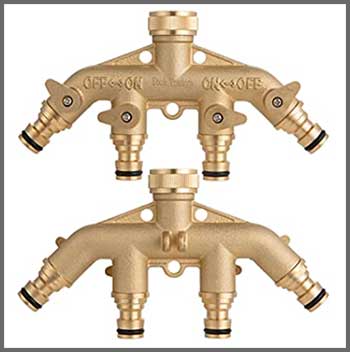 Another great alternative to Camlock coupling can be Tech Traders 2 Way Solid Brass Hose Connector.
It has so many unique features that will make your task a lot easier.
It has individual on and off valves, which will give you great control over the water flow and pressure.
The material of this connector made it durable and resilient for any situation and the quality brass fight against rusting.
It has a 3/4″ inner thread Tap Adaptor, a 1/2″ female hose connector, and a 1/2″ female hose connector (auto stop).
However, you can select the length of the diameter according to your need. 
The major advantage of it is that it gives you a lifetime guarantee. But it is not suitable for industrial use. So, if you are planning a big project, avoid using it.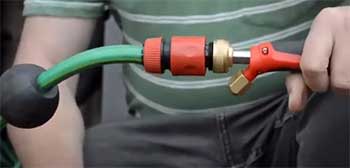 Amtech hose fitting can be the right solution for your need.
The kit comes with two female hose fittings, one with a water shut-off valve and the other comes without it.
This hose fitting has a 34-inch threaded tap connector and an adjustable spray nozzle. Solid brass is used to make all connectors.
You can adjust the water stop valve by simply twisting the grip, which is conveniently placed away from the collar. Even with a lot of pressure being applied to them, they do not get leaked easily.
That's why this is considered to be a fantastic starter package for novice gardeners. As a Camlock alternative, you can have it on hand in case your current Camlock fittings and connectors break down.
Ansio Garden Hose Connector
According to user feedback, Ansio's garden hose/tap connector is one of their best-selling items on Amazon and has a rating of 5 stars.
It is a 2-in-1 brass female connector that can be readily changed by unscrewing and detaching the connector's top section to accommodate either a 12-inch or 34-inch adaptor.
It will work with the majority of outdoor taps in the USA but not mixer taps because those require a different connector.
The Ansio garden tap/hose connector is a fantastic multipurpose connector, and it costs only $4.70. It also comes with five years warranty which is a good deal at this price.
Is Camlock Worth It?
The main advantage of Camlock is its easy installation. It can be installed without the use of complicated tools far faster than the majority of other couplings. They can save downtime in almost any fluid transfer application.
For many years, Seal Fast company has been offering Camlock fittings that are adequate for the harshest operating conditions, including those seen in mining and oil and gas applications.
Camlock fittings are made to last from sturdy materials like polypropylene and stainless steel, enabling them to withstand wear and corrosion on a variety of job sites.
Camlock fittings can handle the majority of liquid, powder, and gas transfer applications without experiencing damage because of their durable design.
Another good thing about Camlock is the price of Camlock fittings is reasonable and can be accommodated by any facility. So, considering the overall situation, it can be said that Camlock is totally worth it.
Frequently Asked Question(FAQ)
What are the different types of Camlocks?
There are different types of Camlocks available both online and offline. Stainless steel, Brass, Aluminum, Polypropylene, Nylon, and Ductile Iron are the major types of Camlocks.
If you want a lightweight and easy-to-use connector, you can choose an aluminum Camlock. You can pick polypropylene Camlock if you have a limited budget and want a cheaper option.
Does IKEA sell cam lock?
Yes, IKEA sells Camlock. They have different types and sizes of Camlock in their stock.
Why are my cam locks not working?
The reason behind your Camlock not working can be the loose nut. Another reason could be improper installation. To fix the problem, check the nuts first. If you do not find any problem with the nuts, then reinstall your Camlock again.
What are the different types of cam and groove fittings?
Cam and groove fittings come in different types and sizes. Type A or Type I: adapter (male end) with female thread, Type B or Type VII: coupler (female end) with male thread, Type C or Type VI: coupler with a shank (hose barb), Type D or Type V: coupler with female thread, Type E or Type II: adapter with shank, etc. are some common types.
Final Words
Camlock is very popular among the other coupling brand. You can find Camlock in almost every industry, including manufacturing, agricultural, oil, gas, chemical, pharmaceuticals, and military applications.
Since it doesn't use threads, there are no concerns about it getting soiled or breaking.
These couplings are ideally suited for applications where regular hose replacements are necessary, such as industrial chemical and petroleum vehicles.
Though Camlock is undoubtedly a good option, you should also consider Camlock alternatives for your work because every coupling has its unique characteristics which might align with your goal.