Plumbing makes up a considerable portion of new construction. But you are bound to fail if you don't manage to use the best fittings. 
You can eliminate a lot of uncertainties with ProPress or SharkBite fittings. And this article will give you a detailed comparison between them. 
Although both fittings use EPDM o-ring system, ProPress copper fitting can create a stronger and more reliable hold against SharkBite's stainless steel teeth. 
I'll show you in-depth comparisons between these two fittings so that you can understand which one is best for you. So, let's get right in. 
A Quick Comparison Table 
Here is a quick comparison table between ProPress and SharkBite:
| | | |
| --- | --- | --- |
| Aspects | ProPress | SharkBite |
| Fitting Type | Electro-Hydraulic Fitting | Push-To-Connect Fitting |
| Materials | Copper & Stainless Steel | Brass & Plastic |
| Special Feature | SmartConnect | Integral Pipelines For PEX |
| Benefits | Offers More Benefits | Offers Fewer Benefits |
| Performance | Superior | Inferior |
| Price | Less Pricey | More Pricey |
In-Depth Comparison Between ProPress And SharkBite
You have gathered some basic ideas from the above comparison table. Now you need more information to make the right choice. 
Here are some key differences between ProPress and SharkBite fittings: 
Both ProPress and SharkBite are comparatively new fitting technology. They are engineered on the same system with many differences. 
ProPress is an electro-hydraulic plumbing fitting for connecting copper and stainless steel pipes.
With EPDM o-ring system, ProPress creates a permeant leak-proof connection. This fast and reliable fitting system offers a lot of fitting configurations and applications. 
On the other hand, SharkBite also uses the EPDM o-ring system to join various pipes.
With its push-to-connects plumbing fitting, it's a modern alternative to welding pipes to join them together.  
Because of its innovative design, you can install pipes easily and quickly using this SharkBite Fitting System. 
Material can dictate the longevity of a plumbing fitting. So, it can be an essential factor when choosing a fitting. ProPress fitting and its components are made from two different materials, copper and stainless steel. 
In contrast to ProPress, SharkBite fitting and its materials are also made from two different materials, brass and plastic. So, there is a chance ProPress fittings will last longer than that of SharkBite. 
As we already know, both fittings are designed on the same ground but come with many different features. They are similar yet very different from one another. 
Looking at the features, you will see that the ProPress system comes with the patented SmartConnect Feature.
This reliable connection will give a strong watertight seal for each contact. 
Besides, SmartConnect can identify any unpressed connections so that you can take care of them. 
On the contrary, SharkBite Features a push-to-connect fitting system. You won't need any soldering, clamps, or glue to connect pipes. It offers integral pipelines for PEX installation. 
Besides, SharkBite offers barb fittings, thermostatic mixing valves, five interchangeable jaw crimp ring systems, etc. 
With different features come different benefits. You will find many distinctive benefits between ProPress and SharkBite. Let's check them out. 
Whether wet or dry, ProPress can create a connection in less than 7 seconds on copper and stainless steel pipes. You can connect various pipe sizes ranging from ½ inches to 4 inches. 
Besides, you can achieve more than 400 different fitting configurations with ProPress. On top of that, it comes with more approvals than any other copper press fitting system. 
With this faster press-fitting, you'll get an EPDM, FKM, and HNBR sealing system. In addition, ProPress is eco-friendly and won't deteriorate or become fragile over time. 
On the other hand, SharkBite fittings are compact and come with a DZR brass body. As a result, they are strong, corrosion-resistant, and durable. 
You can easily install and service the fitting. Plus, it minimizes water hammering noises. 
In addition to that, you will require fewer joints and fittings in the SharkBite system. It's also approved to use behind walls and undergrounds. 
ProPress and SharkBite fittings are intended to serve similar purposes. Nevertheless, they are compatible with some similar and different piper. 
For example, ProPress is compatible with ½ inches to 4 inches copper and stainless steel price for commercial or industrial, and residential uses. 
In contrast, SharkBite fitting is compatible with copper, PEX pipe, CTS, and CPVC. But the fitting sizes include ½ inches, 5/8 inches, ¾ inches, and 1 inch. 
So, we can see that ProPress is compatible with fewer pipe options but offers more pipe settings. 
If we look at performance, we will see that ProPress fitting conforms to the most rigorous testing standard and codes in the US, Canada, and Europe. This test shows that ProPress can tolerate between 200 psi to 600 psi within 0° to 250° F. 
On the other hand, SharkBite is certified to tolerate 200 psi at 0° to 200° F. ProPress is also superior in terms of performance to SharkBite. 
With all the superior features and quality, ProPress fittings offer a longer warranty than SharkBite fittings.
ProPress fittings are less expensive than SharkBite fittings despite the superior quality and more warranty coverage. 
Which One Is Best For You?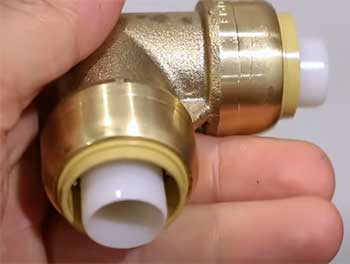 I have given all the facts and info related to these two products with a comprehensive discussion.
Now, you can easily make the right choice. 
Nevertheless, I will tell you again which one is better in terms of quality and performance. 
ProPress offers stronger bonds and connections than SharkBite.
It is compatible with more pipe sizes and provides better features. So, you should go for ProPress fittings for your plumbing project.  
Frequently Asked Question (FAQ) 
Why you shouldn't use SharkBite fittings?
SharkBite features an EPDM o-ring where the ring is made of rubber. But rubber o-ring does not create a powerful and permanent bond. Besides, it will dry out and crack or split if you use it outside under direct sunlight. 
Is ProPress better than solder?
ProPress is better than solder. Solder is an old technique where you will have to weld pipes to create joints. But ProPress is a fast, modern technique and does not require any welding. 
How long will SharkBite fittings last?
SharkBite is a long-lasting fitting designed for ease of use and durability. SharkBite fittings come with a 25 years manufacturer warranty against any defect. So, you can at least expect it to last that long.  
What is the life expectancy of a ProPress fitting?
The manufacturer offers a 50 years warranty for ProPress fittings. While you might not expect it to last that long, it will significantly last more than 25 years.
Final Thoughts 
Choosing the correct plumbing fitting is crucial for any new construction. Failing to do it will take a huge scope from your wallet, not to mention the anxiety and agony you will face. 
But not an issue for you as you already have read my ProPress vs. SharkBite review. Now that you know the best fittings, you can easily sleep at night.