Make everything from a tasty smoothie to a nut butter using your favorite blender. Yum! Now, let's dig deeper into two top-performing blenders in the market; Brandless and Vitamix.
One major difference is that Vitamix has ten speeds, whereas Brandless has nine. Also, the latter has a three-year warranty, while the Vitamix comes with a ten-year warranty.
You're probably wondering, is that all? Well, not even close! So, come with me.
A Brief Comparison Table
| | | |
| --- | --- | --- |
| Product Description | Brandless Blender | Vitamix |
| Number of speeds | Nine | Ten |
| Warranty | Three years | Ten years |
| Wattage | 1500 watts | 1380-1640 watts |
| Weight | 14.5 pounds | 6-11.95 pounds |
| Quality | Moderate | Excellent |
| Performance | Pretty good | Excellent |
| Control | Automatic | Automatic and manual |
| Price | Lower | Higher |
Main Differences Between Brandless And Vitamix Blender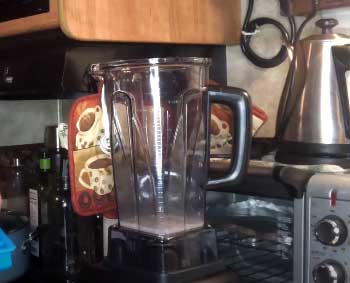 The most significant difference that you should consider is the number of speeds.
Brandless blender has nine speeds that ensure you easily prepare any soup or butter and get a perfectly-made texture.
On the flip side, Vitamix has ten different speeds you can choose from.
You can make well-blended smoothies in less than a minute. With this blender, you can refine even the hardest texture to your preference.
Both blenders work great, but if you want the finest texture, try Vitamix. This kitchen appliance will blow your mind away.
After spending huge loads of money, you want that guarantee that you can return a product if it needs to perform better. These blenders have a warranty, and that's a good start.
Brandless offers a three-year warranty period upon purchase.
On the other hand, Vitamix gives you a ten-year period of assurance that you can use your product with utmost comfort and peace. If you happen to be a sucker for longer warranty periods like I am, Vitamix is the one.
Another key differentiating factor that can't go unnoticed is the wattage. Brandless Pro blender has 1500 watts, which is a good range if you ask me.
Oppositely, Vitamix has a wattage of between 1380 and 1640. You can select a higher or lower watt, depending on your preference.
The good thing about higher wattage is that it gives the blender the ability to squash faster and more efficiently compared to a low-powered one. Lower watts mean less power usage.
If you prefer a low-powered blender, Vitamix is the gold standard.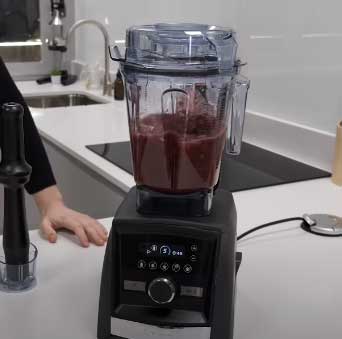 You can choose a blender based on its weight.
Do you prefer a lighter one or a heavier one, or doesn't weight concern you?
Brandless is a bit heavier, weighing 14.95 pounds.
Inversely, Vitamix has a lighter feel, its weight ranging between six and 11.95 pounds.
You can easily move this blender with no trouble whatsoever.
You should settle for Vitamix if you are looking for a lighter appliance. But if you want the heavier version, have your way with the Brandless blender.
Full disclaimer: Vitamix is the king of quality. This must-have electronic is super easy to clean. Even better, this appliance has exceptional cooling technology that curbs overheating and ensures it works smoothly for a considerable time.
Conversely, the Pro Blender has a moderate quality with a powerful motor that will transform your meals repeatedly.
Vitamix will take your breath away if you are looking for the highest-quality blender.
Are you in need of a blender that will yield excellent results? Your day has been made because I know exactly what you need. Vitamix comes in all kinds of sizes and functions, which can impressively blend, chop, and crush different types of foods.
On top of that, you can turn the thickest mixtures into velvety concoctions. Need I go further? The performance is just unbelievable.
In contrast, Brandless blender has pretty good results. Overall, Vitamix takes the medal home when it comes to performance.
The Brandless blender has an automatic control, selecting your desired speed and then getting on to business. In opposition, Vitamix has both automatic and manual controls. What do I mean by that?
Not only does it automatically control the blending procedure, but you also can manually control how fast the blades rotate.
For maximum controlling ability, Vitamix is more than enough.
The cost will always be a great determinant during any purchase. Sometimes, you don't want to spend much, and other times you just want the best, no matter the cost. Vitamix costs as much as $649, and the cheapest is around $239.
On the contrary, you can get the Brandless blender for as low as $180. So, worry not if you are at the point where spending is limited; you have the option to get Brandless kitchen equipment.
Which Blender Is Better?
If you are considering buying a blender, this is a question that is probably on your mind. There are only two ways to think about it: the cost and individual needs.
If you are okay with moderate performance and quality at an affordable price, Brandless is the pick. However, Vitamix will give you everything you want in a blender regarding quality, performance, and warranty.
Frequently Asked Questions (FAQ)
What blender is just as good as Vitamix?
Blendtec is at the top list of blenders. It has up-to-date touch controls that make blending and cleaning faster and more efficient than ever.
Is Vitamix better than other blenders?
Vitamix is, by far, one of the most convenient and quality blenders to exist that can handle any blending.
Are there fake Vitamix blenders?
Knockoffs are common in brands, and Vitamix is not an exception.
What is the best high-performance blender?
The Vitamix 5200 is a high-end and the best blender in terms of quality and performance.
Bottom Line
The comparison between the Brandless and Vitamix blenders has been quite interesting.
Don't you agree?
You are now well-armed with all the necessary facts to decide which of the two amenities deserves a spot in your kitchen.
If you want a moderately-performing blender that's less pricey, Brandless is a good pick. But you should take home Vitamix if you want excellent quality and performance. Everything perfect comes at a cost.