The only best thing you enjoy while comparing a Kenmore Pro Blender with any Vitamix blender is that Kenmore offers you more features at an economical price point. But Vitamix blenders are extremely expensive when compared.
However, both work excellently preparing meals or blending anything you want in the kitchen. People are considerably good fans of Kenmore due to those heavy-duty cutting blades designed in Japan and the meager price.
A Quick Comparison Table
| | | |
| --- | --- | --- |
| Details | Kenmore 205601 6-Speed Blender | Vitamix A3500 Ascent Series Smart Blender |
| Consumer Rating | More liked because of the low-priced and classical way of blending | Less liked because of more price and some technical features that a beginner might not be able to use |
| Number of sharp blades | 6 | 4 |
| Cleaning | Easily removable blades that get clean easier | Self Cleaning |
| Capacity | 56 (oz) | 48 (oz) |
| Number of Speeds | 6 | 10 |
| Portability and Weight | 7.9 lbs. | 15 lbs. |
| Pitcher/work bowl material | Glass | Tritan |
| Wattage required | 500 watts | 1500 watts |
| Digital features included | Not included as it is just a simple dial blender | Multiple Digital features are included to make blending easier |
| Cost Factor | Up to $149 | Up to $600 |
In-depth Differences Between Kenmore And Vitamix Blenders
To help you judge these brands at their best, I have chosen two products that are considered the best and very famous. Their differences are given as follows.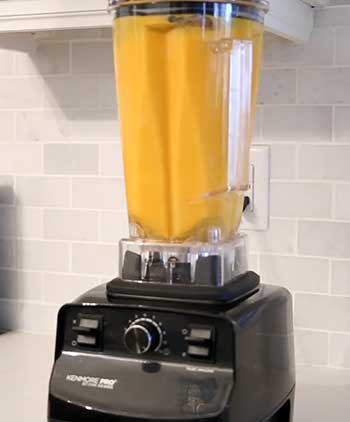 After searching on many forums, and discussions, and asking people who have used both blender options, the stakes were higher with the Kenmore.
It is because people like its classy style for all types of blending needs in the kitchen.
A Specific blender from Kenmore, such as the 205601 6-Speed Blender, costs much less than a Vitamix blender.
Comparatively, when you look for a specific Vitamix blender, people don't really have a good experience with it.
The reason could be an expensive price tag with more latest features.
Because sometimes, it could be hard to go out of your budget and find time to learn some new things on even a device like a blender.
But both are good at providing quality blending with several features on the spot.
Choosing a Kenmore pro blender over a specific Vitamix could be advantageous as it gives you six sharp, heavy-duty blades.
These Japanese blades work decently to cut everything or blend whatever you put inside that jug.
Moreover, these blades work just fine in getting things done in a brief period.
Alternatively, the compared Vitamix blender gives you only four blades that may not be as durable as these Kenmore blades.
Plus, Vitamix is recommended for medium or smaller blending options where you don't go for more space. But Kenmore can be used for all types and all needs of blending.
Everything inside the Kenmore Pro Blender is easily attachable and removable. So, whenever cleaning your blender is concerned, just dismount its parts, blades, and other things attached to it.
You can clean every single part separately or as a whole with any best cleaning or dishwasher.
However, Vitamix provides more versatility when cleaning is concerned. You need to fill up the jug with water, turn the automatic cleaner on, and within 60 seconds, you will have your blender cleaned from every point.
That's the reason Vitamix led on Kenmore because of the more advanced technology.
Kenmore is likely to give you more capacity and is usually recommended for extensive blending needs.
It has a large pitcher/jug with 56 fluid ounces, which can relatively accept more dishes inside it to blend.
However, with Vitamix, you are only limited to some small and medium blending requirements. This blender gives you a capacity of 48 fluid ounces, which is less than Kenmore.
The Number Of Speed Options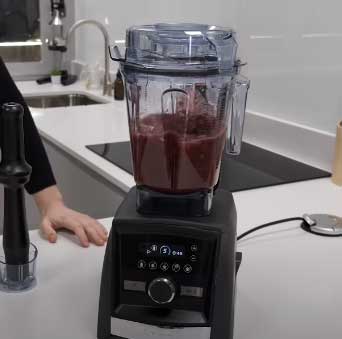 Go for your desire for chopping, mixing, pureeing, liquifying, and pulsing any food you want with 10-speed options.
It doesn't matter what type of specific blending you want; a Vitamix blender will be ready to offer you.
Such speed options make cooking food more accessible and help you provide more dishes on the table while serving dinner or lunch.
On the other hand, the Kenmore comes with a total of 6 different speed options.
These are comparatively fewer than Vitamix.
But still, under such an economical price tag, I think these options are worth the cost.
Considering a portable and weight blender for your streamlined kitchen blending needs is highly recommended.
Because you can quickly move it from one place to another, Kenmore becomes more portable than Vitamix as it just weighs 7.9 lbs. on this mentioned or chosen model.
But with Vitamix, you will find a little heavier weight of 15 lbs. Still, it is portable and can easily be transferred from one place to another.
Pitcher/ Working Bowl Material
Kenmore blenders come with pitchers or jugs made with pure glass. It is better to use these blenders with great care and protection.
However, when it comes to Vitamix, they use heavy-duty Tritan plastic to make these jugs on their pitchers. Such plastic is totally BPA free and safe for health.
Both require a specific amount of current to operate and fulfill your blending needs.
However, the question is, which blender is more economical on electricity usage? With Kenmore, you need only 500 watts to operate this machine and perform any blending.
It is more economical on the electricity consumption side because a Vitamix blender will consume almost 1500 watts to run and convert fine food into blended food items.
Digital Features Included
If you look at a specific Vitamix blender, it offers many advanced and latest features.
These features make blending faster and more reliable. Features like touchscreen control, Wireless connectivity, different program settings for other food items, a programmable timer, and more with a Vitamix will defiantly be a point of concern.
However, you may not find these additional features with a Kenmore blender. According to some consumers, it might be its downside, or it might not be worth comparing at all.
Considering that you have to buy the best blender within a short budget, a Kenmore Pro blender is a perfect selection. It gives you all those blending necessities that a fine blender should offer under a price tag of $150.
However, if you think the price is not the problem but want a blender with more advanced features, consider spending on Vitamix.
Which Brand of Blender Is The Best Option For You?
If you have paid attention, you can quickly determine which blender is best for you. Go with the Kenmore pro blender if you need something classical, durable, and less expensive.
Let's see how you can make carrots and potato soup with it!
However, getting Vitamix will likely make you spend more money and offer you some pretty good features. The rest is up to you!
Frequently Asked Questions (FAQ)
What Blender Is As Good As A Vitamix?
Consider using the Instant Ace Blender if you want the same durability and versatility you enjoy with your Vitamix blender.
Why Are Vitamix Blenders So Good?
They are outstanding because they are packed with the latest technology and more features than a classical blender available in the market.
Is Ninja Better Than Vitamix?
Vitamix is always better than Ninja as it is easier to use and has a better build quality.
Is Vitamix Easy To Clean?
It just takes 60 seconds to clean a Vitamix blender with its automatic self-cleaning option.
Final Thoughts
I am not forcing you to go with any blender between Kenmore Pro and Vitamix blenders. But the decision is always what you make by yourself.
As far as my recommendations are concerned on either brand blender, using a Kenmore is best if you don't have those high demands for blending and certainly do not have that much money.
However, if you are rich and spending up to $500 for a blender is nothing for you, Vitamix will surprise you!