Imagine if Sisyphus had something to carry his boulder up the hill. He'd still suffer for eternity but hey, at least it'd be easier.
This is why having something to carry your tools around is important. It makes carrying them easier for you.
When it comes to carrier boxes, BOXO is one of the top names around. Sturdy material, lots of options- they have a lot going on for them. Here is a review of the BOXO tools and what makes them good.
Enjoy!
Key Features of BOXO Tools
BOXO tools are a pretty handy addition to anyone's arsenal. This is pretty much an all-rounder but some things make it better than the other options.
BOXO tool's biggest plus point would be the durability and the variation they have in everything. So, what makes it stand out? Here are some key features that make the difference.
Any quality toolbox should come in a strong box and that's exactly what the BOXO tools do.
They have one of the strongest materials in the market so you can relax about dents.
BOXO tools come in lots of sizes and all of them are made with top-notch quality material. The toolbox is made of heavy-duty 20-gauge steel.
That's as strong as it gets. This means the box can easily withstand the hassle of being dragged around in places.
This also comes in handy when you're traveling a bit far for the job. You can pop it in your trunk and forget about it. The road won't cause any dents or ruin the carrier in any way.
So as far as material is concerned, BOXO understands the assignment and checks off all boxes.
BOXO claims to be everything you'll ever need as a MotoCross racer.
Does it hold up to that?
Just about yes. There are lots of options you can choose from. And every option comes with a wide range of tools you'll need for the job.
Boxo's Motobox has multiple variations. You can get anything from the 97-pieces toolbox to the giant 185-piece toolbox.
The 103-piece box comes with a lot of tools including socket sets, pliers, flush and side cutters, screwdrivers set, and wrench sets.
There are also socket extensions, adapters, and lots of drill and screwdriver bits. The good thing about this is that it took a jump from the 97-piece toolbox and added more variety.
The spoke wrenches come in more sizes and every other set has stepped up too.
If you were dissatisfied with the 97-pieces toolbox lineup, the 103-pieces box will get you right.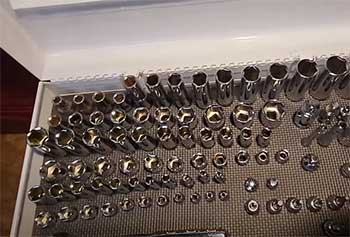 What's the usual problem with an average toolbox?
The clamoring noise of the tools. BOXO gives you a way out of that with its foam-lined interior.
This keeps the tools in place and tones down the noise.
Regular foam-lined tool-boxes usually mess up with the measurements. BOXO's foam liners are laser cut so they are as precise as it gets.
The drawers work on a ball-bearing mechanism. This may sound bad but the mechanism is pretty smooth and easy to work with.
Another plus point is the free space. Everyone knows you need to carry a loose tool or two. If that isn't already in the box, you can carry it inside the box anyways without getting a different case.
Here is a demo of the tool box for you.
What Could've Been Better With BOXO Tools?
BOXO is an amazing, pretty well-rounded toolbox. But just like anything else, there is definitely some room to improve. Smaller space, material issues- there are some issues that are pretty recurring according to the users.
Here are a few things BOXO could've done better in its toolbox.
The aim of using foam was to make sure the tools stay in place. It does that job but creates a new problem- narrow space.
BOXO's toolbox insides are lined with foam. As much as they protect the tools, it also takes up lots of space inside. So the tools are left with a pretty narrow space. This can make fitting them inside harder.
This gets extra hard if you're trying to modify it or trying to fit some of your own tools inside the box.  You'll probably have to resize the foam yourself which is just an extra hassle.
This probably doesn't make the cut as an outright "problem" but well, there could be a little improvement here.
Of course, it would silly to expect a toolbox with all possible tools but that's not the point. The point is how many handy, widely-used tools they include.
BOXO, unfortunately, falls a little bit short here. It includes most of the tools you'll need but it also skips some. The box doesn't come with a fork air-pressure gauge (for KTMs and Huskys) or a pipe spring puller.
This tool set also doesn't have any valve stem remover, Robertson wrench (for the KTM smokers), or any spark-plug socket. This kind of cuts down on the versatility department and lowers the rating a little.
Like the interior problem wasn't enough, BOXO tools have another space issue you'll have to consider. The toolbox has very small free space for loading your own tools.
The first two drawers of the BOXO toolboxes are for carrying their own tools. The second drawer is where the fun dips. It has free space so you can load all the extra tools you want, but sometimes you won't be able to do that.
The free space for tools is too narrow so you'll have trouble loading tools that aren't a specific size. And even if the tool is the right size, you won't be able to fit that many.
Tools and Material Issues
The material issue isn't exactly an outright issue but it kind of stands as a warning for the future. The tools problem on the other hand is a bit more serious.
According to customer reviews, the outer case of the BOXO tools can get dented sometimes. This is more common during the shipping process. Sometimes the box reaches the user in a dented condition. That will give you an idea of its durability level. Unfortunately, that level is not a pretty picture.
Another problem is with some of the tools like the spoke wrench. The spoke range unfortunately isn't the right size for some wheels.
KTM, GasGas, Husky wheels, and the Yamaha front wheel are some of the ones you can have trouble working with because the wrenches aren't the right size for them.
Frequently Asked Questions (FAQs)
Asking questions is the best way of learning about something. You probably still have a lot of questions about BOXO tools. So here are some questions people usually ask about BOXO tools.
Where are BOXO tools made?
BOXO comes through an American distributor, but it isn't made here. The tools are by an American team but they are made in Taiwan.
Who is BOXO?
BOXO is an equipment solution company. It is family owned and managed and is known for making quality equipment.
Conclusion
And here you have it, your BOXO tools review. If you're more of a beginner or don't want to assemble everything by yourself, BOXO tools are a pretty good solution.