There are several differences between Atlas 46 vs. Diamondback tool belt. You will encounter many differences when you compare the Atlas 46 Saratoga with Diamondback 701 vest.
The main difference you see is the additional support. Diamondback comes with additional support that you can get for extra money. Atlas 46 doesn't have that.
Other than that, there are some more differences that you will experience with these tool belts. So, if you consider getting either of them, I recommend diving deep into the comparison.
A Quick Comparison Chart
| | | |
| --- | --- | --- |
| Specifications | Diamondback | Atlas 46 |
| Material | Single layer mesh | Multi-layer mesh |
| Weight | 1.75lbs | 2.875lbs |
| Extra features | Several advance features | Not many features |
| Compatibility | Wide compatibility | Limited |
| Support | Excellent support | No additional support |
Critical Differences Between Diamondback And Atlas 46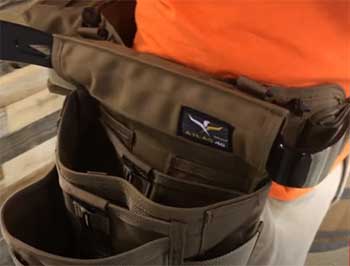 The first difference between the two tool belt choices is their material. Both are pretty good in quality, but one is superior when considering durability.
Diamondback has a single-layer mesh construction.
They use military-grade nylon for their material, which gives them excellent rigidity. You can expect good durability from the tool belt.
In comparison, the Atlas 46 tool belt has a multi-layer mesh construction. The mesh they use for it is a sound quality mesh.
So, you can expect durability from this one as well. I would say it's more into the heavy-duty side than the other one.
If you want to get a bit more rigidity and strength on the tool belt, then Atlas 46 may be a good option. Although the difference isn't that significant, so you can get either.
The weight of the tool belt matters a lot. Why? Well, you will be wearing and carrying the tool belt on your body. So, it's apparent that you will want something that's light.
Otherwise, it can get difficult to hold the belt for long hours.
Coming to the tool belts, the Diamondback belts are a bit lighter than Atlas 46 belts. The particular model I am discussing here has a significant weight difference.
For example, the diamondback belt has 1.75lbs of weight.
On the other hand, the Atlas 46 comes with a weight of around 2.875lbs. It's a bit heavier, even though the difference isn't that much. Still, if you are carrying the tool belt for long hours, it can cause issues at times.
I have to pick a Diamondback tool belt for more comfort and convenience. It's lightweight, so you can carry the belt for long hours.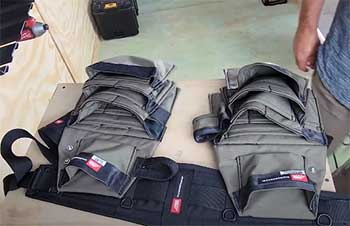 I mean, we all want to get tools that come with handy features.
So, having a few extra features on the tool belt is always helpful. You can easily decide between two tough choices based on their features.
Diamondback tool belt has plenty of additional features.
First of all, they come with an adjustable tool kit that is integrated with the belt. There is also a storage loop for some extra benefits.
With the Atlas 46, you don't get to see these features. There is no adjustability in the tool belt. You don't get the same level of convenience with the Atlas 46 tool belt.
So, if you are looking at features, you will choose Diamondback without too much thought.
For anyone who happens to use a lot of variety in their tool kit, compatibility is a crucial factor. In that aspect, Diamondback is a bit ahead in the game.
Diamondback is compatible with a lot of commercial brands. You can easily fit most of the tools in their tool belt. Whereas Atlas 46 doesn't give you that kind of facility. So, if you use tools from different brands, then go with the Diamondback tool belt.
Even though this factor doesn't play a huge role, it's undoubtedly something you can consider. Additional support makes the tool belt easier and more convincing for the user.
You will get additional lumber support and shoulder pads with Diamondback tool belts. But you will need to pay a bit extra to get these. These supports make the tool belt much more comfortable.
Unfortunately, Atlas 46 doesn't have these supports. So, if you want to get these in your tool belt, Diamondback is undoubtedly the way to go.
Which Tool Belt Is The Better Pick For You?
For the most part, I would say Diamondback is a better pick regarding features and facilities. You will get a lot of value out of the tool belt. They have better support, compatibility, comfort, and features.
Atlas 46 is a good choice, but it's not as good as Diamondback. You might want to try it out if you are looking to get that double-layer mesh construction.
Conclusion
Choosing a tool belt between Atlas 46 and Diamondback is about your personal preferences. I mean, Diamondback is a better option in many aspects. If you want better support, handy features, and good quality, then Diamondback is a good option.
While Atlas 46 has a sturdy design and lasts for a long time, it doesn't give you that added value you see in the Diamondback tool belt.