If you're renovating your kitchen, choosing the right cabinets is one of the most important decisions you'll make. Prefabricated cabinets from brands like Forevermark and Fabuwood offer convenience, customization, and quality at a more affordable price point than custom cabinetry.
But how do you decide between these two popular options?
As a homeowner comparing cabinet brands, you want cabinets that are high quality but don't break the bank. You want them to be durable and easy to clean. Customization options are key—you want to select door styles and finishes that work with your kitchen's aesthetics.
And you want a streamlined ordering and installation process.
This article will compare Forevermark and Fabuwood cabinets across these factors so you can determine which is best for your kitchen remodel.
A Brief Comparison Table
| | | |
| --- | --- | --- |
| Category | Forevermark | Fabuwood |
| Construction | All-plywood boxes and doors | All-wood boxes and doors |
| Materials | Plywood, MDF | Oak, maple, cherry, other exotic woods |
| Door Styles | Traditional, shaker, modern | Inset, cathedral, French country |
| Customization | Flexible sizing, storage accessories | Unique finish options, semi-custom designs |
| Cost | $100 – $150 per cabinet | $200 – $300 per cabinet |
| Purchase Process | Home improvement stores, online | Certified dealers |
| Warranty | Limited lifetime | Limited lifetime |
Overview of Forevermark and Fabuwood
Forevermark and Fabuwood are two of the most reputable brands in prefabricated cabinetry. A quick overview:
Forevermark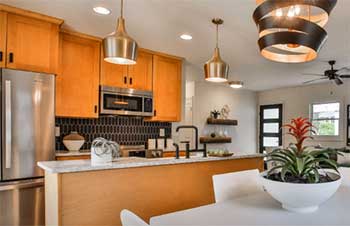 Founded in 1998 in Indiana
Offer all-plywood construction
Specialize in European-style frames and recessed panel doors
Offer custom sizing and storage options
Available through home improvement stores, kitchen designers, and authorized dealers nationwide
Fabuwood
Founded in 1977 in New Jersey
Offer all-wood construction with furniture-quality finishes
Specialize in inset cabinetry with dovetail drawer joints
Fully customizable cabinetry, molding, and storage accessories
Available through kitchen designers, showrooms, and authorized dealers
Key Differences Between Forevermark And Fabuwood Cabinets
Now let's take a deeper look at how Forevermark and Fabuwood compare across the factors that matter most when choosing kitchen cabinets.
The quality of the materials and manufacturing is critical when choosing cabinets—after all, you want them to last for years with minimal repairs or replacement needed.
Forevermark uses all-plywood construction. Their cabinet boxes feature 1⁄2" plywood sides, 3⁄4" plywood for bottom panels, backs, and shelves, and 1⁄4" plywood for top panels and door fronts. Drawers include solid wood dovetail joinery with full-extension drawer guides.
Fabuwood also uses all-wood construction, crafted from solid oak, maple, and cherry. Their cabinet boxes consist of 3⁄4" solid wood frames and 3⁄4" solid wood center panels. Drawers include dovetail joinery as well with full-extension metal drawer guides.
Both Forevermark and Fabuwood offer high-quality all-wood construction for long-lasting durability. Forevermark relies on plywood while Fabuwood uses solid hardwoods. Both utilize sturdy dovetail joinery in their drawers. Most homeowners find the construction of both brands meets or exceeds their expectations.
Beyond construction, the next consideration is finding the door styles and finishes that suit your kitchen's aesthetic.
Forevermark offers a wide selection of door styles in traditional, shaker, and modern designs. You'll find options like cathedral, arched cathedral, shaker, mission, slab, and thermofoil doors. Forevermark uses advanced finishing techniques for consistency across their maple, cherry, hickory, and thermofoil finishes.
Fabuwood specializes in hand-finished inset cabinetry across a variety of wood types. Their door styles include cathedral, French, cottage, shaker, slab, and thermofoil. Finish options range from natural to painted using techniques like glazing, rubbing, and distressing for antique and aged looks.
Both brands provide a diverse range of door designs to match your preferred style. Forevermark excels at flexible, affordable customization options while Fabuwood offers unique inset cabinetry and hand-finished, furniture-quality wood types.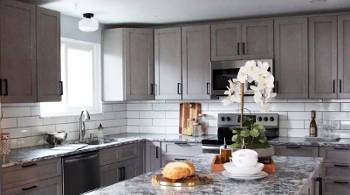 In addition to different cabinet box sizes, door styles, and finishes, many homeowners require specialized storage solutions and custom modifications.
This is another area where prefabricated cabinetry provides advantages over stock cabinets.
Forevermark allows you to customize cabinet sizes, add accessories like roll-out trays and spice racks, modify internals with additional shelves or drawers, and choose your own hardware.
Their online Cabinet Builder tool enables you to easily customize and visualize your new kitchen.
Fabuwood also delivers semi-custom capabilities through their Certified Dealer Program. Certified dealers have software to design fully customized cabinet layouts including modifications to sizes, storage accessories, moldings, and finish details.
You can select specialty inserts, roll-outs, and features for unique storage needs.
If you want standard cabinet sizing and layouts, stock cabinetry could work. But Forevermark and Fabuwood give you the flexibility to tailor your kitchen to your lifestyle with specialized storage solutions.
Fabuwood gives you more finish customization, while Forevermark makes personalized configurations simple through their web design tool.
Budget is a reality for most kitchen remodels. Prefabricated cabinets provide quality construction paired with customization at price points accessible to many homeowners.
Forevermark is the more affordable option between the two brands. Their products are available at major home improvement stores, with base cabinets starting around $100 and wall cabinets around $150 plus installation costs.
Forevermark provides value through their customizable features and wide range of style options.
Fabuwood pricing aligns more with semi-custom cabinetry, given their furniture-quality inset cabinetry and hand finishing. Base cabinets begin around $300, with wall cabinets closer to $200. Their dealers can provide quotes for your unique kitchen design.
Fabuwood delivers upgraded construction and aesthetics at a moderate price point between stock and fully custom cabinetry.
Ease of Purchase and Installation
Convenience is one of the hallmarks of prefabricated cabinets—you want the process to be as simple as possible.
Forevermark's wide availability through major retailers makes the buying process straightforward. You can purchase cabinets and installation as a package or cabinets only for your own contractor. Forevermark provides an installation guide with clear labeling and numbering to simplify handyman or DIY projects.
To purchase Fabuwood, you must work through one of their authorized dealers. This offers the benefit of designer expertise for your project. Fabuwood partners exclusively with qualified kitchen professionals who can manage everything from design to delivery and installation. This white-glove service ensures a smooth process.
Forevermark's DIY accessibility can minimize costs, while Fabuwood provides professional design guidance and installation. In terms of convenience, both deliver prefabricated cabinets with streamlined processes compared to custom cabinetry.
Quality of Warranties & Customer Support
The quality of the warranties and customer service give you peace of mind that the company will stand behind its products.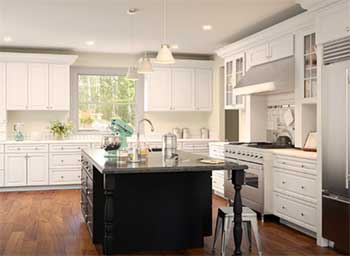 Forevermark provides a limited lifetime warranty covering defects in materials and workmanship.
They also offer excellent customer service via phone, email, and online chat on their website.
Their warranties and support give confidence in selecting their cabinetry.
Fabuwood also offers outstanding warranties and support. Their limited lifetime warranty covers defects and workmanship.
Their network of professional dealers provides localized customer service for guidance throughout your project. Between their warranties and dealer support, Fabuwood gives homeowners a reassuring level of responsiveness.
In terms of backing their products, both Forevermark and Fabuwood provide warranties and support channels that meet or surpass expectations.
Which Brand Is Best For Your Kitchen?
Now that we've compared these two highly rated prefabricated cabinet brands across the key factors, which is better for your kitchen remodel?
Here are a few closing considerations:
Budget: If keeping your total remodel costs affordable is the priority, Forevermark provides the best value.
Convenience: If you want a simple buying process and DIY install, Forevermark sold through home improvement stores is the most convenient.
Customization: If you require truly specialized storage solutions or furniture-quality inset cabinetry, Fabuwood's semi-custom offerings excel.
Quality: Both brands offer superb construction and their warranties provide peace of mind in the quality. Fabuwood edges out Forevermark given its solid hardwood compared to plywood.
Frequently Asked Questions (FAQ)
Are Fabuwood cabinets good quality?
Yes, Fabuwood is known for excellent quality and construction. Their cabinets are handcrafted from solid hardwoods like oak, maple, and cherry using quality joinery methods. Their furniture-grade finishing and inset doors deliver high-end aesthetics as well.
Is Fabuwood high-end?
Fabuwood is considered a medium to high-end brand in the prefabricated cabinetry market. Their products are priced higher than stock or entry-level cabinetry but lower than fully custom cabinetry. Their material selection and construction quality align with semi-custom offerings.
Are Forevermark cabinets good?
Forevermark is another high-quality prefabricated cabinetry brand. While priced lower than Fabuwood, their all-plywood construction and customizable options make them a great choice at their price point. Their warranties and customer satisfaction ratings evidence the good quality of their cabinets.
Who makes the best prefab kitchen cabinets?
Top brands for quality prefabricated kitchen cabinets include Forevermark for affordability and convenience, Fabuwood for furniture-quality finishing and solid woods, KraftMaid and Wellborn for diverse styles and configurations, and Ready-To-Assemble cabinets from Cabinet Joint for lower cost DIY installs. Each brand has strengths depending on your budget, style preferences, and customization needs.
Final Thoughts
For many homeowners, Forevermark hits the sweet spot of affordable, customizable prefabricated cabinets backed by great warranties. Fabuwood appeals if your budget allows for upgraded semi-custom cabinetry with unique design elements like inset doors and exotic wood species.
Hopefully, this comparison helps provide clarity to guide your prefab cabinet selection process!