Blackstone Griddle is a popular outdoor cooking appliance known for its versatility and large cooking surface. If you're in the mart for a griddle but want to explore other options, several alternatives are available with unique features and benefits.
From compact and portable designs to those with advanced temperature control, these alternatives offer a range of options for every type of outdoor cook.
In this article, we will speculate on some of the top Blackstone Griddle alternatives available on the market.
Blackstone Griddle Substitutes For Outdoor Cooking
Having an excellent quality griddle makes your outdoor cooking more efficient. If you are not acquainted with the Blackstone griddle, you might be using another one.
However, if you have already used Blackstone and looking for a different one, this is the right place to know more about the alternatives.
So, keep skimming as we are about to start. The closest substitutes for the Blackstone griddle are given at first.
Cuisinart CGG-0036, 36'' Four Burner Griddle Grill
With a cooktop size of 760 square inches, the Cuisinart griddle is the closest one to Blackstone.
The griddle has cold-rolled steel-type finishes.
The tremendous cooking space helps you to throw big BBQ parties.
In addition, a dual grease management system makes grease management and cleaning easier.
The burner power of the griddle is 60000 BTUs in total. Individually each burner provides 15000 BTUs of burning power.
As a result, you can cook whatever you want. In addition, the price is reasonable if you look at the benefits you are getting.
Razor Griddle 37-Inch Outdoor Steel 4-Burner Gas Griddle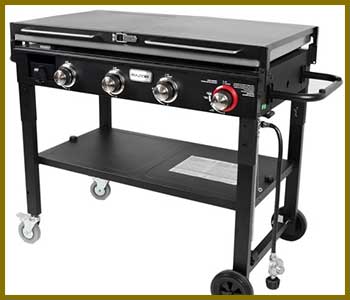 Razor Griddle is one of the closest to Blackstone.
To be frank, Razor offers bigger cooking space and higher burner power compared to Blackstone.
So, it can be an excellent alternative to Blackstone Griddle.
The burner power of the Razor 4 burners is 62000 BTUs in total instead of 60000 BTUs.
Also, the cooking space is 30 inches larger than the Blackstone.
 But, the side trays need to be more sturdy to hold lots of stuff. So, keep it in mind. Other than that, it can even be a better option than Blackstone.
Camp Chef Flat Top Griddle
The Camp Chef Flat Top Griddle offers a large griddle cooking surface of 604 square inches, making it ideal for cooking large meals for families or groups. Also, it has four 12000 BTUs/Hr. Stainless steel burners.
The griddle is constructed of durable stainless steel to withstand high heat and is built to last.
The grease management system allows for easy grease disposal and helps to maintain a clean cooking surface. The flat top design allows for even heating, making it ideal for cooking various foods, including pancakes, eggs, burgers, and many more.
Royal Gourmet-GD Series Griddle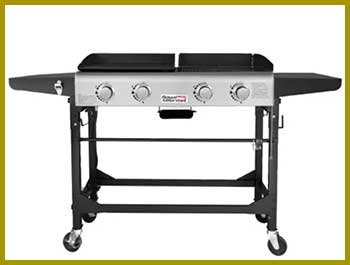 This griddle features a non-stick cooking surface, which makes cleaning up a breeze.
The adjustable temperature control allows you to cook various foods at different temperatures.
Additionally, the removable grease tray makes it easy to dispose of excess grease.
The compact size of this griddle makes it perfect for smaller outdoor spaces or for taking on camping trips. The foldable leg option gives you more mobility.
The grill cooking area of the machine is 314 square inches with 12000 BTUs of burner power. If you are a beginner, this griddle is the appropriate one for you.
Weber Spirit II E-310 Gas Grill
The E-310 gas grill is designed for outdoor cooking and features a total cooking area of 529 square inches, which is perfect for cooking a variety of foods.
It is equipped with an electronic ignition that allows for easy start-up, and three stainless steel burners provide 30000 BTU per hour input for even heat distribution.
The porcelain-enameled, cast iron cooking grates come with 105 inches of warming rack to maintain an even temperature on the food. Moreover, this particular coating makes it easy to clean. Not to mention, the foldable side table design saves your space while providing a great cooking environment.
Cuisinart CEG-980T Outdoor Portable Gas Griddle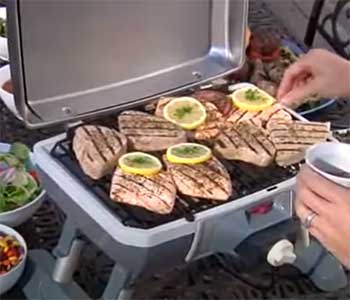 This portable griddle is built for outdoor cooking and is superb for those who want to take their griddle on the go.
The built-in grease catcher helps to keep the cooking surface clean, while the adjustable temperature control allows you to cook, grill, and sear a variety of foods at different temperatures.
The compact design of this griddle makes it easy to store and transport.
The griddle does not require assembly. Moreover, the 1500-watt heating element produces enough power for grilling steaks, searing burgers, sausage, etc. With 145 square inches of grilling area, it does a decent job.
Country Smokers CSGDL0590 The Highland 4-Burner Portable Griddle
Though the Highland 4-Burner griddle provides less power than the Blackstone griddle, it is a good alternative.
With 597 inches of cooking area, the griddle has four separate burners with a total power of 11000 BTUs for each burner.
Moreover, the addition of collapsible legs makes it more efficient for transporting and easy to store. So, it always will be an excellent substitute for your Blackstone Griddle.
Is Blackstone Griddle Worth It?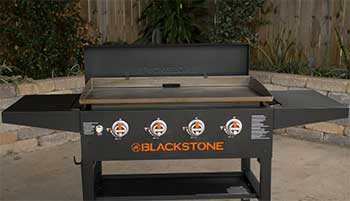 As you now know about the substitutes, it's your turn to learn a little about the Blackstone griddle.
Blackstone is well known for their sturdy griddle and larger cooking space.
Also, the cart is robust and well-built.
The griddle has 720 square inches of cooking space to grill or sear enough food for a whole family party. Also, the four burners can produce up to 60000 BTUs to run all kinds of cooking processes.
But the only downside of this griddle is it needs to be more portable. So, you might face a hassle while moving the griddle. However, it's not a deal breaker.
Again it all comes down to your personal preferences, whether you keep using the Blackstone or look for another griddle.
Frequently Asked Questions (FAQ)
What is a similar product to a Blackstone griddle?
Several griddles in the market are similar to or better than the Blackstone at the identical price point. The Cuisinart CGG-0036, 36'' Four Burner Griddle Grill, Razor Griddle 37-Inch Outdoor Steel 4-Burner Gas Griddle, and  Camp Chef Flat Top Griddle are pretty similar. The Razor is bigger and more potent than the Blackstone.
Are Walmart Blackstone griddles the same?
All the griddles are the same. The Walmart Blackstone griddle is black. On the other hand, Amazon sells griddles of stainless steel. So, look-wise, they may be different. But the specifications are the same.
What is the best griddle for a gas grill?
Overall the Blackstone 36" Station 4-Burner Gas Griddle is the best one for a gas grill. Also, the Hamilton Grill griddle and the Camp Chef 4-Burner Flat Top Propane Gas Grill are great options for a gas grill.
How does Pit Boss compare to Blackstone?
Blackstone is more convenient than Pit Boss. In terms of producing power and grease management, Blackstone is ahead of Pit Boss. Blackstone griddle can produce up to 24000 BTUs at its max. Moreover, the grease trap is located on the rear side of the griddle. 
Final Thoughts
Wrapping up for today. We anticipate the composition has enlightened you about the Blackstone griddle alternatives.
In conclusion, when considering a griddle as an alternative to the Blackstone Griddle, it's essential to look for features that will meet your cooking needs. Factors such as cooking surface size, heat control, and ease of cleaning should be taken into account.
Regardless of which griddle you choose, you can enjoy outdoor cooking and make delicious meals for your family and friends.