We all feel the importance of nicely coated premium paint as it adds life to our house. And because of it, you must choose the right one. Good that you found my Benjamin Moore Regal Classic vs. Regal Select reviews.
This article will exclusively discuss the features and differences between these two paints. In the end, you will know which one is best for your home. Let me show you how.
A Quick Comparison Table
You can quickly learn the differences between two products from a quick comparison table. It will help you understand how they differ from one another. Most importantly, you can come up with a decision in seconds.
So, here's the quick comparison table between Benjamin Moore Regal Classic and Regal Select:
| | | |
| --- | --- | --- |
| Aspects | Regal Classic | Regal Select |
| Variants | 05 | 05 |
| Special Feature | Latex Semi-Gloss Enamel | Primer and Paint |
| Usage | Interior | Interior |
| Performance | Touch Dry: 1 Hour; Recoat 2-3 Hours | Touch Dry: 1 Hour; Recoat: 3 Hours |
| Clean Up | Clean Water | Clean Water |
| Available Colors | Fewer Colors | More Colors |
Key Differences Between Benjamin Moore Regal Classic And Regal Select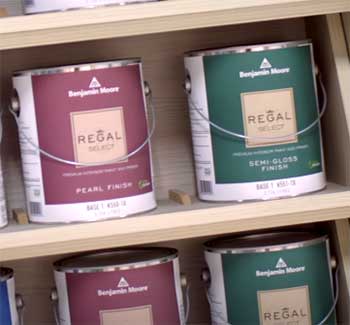 A quick comparison table is good enough for a basic idea of these two paints. It comes in handy when you are in a hurry but need a quick decision.
But you need more information if you plan on making an informed decision based on facts. So, stay with me here.
Benjamin Moore Regal Classic is a proprietary acrylic latex-based paint. It comes with spatter-resistant latex semi-gloss enamel, which is easy to use.
You will get a beautiful semi-gloss finish that is washable and will last longer. Unfortunately, Benjamin Moore is no longer producing it.
Regal Select is replacing Regal Classic with its beautiful finish for trim and accents. It is a high-quality premium paint that is easy to apply, durable and washable.  
Let's take a deep dive into the key differences between Regal Classic and Regal Select:
Regal Classic and Regal Select paints are available in 5 variants.
Regal Classic is available in Regal Classic Premium Eggshell Finish, Regal Classic Premium Flat Finish, Regal Classic Premium Acrylic Matt Finish, Regal Classic Premium Pearl Finish, and Regal Classic Premium Semi-Gloss Finish.
On the other hand, Regal Select is available as Regal Select Flat, Regal Select Matte, Regal Select Eggshell, Regal Select Pearl, and Regal Select Semi-Gloss.
With excellent durability, Regal Classic paints hide uneven surfaces with great precision. It offers splatter-resistant and easy touch-up. You will get a mildew-resistant coating from this paint. Besides, it provides self-priming on many surfaces.
On the contrary, Regal Select offers prime and paint in one pack. This zero VOC and low odor paint provide excellent leveling, hiding, and durability. You can easily resist mildew with it.
In addition, it offers premium flow, spatter-resistance, and easy application, which you would expect from any premium paint.
Regal Classic and Regal Select are both interior paint offering similar usage. They excellently work on the same surfaces.
These paints offer superior coating on interior trim, doors, cabinets, walls, and new or coated-acoustic ceilings.
Moreover, you will get premium quality painting on new or previously painted wallboard, plaster, masonry, primed or previously painted wood, and metal.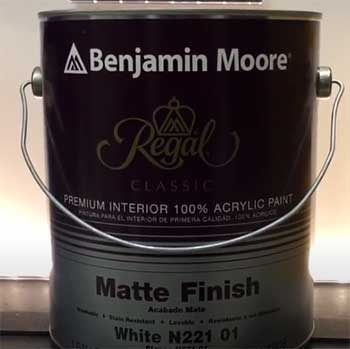 Being acrylic latex paints, both Regal Classic and Regal Select offer excellent performance from the very beginning.
At 25 °C, Regal Classic takes 1 hour to become touch dry.
You can recoat in another 2 to 3 hours, but time can change depending on the temperature and humidity. Higher temperature and humidity will result in a longer time.
Besides, you can cover 400 to 450 square feet with 1 gallon of Regal Classic paint.
Regal Select also takes 1 hour to touch dry at 25 °C. But you will need 3 hours for recoating. Temperature can similarly affect its drying duration. It also covers 400-450 square feet per gallon.  
Easy clean-up indicates how good a particular paint is. It allows you to maintain a painted surface easily. Spatter resistance allows both Regal Classic and Regal Select easily clean off.
You can clean both these paints using just clean water. Moreover, you can wash the painted surface after two weeks.
Regal Classic is a semi-gloss paint based on Benjamin Moore's Color Preview Bases 1B, 2B, 3B, and 4B. It is available in 1 White color and a range of ready-mix off-white colors.
In contrast, Regal Select represents Benjamin Moore Gennex Bases 1X, 2X, 3X, and 4X. You will find White, Super White, Decorative Whites, White Dove, and Linen White.
Which Paint Is Best For You?
With all the discussions on features, performance, and usage, it is clear which one is the better among them.
Before you many any decision, you should know that Regal Classic has been discontinued by its manufacturer.
You won't ever find them after available stock finishes from the market. Regal Select is the better option anyway. It offers both primers and paints at the same time.
Besides, more color options are available for this premium interior paint.
Frequently Asked Question (FAQ)
What are the different levels of Benjamin Moore paint?
Benjamin Moore produces 4 levels of interior paints based on quality. Such as Super Hide, Super Spec, Regal, and Aura.
Does Benjamin Moore Regal Select smell?
Benjamin Moore Regal Select offers zero VOC, meaning it has a very low odor. So, it will smell very little compared to other paints.
Is Benjamin Moore Regal Select self leveling?
Yes, Benjamin Moore Regal Select is self-leveling. Its excellent hide and self-priming on most substrates offer premium flow and leveling.
What is the difference between Regal Select and Ben?
Regal Select is better than Ben in terms of how well they cover existing colors. Ben offers only 30 volume solids, whereas Regal Select offers a low 40.
Conclusion
Interior paints significantly affect our lives. We see them every day and night. So, you need to choose the right one. You can easily do that with my Benjamin Moore Regal Classic vs. Regal Select reviews.
Now that all the necessary information is at your hand, it's your turn to do the right thing. Best of luck, and let me know.