There is not very much difference between the BenchCraft and Ashley furniture because both are the different names of the same things. Some customers have vulnerable reviews about this furniture brand, and some recommend it.
You can compare both brands as BenchCraft is known to be highly cheaper furniture by Ashley. Ashley is a parent company with more streamlined products and a wide variety. Let's find out which one goes better for you.
A Quick Comparison Table
| | | |
| --- | --- | --- |
| Credentials | BenchCraft Furniture | Ashley Furniture |
| About the Company/Brand | Being a small company as just one brand of Ashely furniture | Being a parent company selling multiple brands of furniture |
| Furniture Quality | Really Good for most brands | It might not stand as expected |
| Affordability | Highly affordable | Vary with different brands |
| Furniture Collection | Sofas, Ottomans, Loveseats, Recliners, Sectionals, Sleepers | Ottomans, sofas, recliners, loveseats, sectionals, chairs, and chaise lounges |
| Materials Used To Make These Furniture Products | Leather Or Leather Like Wood Products, Fabric, Microfiber | Offering a vast variety of materials made furniture products |
| Warranty | Same as Ashely's furniture | 1-year lifetime warranty on product cushioning, 5-year Warranty on product springs |
| Made In | USA | USA and various parts of the world |
 Key Differences Between BenchCraft And Ashley Furniture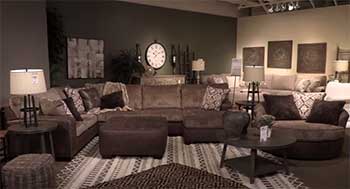 Comparing Ashley with Benchmark doesn't make any sense.
However, still, we'd like to consider how both go in their separate ways.
When you consider Ashley, you are provided with a vast line of furniture products.
Ashley is a wordily known furniture-selling company that hosts several brands under its roof.
Most people refer to Ashely to find some affordable and relatively good quality furniture products for good time usage.
On the other hand, BenchCraft is a single brand hosted by Ashley. You can find more similarities between this brand and its parent company.
Most of the time, people think buying a furniture product from Ashley and Beechcraft will make any difference.
But in my research, I won't say that when both things are produced under the same roof.
Things could be different with different types of customers when buying furniture products from either BenchCraft or Ashley.
Some have many positive things to say when buying a specific furniture product from Ashley.
Others are not entirely happy with BenchCraft and recommend it as a terrible quality furniture brand.
They say that whatever they provide is a piece of garbage and don't stand long valuing the price paid for that specific item.
So, it would be best if you were highly concerned when throwing your interests into the Beechcraft brand.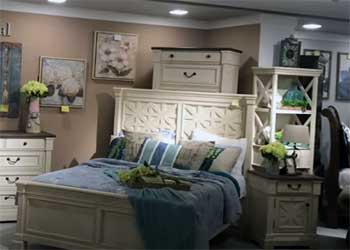 The best thing you'd like about BenchCraft is that their products are highly affordable compared to other furniture brands.
You can get a decent furniture set for a very meager price tag.
However, some customers say you should not expect more excellent durability with these products.
Compared to Beechcraft, Ashley's furniture products vary with different brands, units, or specific area locations.
Therefore, it depends on which brand of Ashley you are considering, in which part of the world you live, and what type of material you are looking for for that specific furniture item.
With Ashley, you'll find a massive line of furniture products because their production is more considerable. You can get any furniture item you want by visiting their online store.
However, when you are at BenchCraft, that choice would be a little limited. Though it's a brand of Ashley, it doesn't produce the same product line as Ashely.
Materials Used To Make These Furniture Products
Both brands make products using different kinds of materials. Focusing on BenchCraft, you'd get furniture products made with wood, microfiber, Leather, and others.
It helps a customer decide on various products to meet specific desires.
But with Ashley Furniture, you'd get these products made with superior and more expendable materials.
They even use PVC and aluminum in making furniture products. But it would again vary with that specific brand you are choosing from while considering Ashley Furniture.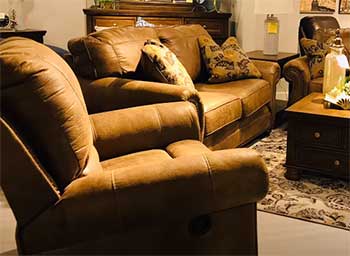 Since Ashley Furniture runs BenchCraft, the terms for the Warranty would go the same.
Where most customers complain about receiving inferior quality products from these furniture brands, they also claim their good Warranty.
Ashley ensures every customer, whether he buys from BenchCraft or Ashley, must get a 1-year warranty on all the cushion fixings.
And he must also get five years of Warranty over the spring usage. Therefore, your investment in Ashley or BenchCraft will be somewhat safe.
We can say that both brands' products are made in the USA with great pride. BenchCraft only operates in the USA, but when it comes to Ashley, they have a production unit in various parts of the world.
Some of the most known countries include China, the USA, Florida, North Carolina, Pennsylvania, Vietnam, etc.
Which Furniture Brand Is Better?
If your last purchase from Ashley or BenchCraft was not worth it, why don't you give it a try and go for another brand?
However, depending on the customer reviews and the feelings I have received about both brands, I can say that Ashley is somewhat safe if you consider spending on its other brands.
But you can be lucky if your product performs well when bought from BenchCraft. You may not get those strong expected desires fulfilled with either of these! Here is a quick demo of BenchCraft.
Frequently Asked Questions (FAQ)
Are Ashley And BenchCraft The Same?
Ashley is a holding company, and BenchCraft is one of its brands. Therefore, we can say that both are the same.
Is Ashley Furniture Made In China?
Ashley furniture is not only made in China. Except, it is made in different parts of the world. These parts include the USA, Vietnam, Florida, etc.
Is Ashley Outdoor Furniture Good Quality?
To some extent, they are pretty good products against the price you like to pay to acquire this brand's products. However, you may not find those high-end results with their furniture products based on several customer reviews.
Is Fusion Furniture Any Good?
When you talk about Fusion Furniture, you are talking about high-end, durable, and better-quality furniture products. Fusion furniture pieces are designed for intense usage. The designs are robust and won't let you down for a reasonable time.
Last Words
While making a comparison between BenchCraft and Ashley Furniture, you'd get a lot of similar vibes because both are the same. There can be a little difference in the line of production of both brands, but the quality and price are also similar.
If you see any other high-end brand in the market, you must think about it. But suppose you have done your homework and will buy a furniture item from Ashley or BenchCraft.
In that case, you can get it at a very favorable price!