Choosing reliable interior wall paint requires you to consider many crucial points such as appearance, protection level, drying time, VOCs level, cleaning ability, etc. After several recommendations from our readers, I have decided to talk about BEHR Ultra Scuff Defense.
So, what is so special about this paint? Apart from adding beautiful, rich flat paint, it is incredibly durable. Though it is a new product, it gets a lot of hype in the market. 
Let's get into BEHR Ultra Scuff Defense reviews to learn all the good and bad sides of this product. 
Features of BEHR Ultra Scuff Defense
Why did you choose particular interior wall paint over others? It must have some beneficial features to offer, right? Below are the top features of this interior wall paint. 
Advanced Scuff And Mar Resistance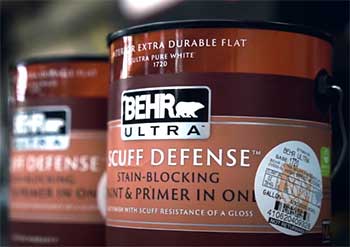 How do you rate the quality of the last paint you have used for your interior wall?
Did it handle light abrasion or scratches? This high-quality paint is mar-resistant, so its protective coating is highly resistant to something abrasive.
Have you decided to use this paint for a high-traffic area? You might be afraid of whether the paint will be adequate enough to handle busy locations. 
Since the product is scuff-resistant, it can retain its original appearance for an extended time. So you don't need regular cleaning and retouching.
Do your interior walls have any imperfections? 
This exceptional quality paint can add a rich, flat look to your interior walls. It is an ideal option for concealing joints, joints, or any uneven texture, making them merely noticeable. 
Experts called it one of the best color payouts since this type of paint adds a more forgiving finish. So, where can you use this type of interior paint? It is generally perfect for family rooms, living rooms, dining rooms, bedrooms, hallways and ceilings, and many other busy areas. 
What's more, its rich results will give a simple smooth appearance that looks more refined and modern. Since they can absorb a higher amount of light, your old interior flaws won't be visible to your visitors.  
Highly Burnish Resistance
Burnish can be a common issue when using a particular thing to rub, scrub or brush up over a coated surface. Thankfully, this BEHR Ultra Scuff Defense is burnish-resistant. 
Hence, the paint won't show flaws in darker colors after polishing or rubbing. Plus, once the paint is adequately dried, you won't notice any wearing or degradation of a dried paint film.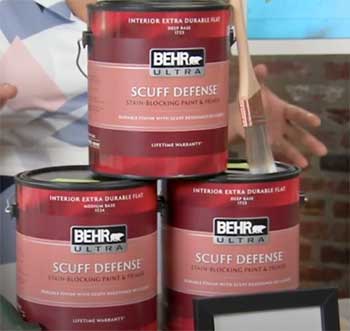 When you want to use a particular paint for high traffic areas, consider its stain blocking ability is essential.
Using traditional-based paint varieties is less likely to protect your wall from stains and scratches.
This high-quality stain-blocking paint can keep your interior wall neat and clean for an extended time.
As a result, you don't require frequent cleaning and re-painting.
This will save you both time and money, unlike cheap quality paints. 
Since our internal home structure, design, color, and style will vary from each other, applying the same color and finish will be unrealistic. 
The unit is available in flat/matte, satin, eggshell, semi-gloss, and high-gloss enamel. The eggshell finish is ideal for medium- to low-traffic areas, which is not prone to pick up dirt easily. 
If you want to apply the paint in your bedrooms, semi-gloss appears the best choice. On the contrary, a high-gloss paint finish is ideal for high-traffic areas to add a unique atmosphere.
Since we maintain busy schedules, finishing the painting project as early as possible is what we prefer. BEHR Ultra Scuff Defense paints generally take one hour to dry, and you can easily go for the second coat after two hours. 
However, make sure each coat is not too thick. The thicker the paint layer, the more additional time it will require to dry. A light coating is better for quick drying. If it is not enough, you can apply additional coatings. 
According to the manufacturer, it is a good rule of thumb to choose a temperature between 50-90°F (10-32° C) to paint your desired interior wall.
Painting more areas with less paint will save you money. This high-quality paint is available in different sizing options, such as 8 ounces, 1 quart, 1 gallon, and even 5 gallons. 
This gives you the flexibility to choose the ideal size based on your painting requirements. 
Generally, each gallon of paint can cover around 250-400 square feet. Your wall may need more or less paint depending upon how you prefer it before applying it. 
Additionally, your painting style and the tool you use for painting will directly affect the paint coverage. 
When you are not a professional painter, it is common to make mistakes. But that doesn't mean you won't paint of your own. This forgiving paint is easy to clean. 
You can use soap & water to clean the undesired surface. However, it is always good to cover the unwanted area using a hardboard. 
Watch this comparison video for a better understanding.
What Could've Been Better?
Just because BEHR Ultra Scuff Defense paint has so many advantages doesn't mean it has no cons. Here are some common cons many users complained about this product.
How will you react if your paint has become too gummy before it dries properly? BEHR Ultra Scuff Defense paint needs an optimal temperature for drying and curing. 
You should not apply the paint in an overly humid, extremely hot, or cold temperature. After all, the paint is not perfect to use in all temperature conditions. 
Can your sensitive nose even detect the slightest smell? According to a few users, BEHR Ultra Scuff Defense paints a mild odor that may annoy you while painting the wall.
However, most people did not have any issues with this smell though. You can wear a respirator mask for optimal protection.  
Final Thought 
So, what you have decided after going through the BEHR Ultra Scuff Defense reviews. Just because it is a newly-based paint doesn't mean you will neglect the value it offers. 
It is an excellent paint that has advanced scuff and mar resistance properties and can add a rich, flat appearance to your desired interior wall.
You just need to pick the optimal temperature and prepare the wall surface adequately before using the paint. Make sure you use a good quality paint roller cover, nylon/polyester brush, or airless sprayer to get perfect coverage. 
Hopefully, this write has helped you learn all the valuable features and drawbacks of BEHR Ultra Scuff Defense paint.