That's why, in this Rymar Xtreme weather wood sealer review, I will give you all the reasons why you should be relying on this one. It's undoubtedly a quality choice, no doubt about that. But you should know all about the product to trust the quality.
So, let's dig a little deeper into it and see whether it lives up to the expectations or not.
Key features of The Rymar Extreme Wood Sealer 
Knowing about what this wood sealer has to offer is very important. Because this just tells you the worth of this wood sealer and whether you can rely on this or not. 
So, let's get ahead and check out the features that this wood sealer offers you –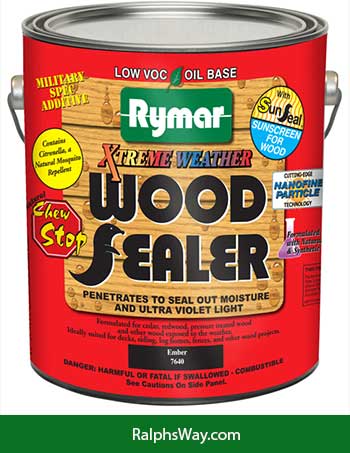 Since this is an oil-based wood sealer, you will always need to consider the volatile organic compounds as a possibility.
The good thing about this one is that the amount of VOC on this wood sealer is significantly low.
So, it doesn't harm the environment as much as a wood sealer with a higher amount of VOC would have. It's a feature that you can surely get behind on for the best eco-friendliness.
Something that makes this wood sealer worth every penny is its durability. Once you apply the sealer, you won't have to worry about using any sealing on your woodwork for years. 
That's the best part of this sealant and why many people rely on this one over other options.
Rich, Shiny, And Transparent Looks
When it comes to sealers for wood, you always think about how they will impact the looks of your wood. Well, with this sealer, you won't have to think twice about the appearance of your wood piece. 
It provides an excellent finish on the woodwork with some rich colors.
The real hero in terms of the looks of this wood sealer is the shine. When you apply this sealer to your wood, you get that premium shine that makes the wood look as good as new. 
This works out great for refinishing a wood piece that has become old and just looks bad.
Also, the sealer is transparent, which keeps the color of the base wood intact. So, if you don't want to ruin the color while making your wood look as good as new, this is the perfect wood sealer for you.
It Doesn't Soak Water Inside
Why do you use a sealer on your wood? It's not just for looks, right? It's also for protection. And this wood sealer will never disappoint you with that aspect. 
Since this is an oil-based wood sealer, it prevents your wood piece from soaking in water.
Instead, what you see are water beads whenever water drops on your wood pieces. So, you can simply take a cloth and wipe off the water from your wood without damaging it in any way.
You can use this wood sealer in a variety of scenarios. It's almost like a universal wood sealer that impacts so many cases. You can apply this wood sealer on decks, fences, sides, and various other wood projects. 
In short, this gives you the option to use the wood sealer in all sorts of places.
It Comes With Plenty Of Color Options
I don't think this wood sealer leaves out any color choices available for wood. You can get a lot of different color choices from them. 
Some popular options are honey brown, nectar, sequoia, cedar tone, hickory bark, and so forth. You almost get all the different color shades of wood with this wood sealer.
This allows you to make this sealer your primary solution for all kinds of wood sealant necessities. You don't need to think about any other option to match the color of your wood. 
Because of this, it becomes your ultimate solution for sealing your woodwork.
Don't worry about the application of the wood sealer. It's pretty straightforward. You just take the proper safety measures like wearing gloves and a respiratory mask, and you should be good.
As for the process, it's pretty simple. You clean up the wood piece a little, then open the container and apply the sealer-like painting on the wood. 
There is no wrong way to do this whole thing, so there are almost zero chances of messing things up here.
A great thing about this wood sealer is the cleanup process afterward. It's super simple and easy to follow. Even though this is an oil-based wood sealer, it's still easy to clean up the mess you usually have while applying the sealer.
Compared to some other wood sealer choices, this is far easier to clean up, and you don't go through much trouble with the whole thing either.
Now, these are the features this wood sealer has to offer that will surely satisfy you with the results. I don't think you can complain about the wood sealer's features. 
However, there are still some things I think they can improve on, so let's take a look at those.
What Could Have Been Better?
There are not many things wrong with the wood sealer, so it's a bit difficult to point out what could have been better. But for the most part, there are two complaints that people often have about this wood sealer –
The price of this wood sealer may seem a bit too much for some people out there. This can be an issue if you are looking to get a sealer just to get the job done within a budget. It's a bit expensive in that regard.
No matter how low VOC this wood sealer is, it's still oil-based. That means it still has an impact on the environment. So, it will still somewhat impact the environment in a negative way that you can't get past.
Having said that, the pricing isn't that problematic because of the durability factor you get from it. Once you apply this sealer coating, that can last for years without any issues at all. 
As for the eco-friendly factor, well, there is nothing you can do about that.
But if you decide to go with an oil-based wood sealer, then this is probably the best option for you with low VOC. It does the least harm out of the other options.
Conclusion 
I think you get the idea from the Rymar Extreme weather wood sealer reviews. It's surely a good-quality wood sealer that you can rely on any day without second thoughts. 
You won't have to question the durability of this wood sealer once you apply it.
Also, if you choose to get it done by a professional, he will love to work with this one. It's easy to apply and easy to clean up as well. So, altogether everything works out perfectly for you.