Beast Blenders come with a slim and sleek design, whereas Vitamix Blenders have a solid but regular design. The first one comes with an average motor, but the latter has a more powerful motor. Plus, Vitamix offers a better warranty than Beast.
A new hype was created when the Beast Blender was first introduced in 2021. People who tried it loved it! But how good is it compared to other powerful blenders?
Let's have a comparison session between Beast Blenders and Vitamix Blenders.
A Quick Comparison Table
| | | |
| --- | --- | --- |
| Specifications | Beast Blenders | Vitamix Blenders |
| Overall size | Slim and compact size | Average width and length |
| Container's size | 3 sizing options | 4 sizing options |
| Color Options | Carbon Black, Pebble Grey, and Cloud White | Black, Grey, White, and Red |
| Appearance | Attractive design | Solid design |
| Setting options | Blend and pulse | Different preprogram options and pulse |
| Blade material | High-quality Stainless Steel | Laser-cut, stainless-steel hammermill, and cutting blades |
| Motor | 1.34 horsepower motor | 1 to 3 horsepower motor |
| Warranty | 2 years | 5 years |
| Price | Slightly lower | Higher |
Difference Between Beast And Vitamix Blender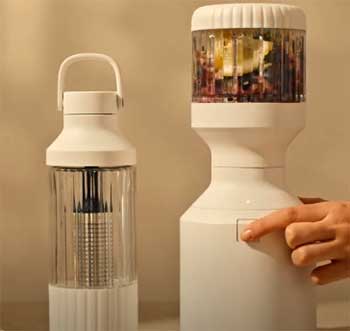 Beast blenders have a slim and compact design.
They fit best for small families. This blender appears perfect if you want to save space on your countertop.
Also, you don't need to keep it inside the counter.
Contradictorily, Vitamix Blenders come with an average width and height.
They are neither too tall nor too fat. But these blenders will cover a decent space on your countertop.
If your countertop has limited space, storing it inside the counter might be necessary.
3 sizing options are available for Beast blenders: 34-oz, 27-oz, and 17-oz. You can use them for making drinks, dips, smoothies, shakes, salad dressings, and juices.
In opposition, Vitamix Blenders have 8 sizing options: 64-oz, 48-oz, 32-oz, and 20-oz. A 64-oz vessel is perfect for making hot soups, dressings & sauces, and different family meals and entertaining. You can use its 17-oz. container for a single-serving personal purpose. 
Beast Blenders offer three color options. Its Carbon Black shows a more distinctive dark tone. If your kitchen cabinet has a lighter color, it suits the best.
 Contrarily, Vitamix Blenders are available in four color options. Many people love its red color due to its vivid appearance. It looks so good when you blend some red-color foods.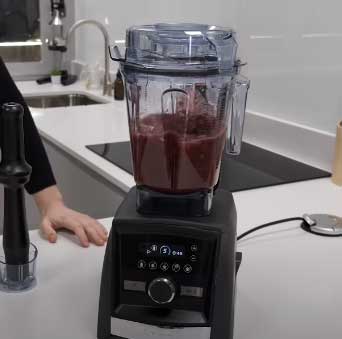 Are you fashion-conscious?
You might be loved to get something that matches your personality, right?
One of the best things about Beast Blenders is their sleek design. It works like there is nothing to hide!
The stylish and attractive look will surely grab anyone's attention at first glance.
However, things are different for Vitamix Blenders.
The company put more effort into creating a solid design for their blending machines.
Though the base unit has an improved appearance, most Vitamix Blenders overall have an average look. Not too bad, not too good!
Blending machines from Beast usually have two setting options: blend and pulse. Hold the primary button for 2-3 seconds to turn on the blend mode. But a single press will switch on the pulse mode. You can blend for up to 60 seconds.
On the other hand, Vitamix Blenders are highly versatile. Apart from the pulse mode, they have several preprogram options, such as hot soup, smoothie-making, pureeing, etc. This allows you to get more precise results. You don't need to check what's going on inside repeatedly.
Beast Blenders have high-quality Stainless Steel blades. They are highly wear-resistant and safe to use. The blades can cut both fresh and frozen vegetables and fruits effortlessly.
Oppositely, Vitamix Blenders come with Laser-cut, stainless-steel hammermill, and cutting blades. These durable edges have increased strength. Effortlessly pulverizing every ingredient is what they are known for. They are perfect for liquefying fruits and grinding coffee beans.  
Ever wondered what role a motor plays in a blender?
A blender motor must have enough power to blend tough items smoothly and quickly. It is directly related to a blender's performance.
Beast Blenders come with a 1.34 horsepower motor. You can get up to 1000W and 19,800 RPM from this blending machine.
It is powerful enough to blend fibrous ingredients and make bar-quality crushed ice. Plus, the nut butter texture is so smooth and liquefied.
Conversely, Vitamix Blenders are available in 1 to 3-horsepower motors based on the series and motor. Its 3HP motor can show reliable mixing, blending, and chopping results. They are especially ideal for commercial and heavy usage.
Beast Blenders usually offer 2 years limited warranty. You can replace any defective product or part if any happens during the warranty period.
On the flip side, Vitamix Blenders come with 5 years warranty. It makes their product more reliable and convenient to use. Plus, you can extend the warranty up to 3 years.
Compared to Vitamix Blenders, Beast Blenders are slightly lower. However, many users believe Beast Blenders are a little bit more pricey than other similar-standard options.
However, Vitamix Blender's price varies depending on the model and series. Many powerful units can cost 4 times higher than Beast Blenders.
Which Blender Brand Is The Best For You?
Here comes the tricky question to answer! If you want to use a blender for some primary purposes and for 2 or 3 persons at most, a Beast blender appears to be a good choice. Its sleek design will surely adore your kitchen countertop!
But, if you prefer a powerful blender to make a wide range of items in large batches, you just need a Vitamix Blender. It fits best for even professional purposes. If you don't have a strict budget, Vitamix is overall a better choice.
Here is a good review of the Vitamix blender.
Frequently Asked Questions (FAQ)
How powerful is the Beast Blender?
Beast Blenders come with a 1.34 horsepower motor that can blend up to 19,800 RPM speed.
Who owns the Beast Blender?
Colin Sapire is the Beast Blender's founder, who founded NutriBullet blenders in 2003.
What is the best blender on the market right now?
Breville, Hamilton, Blendtec, and Vitamix are a few brands notorious for making top-quality blenders.
What does the Beast Blender do?
You can use Beast Blenders for making soups, sauces, dressings, shakes, smoothies, and even crushing ice in a small batch.
Final Thought
Doesn't this post already give a clear idea of Beast Blender vs. Vitamix? Before choosing either option, first, determine the blending performance you need to blend various food items.
Beast Blenders are great, a lite version to blend small batches. But Vitamix blenders are better for powerful blending in large bathes. More importantly, they offer a long-lasting warranty.