Looking for the best furniture brand where you'll get everything under one roof?
Then you are at the right place because I have got the right brands for you. Bassett Furniture and Ashley Furniture are the two best names in the market and you should select one from them.
This article will show these two furniture brands' features, quality, and differences. You will be able to tell which one is the best brand by the time you finish this write-up.
So, without further ado, let's get into the business right away.
A Quick Comparison Between The Two Furniture Brands' Quality
Here is a quick comparison between Bassett and Ashley Furniture and their quality:
| | | |
| --- | --- | --- |
| Aspects | Bassett Furniture | Ashley Furniture |
| Brand Value | Superior | Pretty Good |
| Available Furniture | All Kinds of Furniture | All Kinds of Furniture |
| Furniture Quality | Excellent Quality | Pretty Good Quality |
| Top Picks | Sofas, Coffee Tables, Bedroom Sets, Chairs, and Dining Tables | Sofas, Signature Design Furniture, Bedroom Sets, Recliners, and Mattresses |
| Customer Satisfaction | Superior Customer Satisfaction | Inferior to Bassett |
| Warranty | 1-Year Warranty | 1-Year Limited Warranty |
| Price | Ranges from $79 to $12,160 | Ranges from $51 to $4280. |
In-Depth Comparison Between Bassett Furniture And Ashley Furniture
You have gathered some basic ideas about these two brands. Now we will get into more details.
So, here are some key differences between the quality of Bassett and Ashley Furniture.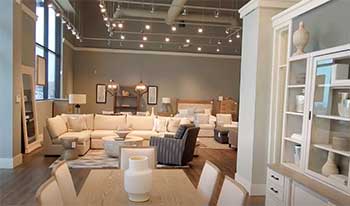 Bassett Furniture is known for its moderately priced furniture. This brand offers contemporary, rustic, and traditional style furniture.
Anything you need for decorating your house is available under their roof. Their legacy goes back to the 20th century.
Bassett has over 100 retail stores where they sell quality furniture. This brand is well known for its quality, customer service, and price value.
On the other hand, Ashley Furniture is famous for its discount furniture. They have plenty of options for every room in your house.
Apart from the retail stores, it also has a good online presence. Customer satisfaction, furniture quality, and price value are good for this brand.
Both furniture brands have a wide range of furniture designs and models. You will find all kinds of furniture under both brands.
However, Bassett Furniture offers Living, Dining, and Bedroom furniture. You'll also get rugs, décor, outdoor furniture, and BenchMade customized furniture.
On the contrary, Ashley Furniture has Bedding, Bath, Living, Dinning, etc., furniture in their stores and online shops. Besides, its portfolio has kids' furniture, mattress, organizers, baby & toddler, rugs, lighting, décor, etc. furniture.
In a word, you'll get everything you could ask for from this brand.
When it comes to quality, Bassett is better than Ashley Furniture. That's because this American-made furniture is made from high-quality materials.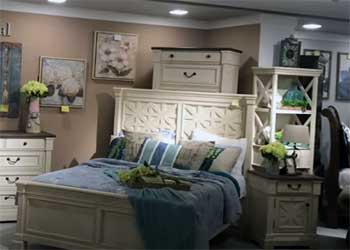 Bassett uses solid woods that are seasoned properly and are of superior quality.
Bassett makes classic, European-influenced style and rustic farm-chick design furniture using superior materials.
The materials and making process translate into higher quality for this brand.
In contrast to Bassett, Ashley Furniture is widely prevalent among budget-conscious customers.
With a wide range of furniture designs and styles, it is one of the most popular furniture brands in the US.
That's because even though its price is moderately lower, it retains the quality. They make furniture from solid wood and engineered materials. This furniture is made in the US and China.
In a word, its furniture quality is moderately good.
Both brands have some furniture that is particularly popular among customers. Not every piece of furniture in each brand is equally good.
According to popular demand, Bassett's top picks include Sofas & Sectionals, Coffee Tables, Beds & Bedroom Sets, Chairs, and Dining Tables. These are the most popular furniture from this brand according to customer demands.
That's because all these pieces of furniture are made of solid wood and have a wide range of designs and fabric options.
In contrast, Ashely Furniture's top picks are Sectionals & Sofas, Signature Design Furniture, Bedroom Sets, Recliners, and Mattresses. They are the most famous because of their styles, wide array of designs, and budget-friendly price.
Customer satisfaction is an essential part of a brand's value. It also tells about the quality of a brand.
The more satisfied the customers are with a particular brand, the more increases the value of that brand. Product quality, after-sales service, customer care service, etc., all are parts of customer satisfaction.
In terms of customer satisfaction, Bassett Furniture is in a better position than Ashley Furniture. It's because the quality of the products, after-sales service, in-store experience, easier online shopping, etc., are better in Bassett than at Ashley. That's why Bassett is ahead of Ashely in this regard.
The Bassett furniture is officially made in the United States, and it is being sold in the same country.
At the same time, Ashley has spread its branches around the world. They have manufacturing and distribution facilities worldwide, including countries like China, Florida, the USA, Vietnam, and more.
That's also reasonable because Ashley is an older brand and an extensive company with many employees and multiple areas to serve.
Materials Used In Furniture Construction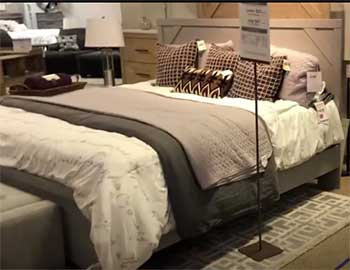 At Bassett furniture, the furniture products are made using solid Maple or Oak materials that signify the importance and durability of their products.
Their furniture items perform for a lifetime and are supposed to be more rigid than most compared brands out there.
However, Ashely Furniture is made by using Engineered Wood.
They often use Mass timber or engineered Wood to construct their furniture products.
Therefore, there is a difference between the construction or materials used by both brands to make their furniture items.
During the past few years, Ashely has lost thousands of customers, and its current rating has dropped to 2.9 stars which is not a great indication for the brand's future.
Compared to that, Bassett is improving daily, and they currently have a 3.5-star rating from several buyers.
At various forums, we can see many people recommending Bassett furniture when comparing the alternative brands. It means Bassett furniture has more productive days ahead.
Customer Support at both brands is great for facilitating and supporting various customers.
However, Ashley doesn't bring the same value it sometimes promises customers.
But at Bassett furniture, you won't find yourself alone, and they will support you fully whether you need a repair, a fixing, or a replacement of any furniture item you have recently purchased.
Warranty in both brands varies based on products or parts. Bassett offers a 1-year warranty with solid wood products. Besides, it offers 7 years warranty for upholstery and a limited lifetime warranty for domestic seat cushions.
On the other hand, All the Ashley furniture comes with 1-year limited warranty. Besides, the upholstery has a limited lifetime warranty; seat cushions have a 1-year limited warranty. It seems that Bassett Furniture provides overall better warranty terms.
Price is a vital parameter of a brand. We know that these two furniture brands belong to different price points. One offers moderately priced furniture, and the other offers discounted price range.
The price of furniture varies based on its size and type. There're many types and sizes of furniture. From as small as a few inches long to larger ones, you will find everything under these brands.
The price of Bassett Furniture ranges between $79 and $12,160. In contrast, Ashley Furniture ranges somewhere between $51 and $4280.
Which Furniture Brand Is Best For You?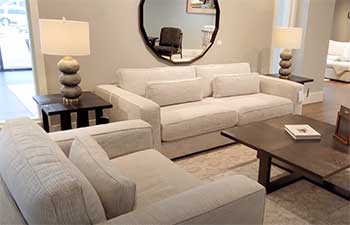 According to my discussion and customer reviews, the choice between these two brands is pretty straightforward.
If you have no issues with the budget, you should go for Bassett Furniture.
It's better than Ashley Furniture almost in every aspect.
But if you're budget conscious, you can go for Ashley Furniture. It's pretty good as well. Just not as good as its counterpart.
Make sure you check the materials before buying furniture from Ashley. 
Frequently Asked Question (FAQ)
What furniture is comparable to Bassett?
Bassett is one of the most famous names in the Furniture markets in the US. It is famous for quality, value, and price. You can compare Wayfair, Ethan Allen, Mohawk Industries, etc., with this brand.
What furniture is the highest quality?
There are plenty of furniture brands available. But if you want the highest quality, there are a few players. Aspenhome, Bernhardt, Canadel, Comfort Design, etc., are some of those brands.
How long will a Bassett sofa last?
Bassett sofa is one of the top picks of this brand. They are made of solid wood. Besides, you'll get a wide array of fabric selections for these sofas. The sofas will last about 10 to 15 years with proper care.
Is Bassett Furniture Made in China?
All the parts of Bassett Furniture are made in the USA. The wood material is also sourced from the US. But they import some of the parts like hinges and knobs from reputed manufacturers.
Final Thoughts
Furniture is essential for our home. If you can choose the right brand, you won't have to worry about your furniture for decades. After knowing about Bassett vs. Ashley furniture quality, I'm sure you will do the right thing.
Even if you have to spend extra money, I suggest you go for Bassett Furniture. Trust me; you'll be glad you did.