Are you looking for a home gym program that's functional and less expensive at the same time?
BaseBlocks could be an excellent option, except for the high price it charges. So, you might wonder what some good alternatives to BaseBlocks are.
BaseBlocks offers a complete solution for bodyweight home gyms with digital calisthenics and mobility program designed by industry experts. But in this article, I'll talk about alternatives to BaseBlocks gym equipment.
So, let's get right in.
4 BaseBlocks Substitutes For Bodyweight Home Gym
Here is a list of those alternatives I am about to talk about:
Lebert Equalizer
Pull Up Mate
Macrofit
Solo Strength
Let's talk about them in detail now.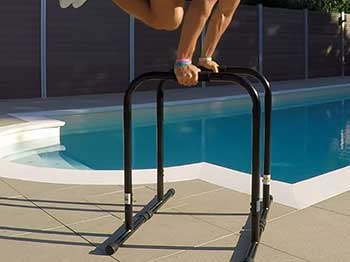 Lebert is a total fitness equipment brand with many bodyweight home gym equipment.
Its Equalizer bars are one of the most stable bars available in the market.
Instability is sometimes essential for a home gym, and Lebert bars perfectly combine stability and instability.
You can perform more than 100 bodyweight exercises with this bar. So, it will be suitable for both beginners and advanced gym geeks.
Its highly functional fitness dip stand-bars are designed for full body work. You will get full bodyweight resistance and strength from these bars.
Equalize bars are suitable for push and pullups, L-sites, stretches, leg and knee raise, and many more. Apart from the bars, this brand has much other equipment and digital training products.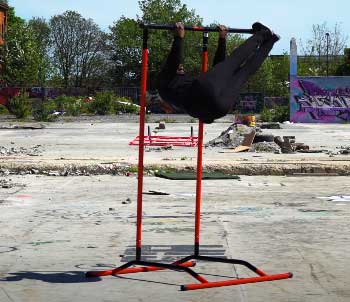 Pull Up Mate is another good alternative to BaseBlocks.
Its pullup bars and dip stations are perfect for loose some weight and build specs.
This simple yet functional bar can efficiently complete your daily workout goals.
The Pull-up mate bar is easy to assemble, portable, and freestanding.
You can quickly assemble it within 2 minutes. All bars from Pull Up Mate have 38 mm steel construction.
You will get hundreds of various exercise options with these bars.
Besides, different accessories and add-ons will give you expanded exercise options. Most importantly, all these bars come with wide grips that will help you grasp the bar comfortably.
You can do leg and knee raise, modified pushups, dibs, supine row, chin-ups, and many other exercises.
Plus, Pull Up Mate offers a downloadable digital training and diet plan. This customized plan will help you consistently achieve your goal.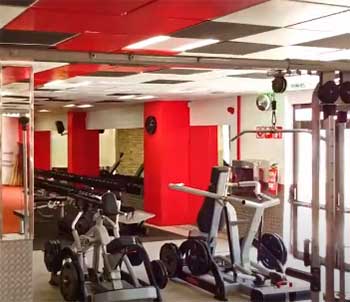 Macrofit is a new player in the bodyweight home gym industry.
With its 60 seconds easy assemble compact workout station, they tried redesigning the home gym space.
You can set up this workout station in various ways.
So, you can use this compact and versatile bodyweight home gym equipment for several exercises.
It can be sued as a pullup bar, parallel bar, pushup bar, etc.
On top of that, by attaching add-ons and accessories, you can use them for various other exercises.
Its setup is insanely easy. All the parts of this compact equipment will click into their places while setting up. The whole process will take less than 1 minute. Besides, it comes with a solid duffle bag, making it perfectly portable.
Macrofit offers a mobile app with its product. The app contains more than 100 different exercises that you can try at home.
Here comes another alternative to BaseBlocks home gym. Solo Strength bodyweight home gym comes in various designs.
You will get freestanding bars, wall-mounted bars, foldup-to-wall bars, freestanding outdoor bars, and many others.
These efficient workout systems will save you time and energy in setups and transitions and allow you to focus more on exercising. With these bars, you can complete a full-body workout within 15 minutes. They allow you to quick exercise transition within just 3 seconds.
Since they are stable and secure, people of all ages can use them safely. The unique self-stabilizing feature will maintain the balance so that no accidents will happen, even if you are a beginner.
They also have an optional rear support bar, dip or row bar, and side grip bar for added safety.
Besides, their maintenance cost is virtually zero. Plus, you won't have to spend a dime on membership fees. These bodyweight home gym systems can build maximum strength up to 1000 lbs.
Is BaseBlocks Worth It?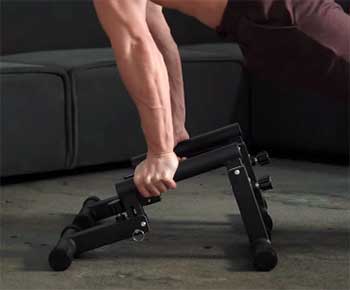 You have already learned about many alternatives to BaseBlocks.
Now let's look closely at the BaseBlocks itself. It is a manufacturer of bodyweight home gym equipment.
With its various equipment, home workouts will seem very convenient. They will help you achieve your workout goals.
You can cover full-body workouts with equipment like Basebar, Basebar Pro, Basebench, Strongblock, Strongblocks, etc.
They will take up very little space in your house. Every BaseBlocks equipment has hundreds of functionality. So, you can say BaseBlocks is worth your penny.
Frequently Asked Questions (FAQ)
What is the difference between Basebar and Basebar pro?
The original Basebar is designed for all types of people who want to exercise from home. Basebar pro is from the Georges St-Pierre collection. One of their main difference is the adjustable height. Basebar has a 33 to 52 inches adjustable height, whereas Basebar pro has a 36 to 54-inch adjustable height.
Where is BaseBlocks located?
BaseBlocks is a manufacturer of bodyweight home gym equipment, gym tools & accessories, digital gym training, yoga equipment, and callisthenic products. This is an Australia-based company. Its headquarters is located in Alexandria, New South Wales, Australia. But its products are available in the Americas and Europe.
How do I cancel my base blocks subscription?
BaseBlocks has a digital training program and training e-book. But you will have to subscribe to a monthly-based subscription to avail of this training. However, you can cancel your digital membership in a very simple way. Do not renew your monthly subscription, which will be terminated after the current term.
Final Thoughts
Now that you know about BaseBlocks and BaseBlocks alternatives, it will be easier for you to choose between them. If you do not have any budget issues, I suggest you go for BaseBlocks. They are sleek, solid, and stylish.
But if you have a budget concern, you can always go for any alternative I've mentioned here. They will be pretty good as well. Just make sure which exercise you will do and plan your selection accordingly.