Paint provides extra protection from different elements like harsh weather, insects, dust, and so on. Moreover, painting wood prevents rotting, moisture damage, and insect attacks.
So, painting with a good-quality paint sprayer is very significant. Avanti and Graco are the two brands offering great paint sprayers. But they differ in the type of sprayer, versatility, durability, performance, warranty coverage, and price.
Stick around to learn more about these distinctions. So without further ado, let's get started.
A Quick Comparison Table
| | | |
| --- | --- | --- |
| Specifications | Avanti paint sprayer | Graco paint sprayer |
| Types of sprayer | HFT Avanti Airless Paint, Primer, and Stain sprayer, 2.5 Amp Handheld Airless Paint Sprayer | Electric Airless Paint Sprayer, Ultra handheld, Magnum, Gas Airless Paint Sprayers, King unit, GH Big Rig, Mark HD |
| Versatility | Less | More |
| Durability | Less | More |
| Performance | Decent | Extraordinary |
| Warranty coverage | 90 days | 1 to 3 years, depending on the sprayer type |
| Price | Accessible | Expensive |
Key Differences Between Avanti And Graco Paint Sprayer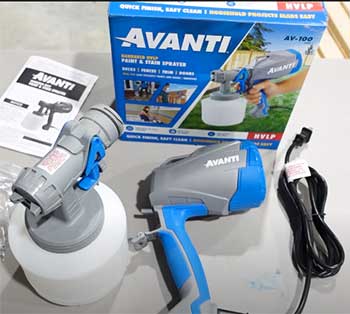 Graco has a vast lineup of paint sprayers.
The company offers paint sprayers from personal handheld to constructors.
You can use them from your tiny paint job to a mega project.
Their electric airless paint sprayer and ultra handheld lineup are for the fastest paint job, and pro finishes to a small area.
But the more extensive lineup, like the king unit, GH big rig, and mark HD lineup, is for the constructors to provide high-quality performance, durability, and versatility.
On the other hand, the Avanti paint sprayer comes in two variants. One is handheld, and the other is for a more comprehensive area. So, if you are searching for more options for your paint sprayer, Graco will offer you the ultimate lineup.
With the more choosing option, Graco offers you more versatility than Avanti. Graco's paint sprayers are used for proofing, waterproofing, more prominent roof coating, and other protective coating jobs.
Moreover, their handheld and electric airless paint sprayer lineup are perfect for a fast paint job and pro finish. They are easy to set up and do the job with reliability. Additionally, Graco's GH big rig and mark HD lineup is dedicated to maximizing the versatility of the customers.
On the other hand, Avanti offers you less versatility. Though their sprayer is able to spray paint, primer, and stain, it is not as versatile as the Graco paint sprayer. So, for better versatility, go for a Graco paint sprayer.
Graco offers you more durability. With the highest pressure and flow of the sprayer, you will have maximum durability. Along with a quick change pump section, extreme seal, leather packings, and heavy-duty piston rod, Graco's GH big rig gives you time-tested durability and longer life.
Moreover, other lineups like Magnum and king are also known for their amazing lifetime.
On the other hand, the Avanti paint sprayer comes with decent durability. However, its machines are made of good-quality materials, it provides less durability than the Graco paint sprayer.
Performance is probably the biggest concern when it comes to painting sprayers. Performance-wise Graco is far ahead of Avanti. Again, because of more varieties and powerful machines, Graco is offering extraordinary performance.
Whether a small job or a mega project, the Graco paint sprayer will give you backup for every circumstance. The Graco paint sprayer is a great performer with unmatched versatility, productivity, reliability, and durability.
Conversely, Avanti paint sprayer offers a decent performance with their two variations of paint sprayer. But to be honest, it is not as good as the Graco paint sprayer in terms of performance.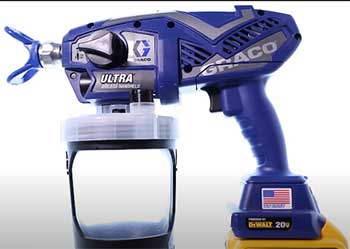 A warranty ensures you a tension-free feel about your product.
Nobody wants to buy or invest a large amount of money more often for a paint sprayer.
In this case, Avanti is providing only 90 days of warranty coverage.
On the other side, Graco offers one to three years of warranty coverage for their products.
The warranty coverage is different on different products. In general, most paint sprayers have one-year warranty coverage.
But, Graco's GH big rig lineup is covered up by three years of warranty.
Here the game changes drastically. The price of Graco paint sprayers is much higher than the Avanti ones. For example, the Avanti airless paint, primer, and stain sprayer and the Graco Magnum X7 offer the same max operating pressure, flow, tip size, and other features.
But the Avanti one costs 269.99 dollars, and the Graco Magnum X7 costs 437 dollars. So, if you are not willing to spend much money on a paint sprayer, you might choose Avanti.
Which Paint Sprayer Is A Better Pick For You?
At the end of the comparison, you already know the answer.
If you want a paint sprayer machine with unmatched versatility, extraordinary performance, more extended durability, and better warranty coverage, don't think; just go for a Graco paint sprayer.
But Avanti will be a great choice if you want a budget-friendly paint sprayer with decent performance, versatility, and reliability.
Frequently Asked Questions (FAQ)
What is the best brand for paint sprayers?
Graco is providing some fantastic sprayers in the market. Graco Magnum X5 Stand Airless Paint Sprayer is the best paint sprayer overall.
Who makes Avanti airless sprayers?
The company named Harbor Freight is manufacturing the Avanti airless sprayer.
Is the Graco paint sprayer a good brand?
Graco is a famous brand in the industry of paint sprayers. The company has a vast product lineup to attract all kinds of customers. Because of great productivity, performance, and versatility, Graco is a well-known face in the market.
What spray paint gun do professionals use?
Usually, professionals use airless sprayers to decorate. As it gives a fast and excellent finish, an airless sprayer is commonly used on walls, ceilings, and even on woodwork.
Conclusion
That's a wrap for today. Hopefully, my article was able to determine the crucial differences between Avanti and Graco paint sprayers.
Painting your house or different materials with a better quality sprayer is essential to ensure better protection from outside elements. However, if you do not use the paint sprayer for heavy material coverage, Avanti will do the job in most cases.
But for the highest quality paint job, you should pick the Graco paint sprayer.
So, best of luck with your paint sprayer shopping.