Are you bothered about whether to invest in a good roller cover? A cylindrical cloth piece over a roller frame takes less time to paint and gives you a smooth finish when a good paint roller is used.
Two popular products of the Purdy brand are Marathon and White Dove. They have some vast differences like the material, and also the pricing varies too. There are many other differences. Let's have a look at it-
A Brief Comparison Table
| | | |
| --- | --- | --- |
| Specifications | Purdy Marathon | Purdy White Dove |
| Material | Nylon and polyester | Woven fabric |
| Nap size | 3/8″, 1/2″, 3/4″ and 1-1/4″ | 1/4″, 3/8″, 1/2″ and 3/4″ |
| Roller size available | 4″, 4-1/2″, 6-1/2″, 7″, 9″, 14″ and 18″ rollers | 4″, 4-1/2″, 6-1/2″, 7″, 9″, 12″ 14″, and 18″ rollers |
| Ideal for | Drywall, concrete, masonry, and decks | Drywall, ceilings, and floors |
| Price | Pricier | Less pricey |
Differences Between Purdy Marathon And White Dove Paint Roller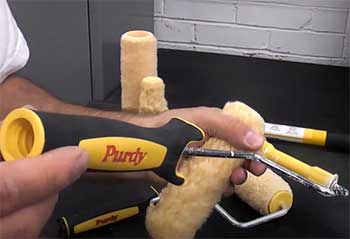 Paint roller covers are made of foam, natural wool, microfiber, or synthetic fibers that are woven or knit.
All of these can serve several purposes, but each has its own advantages.
The most popular types are synthetic roller coverings composed of polyester, nylon, or synthetic materials.
Most interior wall surfaces, doors, trim, furniture, and non-textured ceilings, can be painted with great success using these sleeves to apply a smooth, even coat of paint.
Smooth surfaces and shiny finishes work particularly well with microfiber roller coverings comprised of excellent polyester.
There are knit and woven synthetic roller sleeves, as you'll see. Generally speaking, woven covers work better with high-sheen gloss finishes, whereas knit covers work best with low-sheen paint finishes like flat and eggshell because they are less likely to shed lint onto the wet paint.
Although some painters also use it for latex paints, natural lambswool works best with oil-based paints since it holds a lot of colors and releases it easily, especially over rough surfaces.
Foam roller sleeves work great for coating wood with varnishes and sealants, but you can also use them to apply paint. Foam roller coverings work particularly well for painting metal and very smooth surfaces.
A roller cover's nap indicates the material's thickness. Generally speaking, a roller will hold more paint and be easier to use on complex surfaces if the nap is higher. When selecting your roller cover, a nap should be taken into account.
In general, a 3/8 inch to 1/2 inch nap is the ideal choice when painting interior walls with relatively flat surfaces. The majority of naps are like this.
However, a lower nap of 1/4-inch will produce the smooth, flawless finish you're after when working with paint that has a glossy finish or on remarkably smooth surfaces.
Select a higher nap for the most outstanding results when painting rough surfaces. While highly uneven surfaces like concrete, brick, and stone can go even thicker with a 1-1/4-inch to 1-1/2-inch nap, rough wood and stucco need a nap of 3/4 to 1 inch for the best coverage.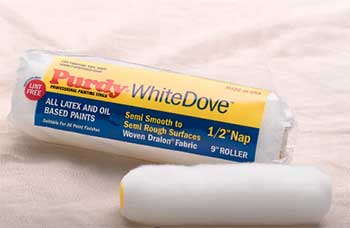 For various uses, paint rollers and paint roller covers are available in multiple sizes.
A standard 9-inch roller is your best option if your project is essential, such as painting one or more walls of average size.
A smaller roller, however, helps work in confined places, painting trim, turning in a corner, or cutting in around a ceiling. A 2-inch or 3-inch roller works well for trim, while a 4-inch or 6-inch roller can be used for various smaller projects.
A large roller will finish the work fast if you're painting a long wall, fence, or ceiling section. You can purchase huge rollers ranging in size from 12 to 18 inches, but bear in mind that handling these heavy rollers around window frames, trim, and edges is more challenging.
Not all roller covers are ideal for painting any particular wall. If you are looking for a roller cover for painting the space between the sides of a boat, then surely Purdy Marathon might be an ideal choice.
Whereas, if you are shifting to a new house and the floors need painting, Purdy White Dove can be your rescuer.
It doesn't leave behind lint, or blotches and applies a smooth coat of paint over nearly any moderately smooth surface without splattering or splashing paint while you work.
Use this roller cover on walls, doors, trim, cabinets, ceilings, floors, and even metal, with any latex or oil-based paint, stain, varnish, or sealer. Wallboard, paneling, and concrete are smooth surfaces the 3/8-inch nap easily glides over.
The best part is that you pay a very affordable amount for a pack of three. These washable roller coverings, which are the typical 9-inch size, can be reused. They easily mount and dismount any standard paint roller frame.
According to the specialty of the roller cover, you need to look out for it so that your time and efforts are practical and successful.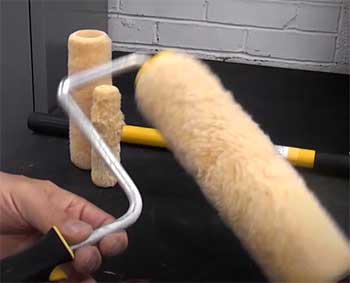 Cheap rollers, cheap job?
Well, the entire scenario is entirely different here as we will introduce you to our Purdy white dove, which is 2 dollars less expensive than Purdy Marathon.
But it has occupied people's hearts with its impressive finishing capabilities.
Though the Purdy White dove is cheap, it can release paint properly.
Moreover, it takes care of your paint by not wasting much in the first place.
Moreover, if you want to get your job done for concrete, masonry, and decks, then you might have to invest a bit more for the Purdy marathon, as it's known as the best for these particular jobs.
We have clarified the differences according to specifications and prices. Now the end choice is entirely dependent on your need and preference.
Conclusion
Every job to be conducted ideally needs a perfect tool too. That's why investing in a good roller cover is a must. We understand your urgency of yours. That's why we've picked up two favorite products among the users.
We've tried to highlight a few differences which set them apart. That's how you'll be able to choose them ideally according to your requirements.