As a carpenter, having the right tools close at hand is crucial for working efficiently. After years of wearing basic tool belts that didn't quite fit my needs, I decided to invest in an Occidental Leather tool belt to see if it lived up to its reputation for quality and comfort.
After using an Occidental belt on jobsites for the past few months, I'm ready to share my thorough review on whether these tool belts are worth the higher price tag.
Overview of Occidental Leather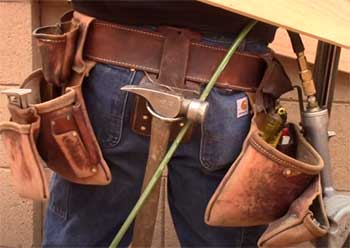 Occidental Leather is a family-owned company that handmakes their tool belts and related gear in Sonoma County, California.
They've been in business for over 35 years and have a reputation for making high quality and comfortable tool belts.
The company prides itself on making all of its tool belts and accessories in the United States.
Occidental offers both leather and nylon tool belts to suit different preferences and budgets. Their leather belts are designed to last decades and form to the user's body over time.
The nylon belts offer greater affordability and water resistance while still providing many of the same benefits as leather.
Some key features found across Occidental's product line include:
Durable materials and construction
Reinforced stress points for longevity
Thick padded belts to reduce fatigue
Multiple pockets and tool holders
Customizable belt configurations
Weight distribution systems to reduce load
Occidental's tool belts are designed with the needs of professional tradesmen in mind and aim to provide all-day comfort even when loaded down with heavy tools. They have a reputation for high quality, but this also comes at a steep price, which can be daunting for some buyers.
Leather Tool Belts
I tested the Occidental Leather 5035 Adjust-to-Fit Fat Lip Tool Bag Set. Here are my impressions after extended use:
Craftsmanship and Materials
As expected, the materials and construction used on this Occidental leather belt are top-notch. The full-grain leather has rigidness for support yet breaks in nicely to conform to your hip.
You can tell the leather is thick and built to last. The reinforced stress points around the pockets do a great job handling heavy tools without sagging. Even when fully loaded up, this belt feels sturdy with no weak points.
The leather has just the right amount of stiffness to make the bags keep their shape when empty. At the same time, the leather breaks in to mold comfortably to your body. Occidental leather gets better over time as the natural oils from your body help soften it up.
All of the pockets, loops, and sleeves are neatly finished with durable stitching. The rivets add further reinforcement so tools don't rip out the stitching. It's clear that craftsmanship and longevity were top priorities in the design.
Comfort and Weight Distribution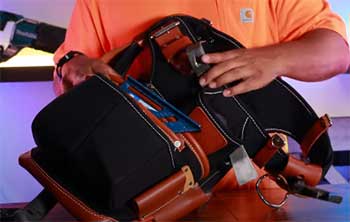 Comfort-wise, this Occidental belt performs admirably even when carrying a full load of tools.
The thick nylon liner underneath the leather provides cushioning against your hip bones.
Between that and the suspended tool bags, points of pressure are avoided.
The 2.5″ wide belt is also comfortable without digging in.
One of my favorite aspects is Occidental's unique weight distribution system. The 'tool saddle' suspends the main bags from the belt, so their weight sits on your hips instead of your lower back and spine.
This makes a big difference in fatigue and back pain after long days. The belt conforms nicely to your shape thanks to multiple adjustment points.
My only comfort gripe is that the edges of the tool sleeves can sometimes dig into my side when bending certain ways. Some foam padding there would help, but it's a minor issue.
This Occidental rig provides ample storage for all my essential carpentry tools. The 5035 setup includes 2 main tool bags, a mini pouch, and hammer holder.
With thoughtful organization features, all my tools have a dedicated spot to eliminate clutter. There's room for hammers, tapes, chalk boxes, utility knives, pliers, screwdrivers and more.
The wide-mouthed main bags let me easily see and grab what I need without fumbling around. The array of pockets and sleeves keep tools from banging together while the shear-resistant nylon lining protects against punctures.
It's easy to customize the configuration by adding or removing accessories like extra pouches.
My only storage gripe is the fastener system. The plastic hooks can slip out of the leather if you catch them on something. I wish it had a more secure fastener like metal roller buckles.
That said, the hooks do allow easy on/off and I've gotten used to them.
It's clear that long-term durability was central to this tool belt's design. All high stress areas are reinforced and constructed from thick, rigid materials.
Even after months of heavy use, there are no signs of tearing, fraying, or sagging that would indicate weak points.
The full-grain tool leather should easily last decades if properly cared for. Even if it gets soaked on the job, I just let it dry out and the leather remains intact.
All components are user-serviceable and replaceable. Things like pockets ripping or sewing coming loose would be covered by Occidental's 25-year warranty.
Overall, this belt feels like it will last as long as I can continue working thanks to its overbuilt construction. The high cost starts to make more sense when you consider you might never need to buy another belt again.
Nylon Tool Belts
To provide a cheaper alternative to leather, I also tested the Occidental Leather 5590 M Set XL OxyLight Framer Set. Here are my impressions of the nylon tool belts: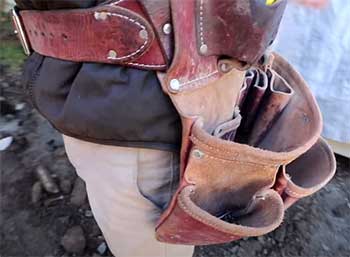 Occidental uses a thick industrial nylon fabric for their OxyLight series that seems quite rugged.
It's much lighter than leather yet doesn't have a flimsy feel.
The webbed construction helps strengthen it for heavy loads.
For the most part, the nylon has withstood jobsite abuse and shows minimal signs of wear.
It uses the same rivets and stitching as the leather belts to reinforce stress points.
My only durability worry is that the fabric is more prone to tearing if snagged on sharp objects. The nylon absorbs a bit more water than I'd like when working in damp conditions.
Overall though, the OxyLight belt seems like it will endure years of use before needing replacement. It might lack the decades-long lifespan of leather, but makes up for that with a lighter and cheaper construction.
Despite its lighter weight, the nylon belt still provides ample support and padding. The belt pad and suspenders nicely distribute weight away from the back and spine.
Wide patterns of double stitching give rigidity to the pouches so tools don't pull the belt out of shape.
The nylon fabric contours to the body faster than leather. With ample adjustments, I was able to dial in a great fit through the hips and waist right away. Moving around is easy since the materials don't feel overly stiff.
My complaints with the OxyLight belt are minimal. The nylon isn't quite as breathable as leather in hot weather. Additionally, the belt sags a bit when loaded down with heavier tools. But neither of these issues take away from the overall comfort and support.
This nylon setup offers similar storage options to Occidental's leather rigs. The pouches use the same layouts but benefit from being lighter to carry. I had ample room for all essential tools with options to add more pouches or change the configuration.
Little touches like external sleeves for small tools are handy for quick access. There's still a break-in period as the fabric conforms and pockets stretch to your common items. But once dialed in, the storage capabilities are excellent.
The plastic fasteners take some getting used to coming from leather belts. But they allow quick donning and doffing of the belt which is nice for short breaks. For access while working, the top-loading main bags are convenient.
Occidental Tool Belts: Are They Worth the Money?
After using both a leather and nylon Occidental tool belt extensively, I think they are generally worth the higher prices compared to average tool belts. However, the value depends heavily on your needs and budget.
For professional contractors who want a durable, comfortable belt that will last decades – Occidental's leather rigs are worth every penny. The unrivaled craftsmanship and materials justify the steep price for those making a career in the trades.
For occasional DIYers or cost-conscious pros, the cheaper nylon Occidental belts provide excellent function and support without breaking the bank. They represent a great value for most users who don't require lifelong durability.
At the end of the day, Occidental makes high-performing and comfortable tool storage systems. The key is deciding which features suit your personal needs and budget.
While the high cost causes some sticker shock initially, the value becomes clear when you experience Occidental's craftsmanship first-hand.
Pros of Occidental Tool Belts
Handmade quality and craftsmanship
Durable, long-lasting materials
All-day comfort with ample padding
Reduced fatigue from weight distribution
Customizable and flexible configurations
Convenient access to tools while working
Impressive load capacity for heavy tools
Great ergonomic design to reduce back pain
Cons of Occidental Tool Belts
Very expensive, especially for leather models
Nylon models lack the lifetime guarantee of leather
Edges can sometimes dig into sides
Leather requires break-in period to soften up
Plastic fasteners can fail if abused
Not easily available in local stores to test fit
Frequently Asked Questions (FAQ)
What is the best tool belt on the market?
For professional contractors, Occidental Leather makes the highest quality and most comfortable tool belts currently on the market. They specialize in belts designed for longevity and reducing fatigue.
What's the best carpenter's tool belt?
Occidental Leather tool belts stand out as the best carpenter's tool belt. Models like their 5035 Adjust-to-Fit Fat Lip are designed specifically with the needs of carpenters in mind. The materials, craftsmanship and functionality are hard to beat.
Why are tool belts so expensive?
High-quality tool belts made from thick leather and rugged materials naturally cost more due to material expenses. Brands like Occidental also rely on American-based manufacturing with skilled labor rather than overseas outsourcing which increases costs. The markup pays for handcrafted quality and longevity most cheaper belts lack.
What is the best tool belt for lower back pain?
Belts like the Occidental Leather 9855 Adjust-to-Fit Fat Lip Tool Bag reduce lower back pain thanks to their signature yoke-style suspender systems. This transfers the load's weight from the back/spine to the hips. A rigid padded belt is also crucial to minimize pressure points on the lower back.
Final Thoughts
After extensively testing Occidental's tool belts, I can confirm they live up to their outstanding reputation. The craftsmanship and attention to detail set them apart from cheaper brands.
They represent a major investment upfront, especially the leather models, but should pay off with decades of comfortable use. For anyone who relies on their tools daily, Occidental's belts are well worth considering.