Are you looking for a skid steer for your construction site for loading purposes?
A classic choice that many people come across is the ASV SR 70. Before diving into the depths of ASV SR70 reviews, I have to mention that they aren't readily available.
Still, if you somehow find a used one, then this review should be helpful to figure out whether it's worthwhile for you or not. I have one for myself and have been using it for a while, so whatever you get from here is a first-hand user experience.
Let's get going.
Features of The ASV SR70 Multi Terrain Loader
With all honesty, I have to say ASV SR70 is a pretty decent quality skid steer that comes with plenty of features. Going through these features should give you an idea of whether it meets your needs or not.
Here are the features you get to see on the ASV SR70.
It Has A Radial Lift Type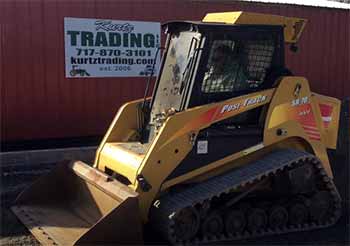 Starting with the lift type, you get a radial lift on the SR70.
Now, if you don't know anything about lift types, you might be a bit confused about this one.
Usually, with a radial lift, you can easily dump materials over high walls or use them for backfilling.
Radial lifts also work pretty well when loading a flatbed truck. They come with greater reach and are perfect for working on moderate heights. Also, these kinds of lifts are just easier to maintain in comparison.
So, if your purpose is to get the best reach from a skid steer or something you can use for dumping, this is a good option.
The Skid Steer Is Quite Versatile
You might wonder how can a skid steer be versatile. Well, the versatility of ASV SR70 is simply from the maneuverability it has.
With this skid steer, you can easily access tighter spaces with the level of control you get. This gives you room to work around various places, and you get the versatility to use ASV SR70.
You can fit this skid steer into different kinds of projects. Especially the projects where you have limited space to work around, this skid steer will shine a lot.   
This One Has A Powerful Engine
One of the key features that make ASV SR70 an appealing choice is a powerful engine they have on this. You get an engine with 71 HP from Perkins.
It's a diesel engine, so power isn't something that you will have to worry too much about.
With the kind of power you get, you can easily get through light to medium-level projects. However, I wouldn't say this is the best thing out there for heavier construction projects.
You may need something more powerful for that purpose.
Provides Quick Attachment Features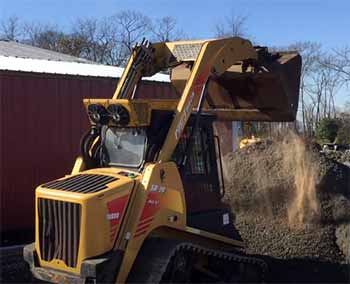 I don't think I have to dive too deep into the attachment options available for the ASV SR70.
It's pretty standard, and you get the standard attachments for different purposes.
But the interesting factor here is that this one comes with a quick attachment option.
You can switch between the different attachments on this skid steer without wasting too much time. Since it's effortless, you won't have to go through much trouble to get it right.
So, altogether the whole attachment thing works very well.
Halogen Lighting For Night Purposes
Do you have to work at night on your construction site? In that case, this skid steer is something you will love to use. It comes with halogen lighting, so you can work even if it's late at night.
The lights are powerful enough to brighten up a decent size construction area enough to use the skid steer.
Something unique to get on this skid steer is its dual-speed option. You get two different travel speeds on this skid steer.
With the two different kinds of speeds, you can adjust them according to your projects, and the powertrain will bring you even more value than you would like to have in it.
When I used the ASV SR70, I found these features very useful for my construction site work. I would say it's something that I could use quite a lot.
However, I don't think this is the best you can get, and there are better options to find out there. I put this skid steer into a decent category. Now, watch its live action!
What Could Have Been Better With ASV SR70?
Now, let's talk about why the ASV SR70 isn't the best thing to have. A couple of factors could have been better on this skid steer and made it a far better choice for construction sites.
The Track Isn't Good In Quality
The major concern with this skid steer is the fact that it doesn't have a good quality track. The track tends to wear out very easily, and the durability isn't something I was satisfied with.
You will have to replace the tracks quite a lot, which can be costly for some people. So, you don't get the best value out of the skid steer.
You Don't Get Support For The Skid Steer Anymore
Another concern you have to look into is the availability factor. You can hardly find a brand new ASV SR70 out in the market. The manufacturers have discontinued the skid steer, so they don't provide any support for the skid steer either.
You will have to buy a used ASV SR70 if you are in dire need of this machine. But that's always questionable on the reliability factor as you wouldn't know whether it's in perfect condition.
Typically, these two factors are enough to sway you from getting this skid steer. Even though the machine performs quite well and has great features, you can't avoid these two issues.
Conclusion
From the ASV SR70 reviews, you get to see that it's a high-performing skid steer with decent power backing it up. But certain factors make it an option you can get on board with.
However, if you find a used ASV SR70 in good condition, you should try it out. They are some of the most affordable options in the market.