Kubota SVl75-2 and John Deere 325G are two-track loaders that are pretty similar in terms of quality and performance. But the significant difference in both of them is the features. Kubota has plenty of features, whereas John Deere has limited features.
Other than that, there are several other differences that you get to see between the two choices. Below, I will dive deep into comparing these articles and provide you with solutions.
By the end of this article, you will know which of these track loaders the perfect choice for your particular project. Please don't waste any more time and hop right into it.
A Quick Comparison Table
| | | |
| --- | --- | --- |
| Specifications | Kubota SVl75-2 | John Deere 325G |
| Engine | Kubota | Yanmar |
| Horsepower | 74.3 hp | 74 hp |
| Operating weight | 4100kg | 4313kg |
| Operating capacity | 1043kg | 1176kg |
| Features | It offers plenty of features | Quite standard in features |
Key Differences Between Kubota SVl75-2 And John Deere 325G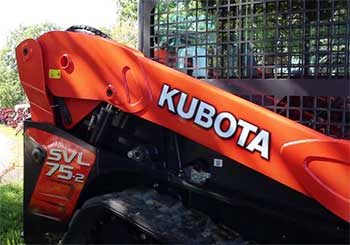 The most important factor with these construction machines is the engine they use.
What kind of engine they are using plays a huge role in the performance of the track loader.
Most of the time, it's the brand of the engine that impacts the decision.
In the Kubota SVl75-2 track loader, you get a Kubota engine.
So, you are getting the engine that the company manufactures itself.
On the other hand, with John Deere, 325G used the engine from Yanmar, which is a Japanese company.
Coming to the comparison, both the engines are good in terms of performance. None of them should disappoint you.
However, if you are very critical of efficiency, then I would say you will find the Yanmar engines a bit more efficient than the Kubota engines.
Well, I don't think you can decide between these two track loaders based on the horsepower because they have similar horsepower.
But if you are going to nitpick and care about the slightest difference in the machine's horsepower, then you go with Kubota. They have a horsepower of around 74.3hp. As for the 325G, it has a horsepower of around 74hp.
You get the idea; the difference between the two horsepower is very insignificant. In short, you can go for either one if horsepower is your concern. There is nothing to differentiate there.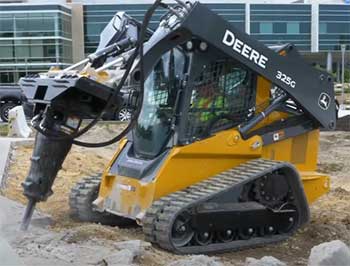 You get to see a clear difference in the operating weight of these machines.
Even though it doesn't matter or impact the performance, it's still a difference to look into.
The Kubota SVL75-2 track loaders operating weight is 4100kg.
In contrast, the John Deere 325G has an operating weight of around 4313kg. So, you can see that the John Deere 325G has some extra weight on it.
I don't think this factor should matter that much, and it's just something to keep in mind. If you want a track loader with a lower weight, then Kubota SVl75-2 is your option.
Unlike the operating weight, the track loader's operating capacity has a role. The operating capacity of the track loaders decides how much you can lift with the track loaders.
Luckily, there is a difference between the operating capacity so you can decide between the two in terms of operating capacity.
The operating capacity for Kubota SVl75-2 is around 1043kg. It's pretty high, in my opinion. But John Deere takes it a step further, and the capacity for the 325G is 1176kg.
So, John Deere is the perfect pick when it's about the operating capacity and you want some extra. Although the difference isn't that much, it may not matter to everyone.
Now, the thing with these track loaders is that you can see various features in each. With Kubota SVl75-2, you get plenty of different features, whereas John Deere has limited features.
In Kubota SVL75-2, they emphasize all the factors of the track loader. Whether it's a high-quality engine or a wide, long working vertical lift. Also, the stall guard protects you even in the roughest conditions.
As for the John Deere 325G, you get pretty standard features. It has a very ergonomically correct design. They provide a good visibility option, giving you a clear vision of your worksite. And they are pretty easy to service.
I mean, if you want a lot of very specific features with a unique value, then Kubota SVl75-2 might be the option. But if you are looking for something very standard, John Deere 325G is your pick.
Which One Is Better For You?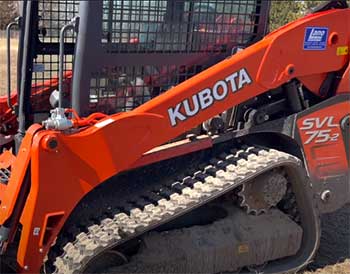 I can't say there is a better pick between these two track loaders.
They both are pretty similar in performance and quality. The best way to decide between them is to go through the individual features and see which one fits your needs the best.
For example, Kubota SVl75-2 comes with a variety of features that are suitable for different purposes.
In contrast, John Deere 325G is all about the standard features you require in all the track loaders.
Also, if you are looking to get more operating capacity, then John Deere might be a better option. It has a high operating capacity compared to Kubota.
Frequently Asked Question (FAQ)
What is the most reliable compact track loader?
The JCB Teleskid has to be one of the most reliable compact track loaders you can get for construction projects.
How much horsepower is a John Deere 325G skid steer?
John Deere, 325G skid steer, has 74HP in gross. The net horsepower you get is usually 70.
What is the most reliable skid loader?
Well, there is no single skid loader that you can call the most reliable. Typically, skid loaders from Caterpillars are the most reliable options to get.
What is the number one rated skid steer?
The number one rated skid steer has to be Bobcat. They are the most popular skid steers you get to see out there.
Conclusion
To conclude, Kubota SVl75-2 vs. John Deere 325G is a difficult decision. They are pretty much the same in terms of a lot of factors. So, you can hardly decide on them without overthinking.
Now that you know the differences, it should ease the process a little bit. When it's about more features, Kubota is the pick, but if you need a standard loader with more capacity, John Deere is the perfect option.