Ecobee thermostat allows adding more data sensors in other rooms. But the iComfort thermostat doesn't have any extra sensors.
Again, Ecobee can sense when you are not home and shut down the heating or cooling, whereas you have to touch iComfort before going out so that it can save power.
Are you sick of your old manual thermostat? It's high time you switch to a smart thermostat, which will reduce heating and cooling in your home by adapting to your specific need.
Here, I'll show you the difference between these two smart thermostats so you can decide.
A Quick Comparison Table
| | | |
| --- | --- | --- |
| Specifications | Ecobee | iComfort |
| Special Feature | Smart Sensors For Better Controlling | Programmable Thermostats |
| Available Models | 2 Available Models | 4 Available Models |
| Energy Saving | Automatic Energy Saving | One Touch Energy Saving |
| Air Quality | Built-In Air Quality Monitor | Allergen Defender Monitor |
| Warranty | 5-Year Warranty For Professional Installation | 5-Year & 10-Year Limited Warranty |
| Price | $189.99 to $249.99 | $395 to $890 |
Key Differences Between Ecobee And iComfort Thermostat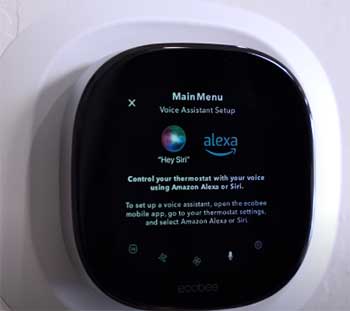 Ecobee thermostats have very intrigued looking displays that are compact but full of features.
They come with an occupancy sensing radar technology that can sense how many people are in your house and adjust the temperature accordingly.
You can control these smart thermostats with any apple or android smart device like your smartphone or tablet.
With special plans and subscriptions, you will also get smart security that monitors your entryways and let you know in case of any intrusion and fire detection alarms.
On the other hand, iComfort smart thermostats are programmable and offer custom comfort. You will get a large and easy-to-use touchscreen with brightness control. Interestingly, you can display your favorite photos as screensavers on your thermostat.
These smart thermostats can balance temperature and humidity and creates an environment you want to feel in your house with the Feels Like feature. You will also get monthly performance reports directly emailed to you.
Ecobee smart thermostats have been around for about 15 years. So, they are comparatively new.
So, rather than introducing more models, they have focused more on upgrades and improvements. The two models of Ecobee thermostats are Smart Thermostat Premium and Smart Thermostat Enhanced.
On the contrary, there are 4 models of Lennox iComfort smart thermostats. They are the iComfort S30 Ultra Smart Thermostat, iComfort E30 Smart Thermostat, iComfort M30 Smart Thermostat, and iComfort Wi-Fi Touchscreen Thermostat.
Both Ecobee and iComfort thermostats have energy-saving capabilities. Ecobee thermostats are Energy Star certified and can save 26% on electricity. They automatically turn off the heating and cooling when nobody is home.
Most interestingly, it runs the heating and cooling system according to electricity availability. Plus, it learns your daily routine and changes your thermostat schedule for energy saving.
In contrast, you will have to touch one time on your iComfort screen to turn off the heating and cooling. Plus, it uses your phone's GPS to detect when you are leaving and automatically reduce heating and cooling.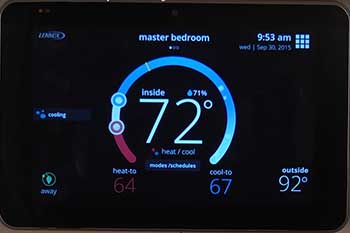 You will get a built-in air quality monitor with Ecobee smart thermostats that will alert you when your home's air quality is poor.
They will also give you the necessary tips to escape the situation.
Plus, you will get an air filter change reminder and optional home delivery service upon subscription.
On the other hand, the Allergen Defender of iComfort thermostats can monitor your area's air quality according to your ZIP code. And then automatically turn on your fan to clean your home's air when outdoor air levels are high.
Ecobee offers 5 Years Warranty with its smart thermostats, but you have to install them with professional help. It covers free repair and replacement of any defective products within this period.
Lennox offers two types of warranty for its smart thermostats. The entry-level ones come with a 5-Year Limited Warranty, and higher-end ones come with 10-Year Limited Warranty.
Ecobee thermostats are significantly less costly than Lennox iComfort. You will have to spend only $189.99 to $249.99 for Ecobee smart thermostats.
But Lennox iComfort smart thermostats will cost around $395 to $890.
Which Thermostat Will Be Best For You?
Lennox has been making thermostats longer than Ecobee and created a good brand value. But in terms of smart thermostats, Ecobee is almost as good as Lennox iComfort.
When you look at the price alone, choosing the iComfort thermostat doesn't make sense. So, I would suggest you go with Ecobee smart thermostat.
They have so many things to offer at a much lower price point. Most importantly, they look better than the iComfort thermostats.
Frequently Asked Questions (FAQ)
Does ecobee work with Lennox?
Ecobee is a comparatively new smart thermostat system. It has many exciting features, one of which is that it's compatible with all major thermostat manufacturers, including Lennox. So, you can use Ecobee with any Lennox smart thermostat. It's also compatible with Trane, Carrier, Goodman, American Standard, etc.
Can I replace Lennox iComfort with Nest?
Lennox iComfort and Nest are good smart thermostats with many advanced features and benefits. Most importantly, you can replace a smart Lennox iComfort thermostat with a Nest thermostat. But for that, you have to follow the manual strictly.
What thermostat is compatible with Lennox iComfort?
Lennox iComfort is one of the most technologically advanced smart thermostats available. But this machine is compatible with many other thermostats. It works with Ecobee thermostats, Nest thermostats, Trane thermostats, etc. Apart from that, all Lennox iComfort thermostats are compatible with each other.
Is ecobee a Chinese company?
No. Ecobee is not a Chinese company. It's a Canadian home automation company making smart thermostats, smart light switches, temperature control, occupancy, and contact sensors. Ecobee was established in 2007 and is headquartered in Toronto, Ontario, Canada. It sells products in Canada and USA.
Final Thoughts
Looking at the comparisons between Ecobee and iComfort smart thermostats, you will see that both thermostats have more or less the same features. But iComfort ones are extortionate, maybe because of their brand value.
Ecobee, on the other hand, has adopted technologies and smart features at an affordable price. So, why spend extra money on iComfort when Ecobee costs less and looks better?