The evaporator coil of Armstrong air conditioners is made from copper materials. Contrastly, an Aluminum alloy is used to make coils of Lennox air conditioners. Armstrong generates slightly more sounds than Lennox.
Are you confused about choosing between Armstrong vs. Lennox air conditioners?
Since both brands offer quality ACs, feeling puzzled is quite common. That's why we will go for an in-depth discussion to help you choose a reliable option based on your requirements.
A Quick Comparison Table
| | | |
| --- | --- | --- |
| Specifications | Armstrong Air Conditioners | Lennox Air Conditioners |
| Coil Material | Copper | Aluminum alloy |
| Maximum Sound Level | as low as 74 dB | 50 and 60 dB |
| BTU rating | 22,000 to 57,000 BTU | 18,000 to  36000 BTU |
| SEER Rating | 14, 16, and 20 SEER rating | 13 to 22 SEER rating |
| Special Technology | Omniguard® Technology | iComfort®-enabled Technology |
| Certifications | ENERGY STAR® Qualified | ENERGY STAR® Qualified |
| Durability | Good | Higher |
| Warranty | Limited lifetime warranty | 5 to 10 years of warranty |
| Price | Affordable | Slightly higher |
In-Depth Differences Between Armstrong And Lennox Air Conditioners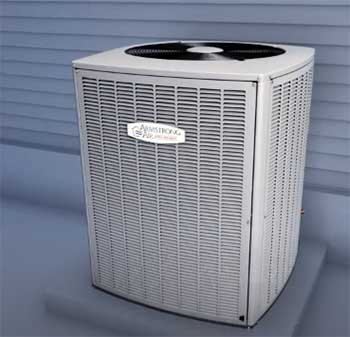 Armstrong air conditioners have copper evaporator coils. They have impressive heat exchange capability.
Your room will become cool faster. They are also resistant to oxidation and corrosion.
On the contrary, Lennox air conditioners are equipped with Aluminum alloy evaporator coils.
They are not vulnerable to pinhole leaks and formicary corrosion.
Armstrong air conditioners generate around 74 dB on average. Though it is a little bit loud than other ACs, it is still an acceptable and safe noise decibel level.
In contrast, Lennox air conditioners produce only 50 and 60 dB while running the machine. This is a high standard level of noise.
The average BTU rating for Armstrong air conditioners is around 22,000 to 57,000 BTU. They can ensure a cool environment for large spaces quickly.
Contrastly, Lennox air conditioners have an 18,000 to 36000 BTU rating. These ACs are better for small spaces where you want to cool the room faster.
Armstrong air conditioners are available in 14, 16, and 20 SEER ratings. ACs with higher SEER ratings are better if you prefer more energy efficiency.
On the other hand, Lennox air conditioners are available in 13 to 22 SEER ratings. These powerful units have better cooling efficiency than lower-rated ACs.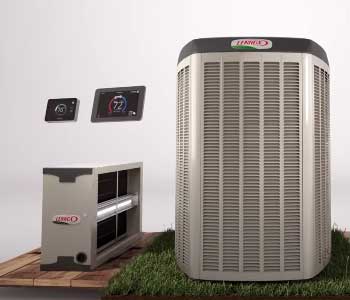 ACs from Armstrong feature Omniguard® Technology.
Indoor and corrosive outdoor elements can't harm the evaporator coils easily.
This ensures long-lasting operation.
In contrast, Lennox air conditioners have iComfort®-enabled Technology to precisely control the cooling and humidity levels.
This ensures optimal home comfort.
Both brands manufacture energy-star-rated air conditions. They can save up to 9% more energy than traditional-based ACs. In addition, the average cost will be reduced by $70 per year.
These advanced technological innovations make their products more eco-friendly. After all, they are causing minimal damage to the environment.
The average lifespan of Armstrong air conditioners can be around 10 to 12 years. This appears reasonable for the price you pay, like other standard ACs.
On the contrary, Lennox air conditioners can easily last around 15-20 years. Their solid construction and top-quality materials ensure long-term operations.
Armstrong offers a Limited lifetime warranty for its heat exchanger parts. But, you will also get a 10-Year Parts Warranty. This makes them more reliable.
 Lennox air conditioners have 5 to 10 years of warranty depending on the model and parts. But they undoubtedly provide a five-year limited parts warranty.
Armstrong air conditioners come at an affordable price. They can perform consistently, likely other standard air conditioners.
In contrast, Lennox air conditioners have a slightly higher price. If you prefer above-average ACs, you can't go wrong with this brand. 
Which Air Conditioner Brand Is The Best For Your Home?
Selecting a particular AC brand requires you consider your home size, location, temperature, and many other factors. You don't want to overlook your initial investment and monthly electricity bills.
If you prefer an affordable option for cooling larger rooms, Armstrong is the best choice. However, it is slightly noisy and less energy efficient.
On the contrary, Lennox might be your ultimate pick if you want highly durable air conditioners. Though it has a slightly higher price tag, you will save a lot in the long run.
Frequently Asked Questions (FAQ)
Is Armstrong as good as Lennox?
Lennox and Armstrong have many similar specifications. But, many parts of Lennox are made from superior quality materials Armstrong
Is Armstrong air the same as Lennox?
Lennox manufactures all the products of Armstrong. But they have a separate brand name and reorganization in the market.
How long do Armstrong AC units last?
Armstrong AC units last can around 10-12 years easily.
Where are Armstrong AC units made?
All air conditioners of Armstrong are made in Orangeburg, South Carolina, by top-quality professionals and advanced machinery.
Final Thought
Since an air conditioner is a long-term investment, considering all the essential aspects is crucial. Armstrong air conditioners appear a perfect choice in terms of affordability and quick cooling performance for larger rooms.
But they may need regular servicing.
On the other hand, if you prefer more than average quality air conditioners without spending too much, very few options come close to Lennox. Apart from consuming less energy, it will give you a comfortable feeling by effectively controlling cooling and humidity levels.