Looking for a routine cleaner for tiles and stones? 
My experience with Aqua mix concentrated stone and tile cleaner will help you to find one of the best everyday cleaners. 
Cleaning tiles and stones become more manageable when you use the best cleaner. Aqua Mix is one such product. You can clean the tiles and stones of your house every day with this super-concentrated stone and tiles cleaner. 
You don't have to believe my word because I'm about to show you the features and benefits you will get from this cleaner. So, let's get to it. 
Features of Aqua Mix Concentrated Stone & Tiles Cleaner 
You will find many superior features that make this cleaner stand out from others. Here, we will see some of those features. After seeing them, you'll know why so many people use them every day to clean their houses. 
So, let's get into the details. 
A Superior Cleaning Formula 
A cleaner is all about its formula. If the recipe is powerful and effective, your cleaner will work excellently. Aqua Mix comes with a very superior and powerful cleaning formula. 
Aqua Mix Concentrated Cleaner is designed for everyday use and is formulated as a neutral cleaner. You can remove hard water stains and prevent soap scum buildup when you use it regularly. 
On top of that, the whole place will smell clean and fresh after cleaning. 
Aqua Mix comes as a highly concentrated cleaning formula. For those of you who don't recall, concentrated formula means you'll have to add water to make it useable as it comes very strong. 
A good thing about Aqua is that it's super concentrated. A 1 quarter bottle of Aqua Mix can make up to 32 gallons. Similarly, a 1 gallon can make up to 128 gallons. 
As you can see, this high-performing cleaner becomes a lot more than its size when mixed with water. 
Aqua Mix stone and tiles cleaner come with a lot of superior features. These features are proof that you can clean effectively with this cleaner. 
This cleaner is an ideal solution for everyday cleaning with a high-concentration formula. Its neutral pH formula makes it effective and robust against stains and dirt.
On top of that, as a biodegradable formula, you know it won't harm mother nature. You can perfectly maintain sealed stone and tiles surfaces using this regular cleaner. 
The most crucial benefit of Aqua Mix cleaner is the fact that it's super concentrated. So, when mixing with water, it can clean many areas. With 1 gallon of Aqua Mix, you can wash 10,000 square feet to 20,000 square feet. 
It can remove the most common dirt from surfaces. Moreover, it effectively removes stains from old tiles and grouts. On top of that, you can easily clean it off tools just by using water. 
Works on Various Surfaces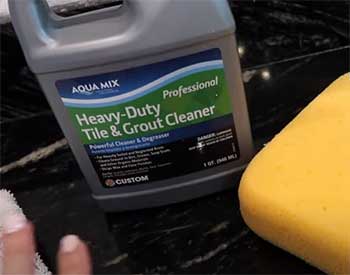 Another significant factor of Aqua Mix cleaner is that you can clean many types of tiles and surfaces.
This super-concentrated cleaner will clean stains and dirt from natural stones like granite, marble, slate, and travertine. 
It also works excellent in cleaning ceramics, porcelain, Saltillo, grout, terracotta, quarry, cement pavers, masonry surfaces, and various other water-free surfaces. 
I hope you already have some idea why I am telling you this cleaner is good and why so many people use them regularly. 
Cleaning surfaces with Aqua Mix is relatively easy. First, you have to make the mix. You need 1 oz. of Aqua Mix per gallon for any polished natural stone. After making the solution, apply it to the floor using a mop. 
Then brush the surface with a natural bristle brush to make it white. Do not let the solution dry on your surface, wipe the dirty solution with a clean mop. Finally, you have a clean and fresh surface in front of you. 
What Could Have Been Better With Aqua Mix Concentrated Stone And Tile Cleaner? 
With all these superior features, there is still some room for improvement. I will show you some areas of improvement that will make this cleaner even better performing. 
So, let's dive in. 
According to some customers, Aqua Mix stone and tiles cleaner has removed the shine from their tiles floor. It is a significant negative side of this cleaner. A lot of people might dive away because of this reason. 
So, manufacturers have to focus and make a solution that will clean effectively without taking shines away. 
While this heavy-duty cleaner can clean stubborn stains and dirt from tiles and stone surfaces, many customers have claimed it doesn't work very well on mildew removal. 
So, having a formula with better mildew removal performance will be appreciated. Moreover, it will then work as a multi-purpose cleaner. 
Frequently Asked Question (FAQ) 
How do you use Aqua Mix Concentrated Stone and tile cleaner?
Using aqua mix concentrated stone and tile cleaner is easy. You will have to make the mixture and mop it on the floor. Add 1 oz. of Aqua Mix with 1-gallon water. 
What is the best cleaning solution for stone tile floors?
There are many natural solutions and neutral cleaners for cleaning stone tile floors. You can use cleaners like Aqua Mix or any other neutral cleaner or dishwashing detergents, vinegar, warm water, etc. 
Which tile floor cleaner is best?
Apart from Aqua Mix, you will find some other high-quality cleaners. Some of them are Dr. Beckmann Stone & Tile Floor Cleaner, Cif Floor Cleaner, etc. 
Which detergent is best for cleaning tiles?
Detergents like Traction Wash, StoneTech Cleaner, Method Cleaner, etc., are best for cleaning tiles. So, you can use any of them for cleaning stone and tile surfaces. 
Final Thoughts 
A good surface cleaner can save so much of your time and energy. After reading my Aqua mix concentrated stone and tile cleaner reviews, you shouldn't be confused about which cleaner you should use. 
Even though Aqua Mix stone and tiles cleaner has some drawbacks, its good side exceeds those cons by a mile. So, go ahead and clean your tiles with this super cleaner.