Choosing between Airstone and LiteStone can be tough as both are highly considered stone brands in the market. But using Airstone gives you more options for interior or exterior design selections, plus these are more durable.
Comparatively, Litestone is a little expensive, has less rating, and has limitations when installed near the fireplaces. Both serve well for your interior or exterior wall designing and protection with more similarities and fewer differences.
A Quick Comparison Table
| | | |
| --- | --- | --- |
| Details | Airstone | LiteStone |
| About | Constructed from a special type of material that goes best on walls with quality and durability | Very similar to natural stone in both appearance and structure |
| Water Resistance | Good to use underwater but not recommended | Good to use underwater |
| Fire Resistance | Safe to use near fireplaces | It can be installed but only on outer surfaces |
| Installation | Easy DIY installation | Just require glue and dispatching |
| Cutting And Handling | Easy To Cut using a knife or saw | Easy to cut using a knife or saw |
| Usage | For both interior and exterior | For both interior and exterior |
| Cleaning | Easy to clean but don't use any harsh material | Highly resistive against dust or debris but need proper cleaning |
| Cost Factor | Cheaper | Little expensive |
| Consumer Rating | 4.1 | 4 |
| Warranty | 10 Years limited lifetime warranty | 20 years limited lifetime warranty |
Key Differences Between Airstone And LiteStone For Your Interior Or Exterior Walls
Those stones you would like to see on your walls, either from Airstone or LiteStone, are constructed under higher care and correction.
With excellent wall design dimensions in mind, Airstone is usually made from a lightweight and heavy-duty material.
Such material gives beauty, texture, an amazing feel, and more as it gives you the vibes to see a real stone on your interior and exterior walls.
There is no need for professional installers or specific tools to have these stone sheets on those walls.
On the other hand, LiteStone also ensures something similar to a natural stone look when applied on interior or exterior walls with real structure and appearance.
It is up to 75% lighter than natural stone ensuring the same durability and outstanding feel.
Moreover, these stones are easy to install, and anyone can perform that installation pretty easily.
Both stones can be installed on the exterior walls as these provide strong resistance against rain, storms, and other unpredicted weather conditions.
However, Airstone doesn't recommend using their stone sheets in the shower because of any attachment of harsh tools like brushes, etc.
In that case, there are higher chances of these stones coming out of the walls.
But with LiteStone, you get superior water resistance even when installed in the bathroom or shower.
However, be careful when contacting a harsh tool to the wall.
From Airstone or LiteStone, which one is better to be used at those fireplaces? When it comes to LiteStone, they recommend using their stones only on outer walls.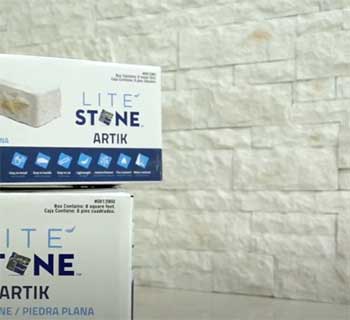 Because if LiteStone is used or installed on the inner walls of the fireplaces, there is a higher chance of it getting stained just like a natural brick or stone does.
Therefore, it might not be a good idea to use LiteStone on the interior walls of a fireplace.
But compared with the Airstone, they ensure that their product is non-flammable and safe to use around any wood stove and fireplaces.
Plus, these are non-combustible. According to the ASTM E-84 standards, these stones have a class A rating.
However, there might be specific changes to the texture of these stones when exposed to extreme weather conditions, like above 360 degrees Fahrenheit.
Installation with these stones is much easier because of a two-step process. All you have to do is to apply the adhesive on the backside and then dispatch the paper to the wall.
Airstone is designed for your Do-It-yourself operation. It doesn't matter; even if you install it around the corners or edges, it will go easily.
Compared to Airstone, LiteStone also follows the same installation process. You can use the LiteStone Indoor Adhesive when installing it on those interior walls.
But for the exterior walls, a special type of Polyurethane based adhesive can be used, mostly used in constructions. One can also use sealant for a proper and sturdy installation.
While installation of these stones on the walls, you will need to cut some specific pieces for the edges and corners. Therefore, you must be an expert at it; otherwise, the installation won't be effective.
While installing the Airstone, you can use a putty knife or a caulk gun to cut out your desired pieces and install them on that interior or exterior wall.
On the other hand, LiteStone recommends you use any electric cutting tool or a hacksaw to cut those needed pieces and fix them on the wall.
Both stone brands produce stones for interior and exterior usage. However, it would help if you were specific that your exterior walls must be dust free.
And it would help if you used a heavy-duty adhesive when installing stones on the exterior walls.
It doesn't matter whether you install Airstone or LiteStone; both should be done with excellent accuracy, measurement, and perfect details.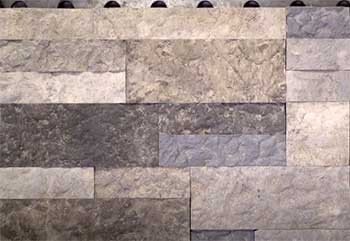 To clean these stones from either brand, you must be more specific about using the right cleaning agent and tools.
Never use a harsh brush or anything that may leave scratches on these stone's surfaces.
You can use a gentle cloth, water, a cleaning agent, or wall cleaners to perform this cleaning over these stones.
Anything will remove the dust and pollution from the walls to give them the look they deserve.
There is not much price difference between the stones from these brands, but LiteStone is a little expensive with some more bucks than Airstone.
However, the price does not vary in most cases when buying stones of similar sizes. Sometimes, it may affect or depend on a store or place from where you are purchasing.
At Lowes, Airstone has a consumer rating of 4.1, which is one point higher than LiteStone. However, more people have purchased and used Airstone than LiteStone.
So, when you visit Lowes, you can find quality reviews about these brands.
Both brands provide exceptional warranties on their products. When it comes to Airstone, you get up to 10 years of a limited lifetime warranty, which is value for money. But with LiteStone, it is double as the warranty period is based on up to 20 years.
It means those installed stones on walls will stand up to 20 years if you have them from LiteStone.
Which Stone Brand Is Better For Your Interior And Exterior Walls?
Based on facts, we can consider LiteStone a little better than Airstone because it is cheaper and more appreciated by people who have already used their stones.
However, selecting LiteStone is also not bad when you get up to 20 years of the limited lifetime warranty. But the final decision will always be yours!
Final Thoughts
Wrapping it up, it's hard to compare Airstone and LiteStone, when both have up to 80% similarities in their products offer. However, Airstone is a better option because people trust it more.
But LiteStone is also not bad when you avail yourself of up to 20 years of limited lifetime warranty and plenty of other features. Still, if I need to save money, I would go with the Airstone!