A heavy battle arises when we talk about Pella vs. Andersen. Both options are no less. They offer a wide range of products. Also, different series are available.
People are often confused to choose between Pella Lifestyle Series vs. Andersen 400 Windows. After all, they have their own advantages.
Both window series have some common features. But many uncommon aspects set them apart. Learning the primary differences can help you choose the best option as per your need. Here we will discuss their uniqueness.
Let's dive in!
Quick Comparison Between Pella Lifestyle & Andersen 400
Want to learn brief details? Go through this short table to overview both types of windows.
| | | |
| --- | --- | --- |
| Specifications | Pella Lifestyle | Andersen 400 |
| Window types | 5 types of windows | 7 types of windows |
| Wood species | Pine | Pine |
| Interior Finishes | 7 stains & 3 paint colors | Bare plus 3 paint colors |
| Exteriors Finishes | 12 paint colors | vinyl cladding 7 paint colors |
| Sensors | Insynctive security sensors | VeriLock sensors |
| Durability | More durable | Decent durability |
| Warranty | 10/20 years | 10 years |
| Cost | $300 – $955 | $350 -$2,800 |
In-depth Differences Between Andersen 400 And Pella Lifestyle
Learning the main difference between these windows is important for a better conclusion and choosing the best option. Give a glance at the primary dissimilarities between the two windows:
When it comes to choosing a window, we prefer different types. Generally, our house structure varies. So, we want a perfect one based on our home design and patter.
Pella Lifestyle series is available in five types of windows. They are awning, double-hung, picture, bay or bow, and casement.
Choosing double-hung windows means you have proper ventilation and increased. It has Easy Maintenance too. When you prefer natural lights and maximizing wall space, Awning windows seem great.
On the contrary, Andersen 400 windows are available in 7 types. They are awning, bay & bow, casement, double-hung, gliding, picture, and specialty.
If you want Architectural Distinction and Exceptional Airflow, you can't go wrong with Casement windows. Preferring increased natural lights and giving a larger room feeling requires you to install bay & bow windows.
Choosing the right type of wood that matches your house's style and the color is mandatory. Only one type of wood species is available for both windows: pine.
However, pinewood varies for each brand. They follow their distinctive procedure to make it. But why do they use pine wood?
Pinewoods is easy to work with. They are highly durable. You can install them on high-foot areas. Plus, they are not prone to decay and rot easily.
You can make a wide range of aesthetic and natural designs from this type of wood. They are resistant to the swelling and shrinking.
Pella Lifestyle is available in 7 stains & 3 paint colors. These types of stains on the wood effectively protect the wood from damage. It also enhances the appearance.
In contrast, Andersen 400 has a bard wood finish type that looks amazing. They can protect the wood surface and increase the decorative appearance.
There are 12 exterior finishes available for Pella Lifestyle to improve the unfinished wood appearance. Paints, stains, hardware finishes, etc., are popular choices among them.
On the contrary, Andersen 400 has 3 bare plus exterior finishes. They are easy to repair. Plus, their forgiving appearance is good at hiding various types of stains and flaws easily.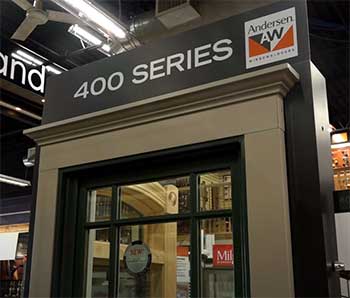 Modern life needs a modern solution. So, why not our home, especially the window? Many modern windows include sensors for extra protection.
Pella Lifestyle features Insynctive security sensors to ensure open/close status. The built-in security sensors effectively retain the excellent qualities of the windows.
In contrast, Andersen 400 features VeriLock sensors to easily figure out the unlocked or open openings. This provides extra security.
You can keep yourself worry-free by knowing the current condition of the window opening.
Not only this, opening or closing the window during inclement weather appears easy-going. You can track down how often the door is opened and closed by your naughty kids or vulnerable adults at home.
Durability is crucial not to overlook because you want an extended lifespan for home windows without compromising their functionality.
Pella Lifestyle is more durable than Andersen 400 due to its high-quality materials. Most Pella windows are made for both vinyl and fiberglass, making their products extremely durable.
They are tough and weatherproof.
But Andersen 400 is not that bad. They are made of solid wood and vinyl to ensure long-lasting durability with minimal damage.
You just need to take care of them adequately to get the best out of their performance.
The warranty period is important for products. You can get help from the company if any issue arises. Both brands offer a decent period of warranty.
 Pella will provide 10 years Limited Warranty for the transferrable warranty system and 20 years limited warranty for the transferrable warranty system.
In contrast, Andersen generally provides a 10-year limited warranty for their 400 series windows and a lifetime warranty on the window installation.
Cost is a big factor to consider when you prefer a limited budget option. Generally, larger and multiple windows will increase the total cost.
Compared to Andersen 400, Pella has a 20% lower price. But their product price will vary based on materials, finishes, size, and installation cost.
Generally, the price of a Pella Lifestyle is around $300 to $955, depending upon several factors. On the contrary, you will need to spend anywhere from $350 -$2,800 based on the product you choose. 
Low-end windows from Andersen 400 have an affordable price. But spending a considering amount of money is crucial if you want high-end windows, such as bay or bow.
Which One Will Be The Best Fit For Your House?
No doubt, both brand windows have excellent quality. So choosing either option won't be a bad choice.
If you want to have an affordable and various colors option, choosing Pella Lifestyle appears good.
But when you prefer a premium version and want a more advanced design for your home, you should go for the Andersen 400.
Frequently Asked Questions (FAQs)
Is Pella more expensive than Andersen?
Andersen windows are slightly more expensive than the Pella brand. But both brands offer a wide range of windows in different price categories.
What windows are as good as Pella?
Andersen and Pella are the two most popular brands for making exceptional quality windows than many other brands.
Are Andersen 400 Series windows good?
Surely, Andersen 400 Series windows have decent quality, especially the double-hung and casement windows. They got immense popularity and "excellent" ratings for their excellent craftsmanship and attractive design.
Which windows are best for the home?
Casement and double-hung windows are the two best type windows for various style homes. But you can select a particular one if it seems appropriate to you.
Final Thought
So, which windows have you decided to pick after reading our in-depth details on Pella Lifestyle Series vs. Andersen 400 Windows?
Though they have some similarities between them, a few unique features will push you to go for a particular one.
Hopefully, you choose the best one that seems more convenient for your home style, design, and structure. Make sure you take care of your windows to ensure the best durability and functionality in the future.