Having problems with flakes of paint coming out of your walls? It might have something to do with the coating you put before getting your walls painted.
There are several options you might choose from to coat your walls before painting or repainting them. Skim coating is often suggested by everyone who has painted their walls but let us dig in for more options.
There are not a lot of alternatives to skim coating walls, but you should still find some other ways in case skim coats don't suit your walls and you start facing the same flaking problems again and again.
So we will explore some other ways you can coat and protect your wall
Wall Skim Coating Substitutes
Coating the walls is very important to sustain them for a long time. If you want to paint or repaint your walls, the coating is a must or else your walls would get damaged from outer specks of dust, water, mold, etc.
So, take a look at the following list. You should be able to find the best option to coat your walls from the following options we have as alternatives to skim coating for your walls.

Wall liners are good alternatives or substitutes to skim coating. If you want to explore your options for coating your walls then wall liners come next to skim coating.
Many people have good reviews about them while some do not prefer them at all.
Wall liners seem like a lot of work and it also needs some extra effort. That is why people won't usually recommend it to you in the first place.
But then after the result of wall liners is very good. It gives a fine finish to your wall.
Wall liners might need some extra effort and hard work, but they would stay on your walls for a long time and you won't even have to redo them for their perfect finishes on the wall.
You have two options for wall liners. Bridging liners and Blankstock liners are the two options available on market. Bridging liners are usually thick and do not have any kind of texture in them.
They are usually used to remove the imperfections from your walls and smooth them out.
On the other hand, Blankstock liners and thin and have a bit of texture. They are used for touching up your already painted walls and giving them a perfect finish.
The type you choose would depend on your demands and what kind of usage are you wanting for your wall. So, choose according to your work.
Also Read:
Top Rated Skim Coating Rollers
.[/su_note[
A power tool like an orbital sander is a must-have.
It can be used to remove paint or sand the shine off a layer of paint so that a new coat adheres better.
The majority of sanders have a random-orbit pad that measures 5 or 6 inches long.
Random orbit refers to the way the pad rotates and oscillates in a random orbital motion.
This eliminates the risk of swirling marks on the wall and lets you sand both with and against the grain.
An orbital sander with a square pad has a more uniform orbital motion and is slower than random-orbit variants. The square pad, on the other hand, lets you sand into edges.
Another distinction is that the random-orbit variety uses sandpaper discs with hooks and loops to attach them to their bases.
Orbital sanders employ precut or custom-cut peel-and-stick sandpaper, or you can use the clamps on the sander's sides to attach an abrasive sheet.
Both types of sanders come with a dust bag that collects most of the dust produced by the equipment.
Because you don't have to bother with the burden of a cord hanging down, cordless or battery-powered sanders are more convenient and mobile when mounting a ladder or scaffold.
That does not mean electric sanders are of no use. The cordless sanders tend to get damaged or out of battery quicker than the battery-powered ones.
The battery of your sander going down in the middle of your work would be very annoying as well. Either the devices or types of equipment have their pros and cons.
Mist coatings are another useful alternative to skim coating. These mist coatings are usually made with diluted paints.
A thin layer of mist coating is applied on the newly plastered walls that you have.
This mist coating is believed to prevent your walls from having color flakes falling and also seal the walls properly.
The paint you are taking for mist coating must contain the appropriate amount of water. Then mix it well and apply it to the walls.
Let the coat dry for a while. After that, you can apply another round to the wall to give it a better finish. This will allow your wall to have a good finish.
Filling and Sanding is a better alternative to Skim Coating your walls to make your home, office, building, or any property walls flat.
It is quicker and takes less time to get applied. Compared to that, Skim Coating takes more time to apply and dry.
Besides, using the option of Filling and Sanding is also a less Labor-Intensive option. There is nothing hard to do with Filling and Sanding if you need to fill several fillings. At the same time, this alternative is also cheaper.
Inside this alternative, we fix only the required options of the walls instead of fixing the entire wall using the Skim Coating process.
Some people take it as a drawback of Skim Coating that you have to take care of the entire wall.
But if only a few portions require fixings, Dabbing and Dotting is the best alternative you can apply.
Just apply the dab and dot filter to the areas requiring addressing, then sand or scrap those small parts flat.
In this way, the energy, time, effort, and money you'd save otherwise on applying Skim Coating to the walls can be saved.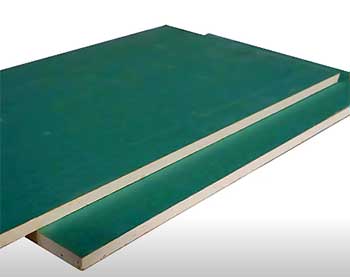 Plasterboard is another alternative to Skim Coating.
There is no need for mixing compounds or making things smoother.
The needed boards can be purchased fairly, depending on your required size.
After that, one can easily install or attach these boards to the walls.
There is no need for Skim Coating when you can cover the mess of your wall with a plasterboard. It is easier, time-saving, and doesn't require more labor.
Also, the plasterboard application is a better option for people having fewer skills in Skim Coating or performing DIY jobs.
Let go of everything and use the option of Painting your walls. It's the fastest, better, and easiest way to fix broken, damaged and flattered walls.
It is also another great option for people who don't have much time to address the issue.
Make your walls brand new with one or two coats of paint instead of using Skim Coating wall options. Anyone at home can paint those walls, which never requires a special skill or talent.
Hence, another great alternative to the Skim Coating walls comes at a lower price with less effort.
You should always understand that Skim Coating is not always the only option you are supposed to have when a wall needs fixings. There are perfect alternatives to choose from, just as described here.
Is Skim Coating Worth It?
Skim coating is definitely worth it if you make it work in the right way. Although it takes a lot of steps and hard work to be completed, the end results are very satisfying.
It gives your room walls a smooth finish where you can paint and add textures freely. Even when you don't like a texture or wallpaper, you can easily take the paint off using it.
Other than that, the skim coating also makes your room look brighter and more beautiful. Last but not the least, is it very budget-friendly and cost-effective.
You don't have to spend a lot of money on this coating. That is why is it a very popular means of coating worldwide.
Also Read:
Differences Between Drylok And Damplock Waterproofing Paints
.
Frequently Asked Questions (FAQ)
How can I make my walls smooth without skimming?
Without skimming, you can paint your walls, hang some wallpapers, or sand your walls to make them smooth.
Is it worth it to skim coat walls?
Yes, it's worth it to bring back the original beauty of your walls after any repair works.
What can you use instead of plastering?
Instead of plastering, you can choose anyone from: tile, concrete, stone, wallpaper, chalkboard, timber panel walls, etc.
Wrapping Things Up
Now that you know tids and bits of all the common alternatives to skim coating walls, it is your turn to find the best option for your walls.
Coatings of a wall can go wrong for many reasons but you must make sure that you are following every way possible to ensure a good coat.
Otherwise, you may have to redo it time and again, and that is surely a hassle. So, make sure to choose wisely!