So, you're tired of your walls looking deplorable. You know the best way to delete the wear and tear is to skim coat the wall. Now, the challenge is what tools to use.
Truthfully, skim coating with the wrong tools can make the pro an excruciating and time-consuming endeavor. You'd get tired quickly.
To spare you the backache and help you accomplish your skim coating tasks easily, check out our list of my recommended roller for skim coating. Let's dive in.
Recommended Rollers For Skim Coating
Let's review each of them in detail one by one:
Fulton Long Handle J Roller
Unless you are looking for skim coating alternatives, the first roller for skim coating on our list is this roller from Fulton. It is the perfect choice for you if you're shopping on a budget.
When you start to use this roller, you'll appreciate the presence of the heavy-duty steel handle. It's not just attached to the roller to make it look solid.
The steel handle works to help you easily apply as much pressure as you need to give your wall a total facelift. If you think the steel will be hard on your skin, think again.
The reason is that the manufacturers clad the steel handle in a rubber material that fosters a comfortable grip.
Hence, if you need to use the roller for prolonged periods, your hands won't start to drown in fatigue anytime soon.
Keep reading to see some of the features that make this product one of the best choices for skim coating.
There are different roller types for skim coating. Sadly, not many of them allow you to evenly apply the required pressure on your wall while skim coating.
The downside to this is that the coating won't be strong enough to hide the cracks and imperfections on your wall for a long time. But that's not a problem with this roller.
It's 2-7/8" width allows you to apply the required pressure to keep your wall intact. That way, you won't be bothered about the coating wearing off soon, especially when the coating is high-quality.
This roller helps you apply the needed pressure to keep the coating intact. There won't be any crack on it.
Sometimes, applying skim coatings on your wall with rollers might leave marks. It's all because of the type of rubber the manufacturers used to design the roller.
However, Fulton designed this roller with a unique type of rubber. Using this roller on your wall for skim coating means it will not leave marks on your wall.
It's all thanks to the roller's textured surface.
What Needs Improvement?
This Fulton roller is one of the best rollers for skim coating. However, it has some flaws that could be fixed.
The handle length of this roller is merely 12 inches. For some people, it's perfect. But to a couple more people, it could be longer.
Nevertheless, anyone can still make it work. More so, you only get one handle.
POWERTEC 71010 Long Handle J-Roller
Up next is the long-handle J-roller from Powertec. Powertec is not a newbie to bagging a seat at the top in the field.
So, it's not weird that one of their J-rollers made it on our list of the best skim coating rollers.
Here are some of the features of this roller that caught our attention.
The first admirable feature of the Powertec 71010 long-handle J-roller is its sturdiness. Skim coating with this roller is an easy task to pull off, thanks to this feature.
It's not surprising because it's made from heavy-duty steel, making it sturdy. That means it would last long, as long as you use and maintain it well.
Although flex-free, you'll enjoy the smoothness it works with. It comes with 12-inch stainless steel, too- it won't succumb to erosion.
Another feature I enjoyed while using this J-roller is how comfortable the grip was. Sometimes, your hands could start to drown in ache from handling a roller with a steel handle.
However, Powertec trapped this J-roller in a material that makes it comfortable to hold. As a result, you can wield this J-roller easily. Thanks to the flexible and firm grip, you'll feel more in control.
More so, it gives you more leveraging power to execute your skim coating task well.
We love a roller that gives near perfection coverage for skim coating. This roller from Powertec does a fantastic job with skim coating coverage.
It has wide coverage, covering up all the imperfections on your wall that you need to hide. This roller would also run smoothly on your wall surface during the skim coating process.
All the while, it protects your surface from getting fresh damage or scratch marks on it. Trust me; you'll be pleased with the coverage length of this roller.
As most J-rollers should be, this roller is versatile. In essence, you can use it in other applications. For instance, it comes in handy in installing veneering wood, floors, etc.
What Needs Improvement?
Of course, Powertec is great at what they do. They always manage to create fantastic products.
However, sometimes, the products aren't 100% perfect. These products are dotted with minor flaws that need improvement.
The roller handle is short. Although it offers a comfortable grip, you might find it short. But it would still deliver as much coverage as you need.
DCT Heavy-Duty High-Pressure Rubber J-Roller
Retailing at a budget-friendly price, this J-roller is another skim coating tool you should invest in.
Aside from the fact that it has a one-year warranty backing it, there are other reasons you should invest in this tool.
What's a roller without a comfortable grip? You'll most likely not perform the skim coating task well. That's why DTC invested in the grip design of this roller.
You can apply the required skim coating pressure to fix your broken wall with its comfortable and near-perfect grip. DTC blended rubber and non-slip plastic to create the perfect handle for this roller.
As a result, you can skim coat with this roller while holding it with one hand.
Here are some other features…
This roller was created for use in small areas. Although it was carved from a rubber material, you'll only enjoy using this roller on small wall spaces that need a quick fix.
However, the material contributes to its durability and sturdiness. The roller itself is carved from high-quality steel, which won't corrode.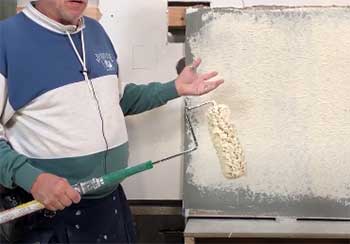 Warranty: Another exciting feature of this roller is that it comes with a warranty. Although it's a one-year warranty, it always comes in handy.
For instance, if the roller breaks or becomes faulty for some reason, you can return it for repairs or a new roller as long as the warranty hasn't expired.
What Needs Improvement?
Not many features on this roller need improvement. However, there are a couple of features that DTC can work on.
Now, the grip is perfectly comfortable and made from rubber. However, during skim coating with this roller, the grip could side down to the handle. That might hamper your work a bit.
At 3 inches, it's safe to say that the manufacturers designed this roller to cover small areas. Any attempt to skim coat on large spaces with this J-roller would be frustrating.
Conclusion
Now that we've exposed you to our fantastic list of the top-rated roller for skim coating, engaging in it won't feel like the world's weight is on you.
Remember that the key to skim coating perfectly is to have the right tools for the work. Although our list of J-rollers is versatile, they'll perform the skim coating task beyond expectation.
You won't need to break a sweat trying to fix your damaged walls anymore.