When it comes to woodworking, an essential tool of the project is glue. Your furniture or any wooden fixture won't last long without suitable glue. That's why I brought two excellent woodworking glue to you: Aliphatic glue and PVA.
Aliphatic glue is made of aliphatic compounds and has better water resistance, whereas PVA glue is made of polyvinyl acetate and has no water-resistance ability. I'll show other features and differences in detail in this article.
So, instead of contemplating, let's get into our review.
A Quick Comparison Table
Here is a quick comparison table between Aliphatic glue and PVA glue:
| | | |
| --- | --- | --- |
| Aspects | ALIPHATIC Glue | PVA Adhesive Glue |
| Product Type | Fast Drying Synthetic Adhesive | Non-Toxic Adhesive |
| Material | Aliphatic Compound | Polyvinyl Acetate |
| Special Feature | Has A Better Initial Grip | Has An Archival Neutral pH Formula |
| Benefits | Offers More Benefits | Offers Fewer Benefits |
| Performance | Superior Performing | High Performing |
| Usage | Multiple Usage | Multiple Usage |
In-Depth Comparison Between Aliphatic Glue And PVA
You have gathered some basic ideas about both the glues. But you need more information to make the right decision.
So, here are some key differences between these two woodworking glues:
Aliphatic and PVA glues have similar user-profiles and offer similar strengths. But they differ from each other in areas like grip characteristics while setting.
Aliphatic glue offers more grip right after using on a wooden surface; PVA shows more slip while using.
There are some other differences as well. Super Phatic Aliphatic glue is a fast-drying glue for woodworking and other projects and is known as carpenter's glue and yellow glue.
On the contrary, PVA glue or polyvinyl acetate is also known as white glue. It is mainly used for crafts and light uses. But because of its strength, carpenters also use it for woodworking projects.
Since Aliphatic and PVA are two different types of glues, their construction components are also different. Knowing their component might help you determine which one will provide the strongest bond for your project.
Super Phatic is an aliphatic resin. It is a synthetic adhesive made from an aliphatic compound and has a light yellow color look and a creamy texture. Because of its material, you will get strong adhesion to wood.
On the other hand, PVA glue is made of polyvinyl acetate. It's a pH-neutral formula. Its strong formula makes it compatible with most common wood and provides an excellent bond after curing.
You will see some unique features from Super Phatic Aliphatic glue and Tran PVA Adhesive glue. Let's find out what to expect from these adhesives.
Super Phatic Aliphatic glue dries faster than other glue. It has a better grip initially after applying and penetrates fast into a wooden joint.
You can either apply it before or after the assembly of wooden parts. Besides, it bonds wood, foam, and paper very effectively.
In contrast to aliphatic glue, Tran PVA Adhesive glue takes some time to dry. It has an archival neutral pH. Plus, it becomes completely clear when it dries. PVA adhesive does not contain any VOCs. That's why it's entirely safe for use.
Like every other good-quality product, you will get excellent benefits from Super Phatic Aliphatic glue and Tran PVA Adhesive glue. You can determine your best choice by looking at their benefits.
You will face fewer drips even at a higher temperature with a heavier consistency. You will get excellent bonding strength and moderate resistance.
Plus, it can withstand heat and water for most parts. It becomes tough after drying.
On the other hand, Tran PVA Adhesive glue is a non-toxic, pH-neutral glue that is easy to use. Because of its easy use formula, it has become the most commonly used woodworking glue for carpenters.
Besides, it remains flexible after curing.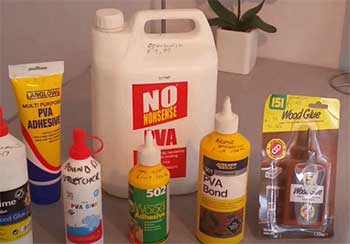 In terms of performance, both glues have the ability to exhibit excellent bonding strength.
However, Super Phatic Aliphatic glue takes approximately 24 hours to cure and reach max strength.
It can work between 10°C and 43°C. After drying, it takes a translucent, pale tan, or amber color. You can easily sand the excess glue when it dries.
By contrast, Tran PVA Adhesive glue will take around 30 minutes to clamp and around 24 hours to fully cure. But, you will have to ensure the joints are fit tightly to get maximum strength.
Besides, you can easily clean PVA glue. 
We all know that both these glues are mainly used for woodworks. But they can be used on some other surfaces and materials too.
Knowing them will help you understand where else you can use them.
Apart from wood, Super Phatic Aliphatic glue can be used on foam, paper, etc., surfaces. Besides, it can create maximum bond strength over most wooden surfaces. On the contrary, Tran PVA glue is also known as 'school glue.' Because of its non-toxic formula, it is also used for crafts making and on various school projects.
Only one size is available for Super Phatic Aliphatic glue. You will have to buy its 50 ml size if you decide to buy this glue. But Trans PVA Adhesive is available in 5 sizes.
You can choose from a 2-ounce, 4-ounce, 8-ounce, 16-ounces, and 32-ounces container. So, you are getting more size options from Tran PVA glue.
Which Glue Is Best For You?
Although both Aliphatic and PVA glue has the ability to create a strong bond in wood joints, Aliphatic glue is better in many ways. So, I suggest using Super Phatic Aliphatic glue for your woodworking projects.
Aliphatic glues are waterproof and can work in higher temperatures than PVA glue. Besides, it has more grabbing ability after applying to the surface. Unlike PVA, Aliphatic glue is heat and moisture-resistant.
So, you should go with this glue.
Frequently Asked Question (FAQ)
What is aliphatic PVA?
Aliphatic and PVA have a similar formula and adhesion strength, but Aliphatic is a yellow color glue with a creamy texture. It has more heat and water-resistant ability than PVA glue. But you cannot use it on exterior applications.
Is PVA an aliphatic resin?
No, PVA is not an aliphatic resin. They are two different glues. PVA is made of polyvinyl acetate. It is a non-toxic and pH-neutral formula that remains flexible after curing. But it is not waterproof and heat-resistant.
What is the difference between glue and PVA?
PVA is made from polyvinyl acetate and is a cheap, water-based, pH-neutral, and non-toxic formula for wood. It is suitable for smaller areas. Conversely, wood glue is powerful and is designed for heavy-duty applications.
What is a downside to using PVA glues?                                  
PVA glue is a cheaper, non-toxic solution with no water and heat-resistant ability. It is inferior to aliphatic glue and any other particular woodworking glues.
Final Thoughts
With my Aliphatic glue vs. PVA review, you have a complete picture of these glues. After reading all the comparisons, I'm sure you're convinced that Super Phatic Aliphatic glue is the better option for you.
It has more water and heat-resisting capability, works on various types of wood, and provides excellent bond strength. In conclusion, I ask you to go with my suggestion.
You won't regret it in the future.