Woodworkers and carpenters use strong glues to clamp different parts together and create a permanent bond. There are so many of them but I have decided to differentiate only Gorilla glue vs. wood glue!
Only the best glue can give you the best performance for ages. Here, I'll tell you the features and differences between these two best glue. You can pick up the right one for you.
So, let's begin.
A Quick Comparison Table
Here's a quick comparison table between Gorilla Glue and wood glue:
| | | |
| --- | --- | --- |
| Aspects | Gorilla Glue | Wood Glue |
| Glue Type | Polyurethane Based | Water-Based PVA |
| Special Feature | 3X Expand Into The Materials | Offers A Natural Bond Line |
| Benefit | Easily Bonds Over Various Substrates. | Non-Toxic |
| Usage | Indoor & Outdoor | Indoor & Outdoor |
| Performance | High Performing | Superior to Gorilla Glue |
| Cleaning Up | Easy Cleanup | Easy Cleanup |
| Price | More Expensive | Less Expensive |
In-Depth Differences Between Gorilla Glue And Wood Glue
You have drawn some basic ideas about the glues from the above comparison table. Now I'll show you a detailed comparison between Gorilla Glue and wood glue.
So, let's jump into it.
Gorilla Glue and Wood Glue are both designed for clamping wood materials. But they are made differently. Let's see what different formulas they use to create bonding between joints.
Gorilla glue is used for clamping DIY wooden items and cabinetry. It is a water-activated polyurethane formula that expands into materials to form an incredibly strong bond.
On the other hand, Wood glue, otherwise known as White PVA Glue, is also a glue used for joining wood items. This PVA glue comes with water-based adhesive.
With its Gorilla strength, you can use it for commercial cabinetry.
Both types of glue come as feature-packed. You can differentiate between them from their features.
You will first have to damp gorilla glue with water to activate it. This polyurethane-based adhesive formula is powerful and effortlessly handles the toughest of jobs.
Besides, this powerful glue expands 3 times more into the material.
Moreover, being waterproof, you can use it indoors and outdoors. But perhaps the most crucial thing about Gorilla glue is that it can create a very powerful bond in wood.
On the contrary, Wood glue too creates a solid bond for woodworking projects. Besides, it dries natural color offering a natural bond line.
Plus, it passes ANSI/HPVA Type II water-resistance standard.
Benefits are the real deal for choosing a product. A customer will prefer something that will give them more benefits.
In the case of Gorilla Glue, being 100% waterproof, it won't break down under heavy moisture when used on outdoor elements.
You can use this versatile glue to bond over various substrates.
With the polyurethane formula, it can withstand hot and cold temperatures. Besides, it hides the joins, and you can paint over them.
In contrast to Gorilla Glue, Wood Glue is pretty easy to use. You can also apply it on many surfaces and substrates. In any case, it does not create any foam after applying it to anything.
Besides, this non-toxic water-based glue is a better option for DIY enthusiasts.
Gorilla glue and Wood glue are designed for cabinetry and other woodworking projects. Apart from that, you can use both products on various other substrates and objects.
Gorilla glue excellently works on various objects outdoor and indoors. You can use it on wood, stone, metal, ceramic, foam, glass, concrete, and various others.
But never use this glue on natural fabrics like wool and cotton.
Similarly, you can use wood glue on indoor and outdoor substrates. But you should not use it in places where continuous moisture is an issue because Wood glue is water-resistant but not waterproof.
However, you can use this glue on hardwoods, softwoods, natural wood composites, fabrics, etc.
You can definitely judge two products based on their performance. Let's see what these two types of glue offer.
Gorilla glue renders the best performance at room temperature. You can apply any oil-based and acrylic or latex paints over this glue.
Most importantly, it can clamp two objects within 1 to 2 hours and takes 24 hours to cure fully.
In contrast, you can cover about 200 square feet of surfaces with 1 gallon of Wood glue. It'll only take 20 to 30 minutes to clamp objects at room temperature and 24 hours to cure fully. Besides, you can sand and paint over it.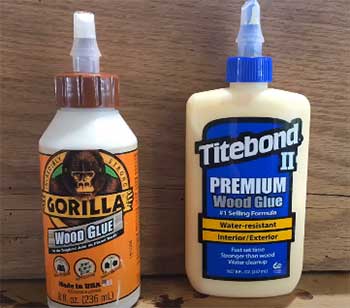 Cleaning up is not very hard for both the glue. You can easily clean those off from the surface and your hand in some easy ways.
You can clean wet Gorilla glue by wiping it with a dry cloth or using a standard paint thinner.
You will have to remove any uncured wet glue from the surface.
But the best way to clean and remove gorilla glue is when it dries. You can use sanding, picking, or chiseling to remove it.
On the contrary, you can easily wash wood glue from your hand using water and soap. Beyond that, you will have to use a damp cloth to wipe off the extra glue when it's wet and a putty knife to remove extra hard glue from a surface.
Which Glue Is Best For You?
As you can see from my discussion above, both types of glue can provide outstanding adhesion and durability. So, it can be a little challenging for you to decide.
Nevertheless, I will tell you what glue you should use and where.
If you have an exterior woodworking project, you must use Gorilla Glue. This polyurethane-based adhesive is pretty expensive, but it is water-resistant and waterproof.
But if you need glue for indoors, you should go for Wood Glue. PVA formula is superior to Polyurethane. Plus, it's easy to use and costs significantly lower.
Frequently Asked Question (FAQ)
Is Gorilla Glue better than wood glue?
Gorilla Glue is harder than wood glue but not better. The polyurethane formula is inferior to PVA. Plus, gorilla glue foams up and is harder to use.
Can you use Gorilla Glue instead of wood glue?
The water-based PVA formula does not foam up and has a thicker consistency that makes it easy to use. However, you can use Gorilla Glue instead of wood glue.
What is the strongest glue for wood?
When it comes to strength, Polyurethane based glues are the strongest and most durable. Being waterproof, you can use it both indoors and outdoors.
What are Gorilla Glue's disadvantages?
Gorilla glue can be a bit harder to use. It's toxic and can create irritation in your eyes. Plus, it's pretty expensive than other wood glues.
Final Words
If you want your cabinets and other wooden objects to last longer, you cannot but use the right glue to clamp them. I'm glad that you found my Gorilla Glue vs. wood glue review.
Now you know the best glue for your woodworking project. I suggest you stick to that. Because in the future you'll be glad that you did.