When it comes to woodworking, you have to think about plenty of things—a good saw or woodcutter, a quality workbench, good quality power tools, and so on. But one of the most crucial things is to find the perfect clamp for your woodworking projects.
From this review, you may end up with just the ideal thing.
The Clampzilla from Woodpecker is a nifty choice when it comes to clamps for woodworking. So, if you are feeling the need for a quality clamp, then this can be the perfect thing for you.
Let's get through the review to check whether it's worthwhile.
Features Of Clampzilla By Woodpecker
To find out what makes this clamp better than other clamps, you have to check out the features they provide. Below I will discuss all the features you can get on Clampzilla.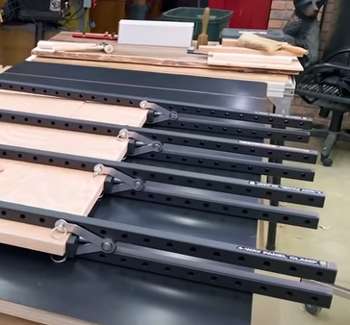 A common issue with clamping for any project is to get equal pressure from both sides of the clamp.
Not many clamps out there can pull this off properly.
However, with Clampzilla, you get two bars on each side of the clamping stock.
This feature ensures that the stock is centered correctly on the panel and has lateral pressure.
Because of the dual bars, the clamping process has equal pressure on the stock.
No one side gets overwhelmed. And unlike other clamps out there, you won't have to alternative your clamps top and bottom every time you work on a project.
This feature is convenient for getting in your clamps, making the clamping process less troublesome.
On Clampzilla, you can save up much of your money and time from the screws. Usually, when you use parallel jaw clamps, two clamps put pressure vertically, and two clamps keep it across the panel.
You will need to use four screws in total to handle those clamps.
Whereas, Clampzilla 4-way panel clamp can simultaneously pressurize the board horizontally and vertically right. And to put pressure, you have to work around with one screw.
With this, your worries about the glues sticking to the workpieces should fade away immediately.
How does it save money? Well, you are dealing with a single screw instead of four. So, it's cheaper to replace or fix when anything goes wrong.
Maintains Proper Alignment
One of the key values you get from Clampzilla is its capability of proper alignment. It can put pressure equally from both horizontal and vertical ends with dual bars on the stock.
This helps the clamps align your workpieces perfectly. You won't have any trouble with the alignment, and the results you get after gluing will be perfection.
Durable And Sturdy Construction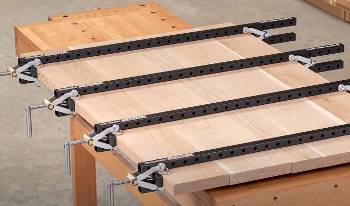 Well, I don't think I have to convince you too much about the durability factor.
Clampzilla has earned fame mostly because of the sturdy build it has got. The manufacturers ran the clamp through hardy tests to let it pass as a product.
Their threaded clamping screws are one of the best in the business. The screws can withstand about 6000 pounds of pressure before breaking or cracking.
And if you are into woodworking, then you already know how impressive it is with its build.
What makes this clamp so appealing is its easy-to-use facility. You must lay out the clamps based on the panel you are working with.
Then, you pull the pins on the tailpiece to open up the clamps. After that, you load up your stock and bring down the top bars. Finally, pop in the pins, and you are good to go with clamping.
You can get the whole thing done within seconds.
With this easy setup, you won't have to spend hours clamping and gluing your workpieces. You can do it right away and save a lot of your time doing other things.
These are some of the usual benefits or features you experience with Clampzilla. You can surely tell by now that it's not like the usual clamps you can find in the market. As a professional, you can get plenty of use from these clamps.
What Could Have Been Better With Woodpecker Clampzilla?
While the benefits are quite attractive and appealing, there are still some improvements that Woodpecker can try out. Here are things that could have been better on the Clampzilla.
Availability Can Be An Issue
One of the most annoying things about Clampzilla is its availability. You can't find these clamps everywhere. Also, you can't find them all the time.
Most of them are made to order. This means you will need to order them first, then they make it, and then you can get your hands on the clamps.
The idea of Clampzilla clamps is pretty great, without any doubt. But the pricing can be a bit expensive. Especially if you are a hobbyist or DIYer, then this might not be worth the money for you.
As a professional, you may get the proper value out of the clamps.
I think these are the only two factors that can make the clamps even better. As you can see, these aren't issues that significantly affect the clamp itself. But when you think of buying the clamps for your needs, these factors can become an issue.
Now, watch this video to learn how you can use it.
Conclusion
Wrapping up the Woodpecker Clampzilla review, I must say it's a very neat idea for a clamp. The results and performance you get out of this tool are amazing.
You shouldn't have any complaints or issues with the tool's effectiveness.
Who should get it?
Well, I would highly recommend any professional woodworker get this one because this will save up a lot of their time and speed up their work. As for DIYers or hobbyists, this is a bit of an expensive option.
Still, if you don't mind paying big bucks for the stuff, it's a worthy buy.