When choosing the cooling system for your home, you should not settle for something substandard. Quality, reliability, and brand value are the things you should look for. Airtemp and Goodman are such names in the market right now.
Goodman has more products in its Heat Pump segment than Airtemp, so you can choose from many options. But there are various other differences between these two heat pump manufacturers that you must know before concluding.
Let's dive deeper and explore them.
A Quick Comparison of The Two Heat Pumps
Here is a quick comparison table between Airtemp and Goodman Heat Pump units:
| | | |
| --- | --- | --- |
| Aspects | Airtemp | Goodman |
| Product Type | Split System Heat Pump | Energy-Efficient Heat Pumps |
| Available Designs | 2 Available Designs | 6 Available Designs |
| Special Feature | All Aluminum Micro-Channel Coil | High-Efficiency Scroll Compressors |
| Benefits | Offers Fewer Benefits | Offers More Benefits |
| Warranty | 10-Year Limited Warranty | 5-Year & 10-Year Limited Warranty |
| Price | $1347 and $2647 | $1280 and $6100 |
In-Depth Comparisons Of Airtemp And Goodman Heat Pump
Now that you have gained some basic ideas about these two Home Cooling brands, it's time to get into more details.
So, here are some key differences between these two brands: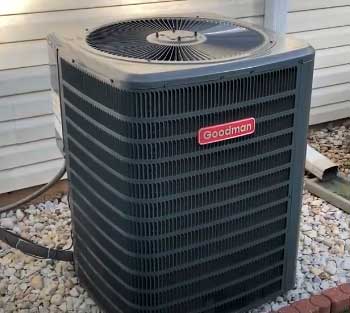 Airtemp offers split system heat pumps that deliver cool and refreshing air on hot summer days.
Similarly, you will get a warm environment across your house in the winter. It offers year-round comfort at a low cost.
The whole heat pump system is engineered and designed in a way that you will get reliable performance, and the low profile of this full-featured outdoor unit will perfectly fit your home.
On the other hand, with its big name, Goodman offers energy-efficient heat pumps that can provide year-round comfort to your home. It's time testing hot and cool technology, and durable materials make it an excellent choice for heat pumps.
Goodman has solutions for big and small homes. So, you can choose your heat pump based on your requirements. These heat pumps have all the necessary features to keep your home comfortable all year.
The number of available heat pump models is essential because it shows how many heat pumps are available and their sizes under each brand. Airtemp has only two models available under their Heat Pump line.
The models are 14 SEER/ 8.5 HSPF and 16 SEER/ 9.0 HSPF. You have to choose your Airtemp heat pump from these two sizes.
On the other hand, Goodman offers a lot of models and sizes for heat pumps, 6 in total. They are 21 SEER/ 10 HSPF, 18 SEER/ 9.5 HSPF, 16 SEER/ 9.5 HSPF, 16 SEER/ 9.0 HSPF, 15.2 SEER2/ 7.8 HSPF2, and, 15 SEER/ 9.0 HSPF. You can easily choose one from this long list of heat pumps that meet your requirement. 
Airtemp heat pumps represent a compact and low profile that blends excellently with any surroundings. You will get extra high efficient performance from these heat pumps.
Because of the metal wrapper around the internal components, the heat pumps have solid protection from any hazard.
Besides, the aluminum coil protects them from corrosion and makes them extra durable. You will enjoy a quiet operation for the lower sound system operation.
They are also environmentally friendly and meet Energy Star requirements in many categories.
On the contrary, Goodman heat pumps have high-efficiency scroll compressors. The compressor crankcase heaters are factory-installed and offer excellent performance during winter. These heat pumps come with high and low-pressure switches.
Apart from that, bi-flow liquid line filter drivers come factory-installed with these heat pumps. The SmartShift technology provides a quiet and reliable defrost performance.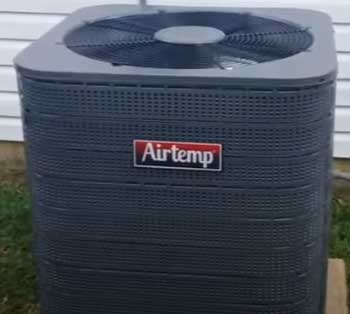 Since both brands are good in this sector and have earned a good name, you will get many excellent benefits from their products.
Let's see what these two brands have to offer.
Airtemp heat pumps are made of a composite base pan that can absorb sound and make the components corrosion-resistant.
The micro-channel aluminum coils make the heat pumps corrosion-resistant. Because of the one-piece design, you will get maximum airflow from them.
On top of that, along with durable and attractive cabinets, the heat pumps are compact and have a low profile. The demand defrost will reduce energy consumption by defrosting when necessary.
In contrast, energy-efficient compressors are designed to perform efficiently. So, you will be able to save a lot of energy costs.
The heat pumps come with a single-speed permanent split capacitor condenser fan that offers a consistent airflow at optimum performance.
The refrigerant of these heat pumps is always ready regardless of the external environment. Besides, you'll get reduced pass-through vibration noise from the compressors.
Warranty is very crucial for electrical compliances like heat pumps. It gives customers the confidence to commit to a brand.
Airtemp offers a 10-Year Limited Warranty on all the parts for its heat pumps. Apart from that, you will get a 1 Year Replacement Pledge in case of a failed compressor.
By contrast, Goodman provides a 5-Year Limited Warranty if the Heat Pump is not registered. However, the warranty term will be 10 Years if you register your Goodman heat pump within 60 days of purchase.
Price is another vital element in buying an air cooling system for the home, which helps people decide on a particular product. Average Airtemp heat pumps cost between $1347 and $2647. The price of these heat pumps depends on the model and size.
In contrast to Airtemp, Goodman heat pumps costs between $1280 and $6100. Since this brand has a lot of heat pump models, that's why the price range is big.
Which Heat Pump Will Be Best For You?
Since both brands make excellent machines, choosing one that gives you the maximum value might be difficult. No worries, I'm here to make things easy for you. According to customer reviews and professional opinions, Goodman heat pumps will be the best for you.
You can select many models and sizes based on your requirements. These heat pumps have excellent energy efficiency and will perform better overall.
Frequently Asked Question (FAQ)
Who makes Airtemp brand?
Nortek manufactures all Airtemp home comfort systems. It is one of the subsidiaries of this manufacturing company. Besides, all Airtemp products are exclusively marketed by R.E. Michel Company, one of the leading HVAC wholesale distributors in the USA.
Is Airtemp a good unit?
Airtemp is pretty good for home comfort systems. This brand offers high-quality air conditioners, heat pumps, etc. All these home comfort systems are high-efficient and offer excellent comfort. Besides, they are quiet and durable.
Who makes Airtemp AC units?
Airtemp manufactures many home comfort systems, including air conditioners, heat pumps, furnaces, air handlers, etc. Airtemp is a subsidiary of Nortek, and Nortek manufactures all its AC units.
Is Airtemp Made in USA?
Airtemp makes home comfort systems using reliable components and proven technology. All Airtemp indoor comfort systems are designed, manufactured, and tested in North America. As a result, the company can strictly maintain quality in every step of the manufacturing process. 
Final Thoughts
When it comes to choosing between Airtemp and Goodman heat pump, I believe you got answered all of your questions. I do not think you have any more confusion regarding the best heat pump machine for your home.
Since we're at the end of this write-up, I would remind you to go for Goodman heat pumps. I believe you won't regret this decision in the future. So, go ahead- do the right thing. Good luck!