A heat pump has become one of the most essential parts of the house. If you want to be comfortable in all types of weather, a heat pump is a must. A heat pump is mainly a heat transferable device that transfers heat from outside to inside or vice versa.
But choosing the right heat pump for your house is a tough task. To settle your confusion, we will talk about the differences between Airquest and Goodman, as these two are the most popular heat pumps.
Quick Comparison Between Two Heat Pumps
Comparison between Airquest and Goodman is not easy, because both have some amazing features and quality which made them popular and well known. However, some major differences I mentioned below will help you pick the right one for your residence.
| | | |
| --- | --- | --- |
| Specification | Airquest Heat Pump | Goodman Heat Pump |
| Product Variation | More | Comparatively Less |
| Cost | Expensive | Less Expensive |
| Professional Checkup | Requires less checkup | Requires more checkup |
| Features | More | Less than Airquest |
| Warranty | 10-Year Parts Limited Warranty | Without registration, 5-Year Parts Limited Warranty |
| Efficiency Ratings | ENERGY STAR certified, up to 19 SEER | ENERGY STAR certified, up to 21 SEER |
| Customer Review | Average | Positive |
Key Differences Between Airquest And Goodman Heat Pump
In this section, I will talk in detail about the differences between Airquest and the Goodman heat pump so that you can make the right decision on your own.
Variation of the Products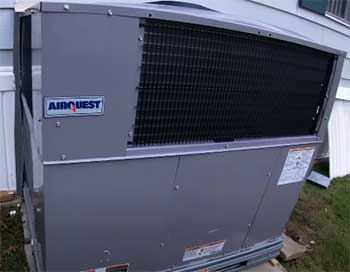 If you are the kind of person who wants to explore more before buying something, then Airquest heat pump is for you. It has a wide range of product variations.
Airquest has product variations under two series- the ion series and the performance series.
The ion series consists of heat pumps that are more premium. These heat pumps have the premium quality features like wifi capability, enhanced level of control, maximum comfort, etc.
HVH8 Ion™ 18 Heat Pump with SmartSense™ Technology, HCH6 Ion™ 16  Two-Stage Heat Pump; these two Airquest heat pumps are mainly included in their ion series.
Airquest's performance series is their budget-friendly series. HSH4 Ion™ 14 Heat Pump and HSH5 Ion™ 15/HSH6 Ion™ 16 Heat Pump – these two models are included in their performance series.
These two products lack some of the features of the ion series. The ion series has a summer humidity control two-stage compressor, but the performance series has only one or single-stage compressor.
On the other hand, Goodman does not have such a wide range of product variations with different features. It differentiates its products by SHEER (Seasonal Energy Efficiency Rating).
Their products start at 15 SEER / 9.0 HSPF Performance and go up to the models with 21 SEER & 10 HSPF.
The price of an electronic product mainly depends on the parts and technology that are used in it. Airquest heat pump has some advanced features in it, so the parts are also expensive. Its unit price is around $4,940, and parts or repair cost is around $250 to $600. Sometimes it can go up to around $1,700.
The Goodman heat pump is comparatively inexpensive. Goodman heat pump is popular for its better performance within the mid-range. Its unit price is around $4,000, and parts or Repair cost is $400 to $800 on an average, but it can go up to $1700.
So, from the comparison above, we can say that Airquest is almost a thousand dollars costlier than Goodman. Therefore, make sure that you consider this price range before buying the heat pump for your house.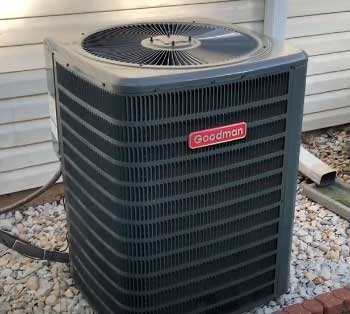 We all consider the peace of mind after purchasing large products, like a heat pump. Warranty is very important, especially for electronic products.
Airquest can give you the ultimate peace of mind after purchasing their heat pumps because it offers a 10-year parts limited warranty.
But the warranty method of Goodman is a little bit different. It offers you a 5-year parts limited warranty on purchasing their heat pumps, but if you register, it will offer you 10-year parts limited warranty.
You have to register for this offer by agreeing to some predefined conditions. Also, the registration should be done under 60 days if you want to enjoy the 10-year warranty.
Efficiency Ratings and Customer Review
Though Airquest has some amazing modern features, its efficiency rating goes up to 19 SHEER. On the other hand, Goodman successfully increased their efficiency ratings, and one of its heat pump models has efficiency ratings of 21 SHEER.
Goodman is also ahead of Airquest in the case of customer review. Since, Airquest has some advanced technology such as Wi-Fi capability and an enhanced level of control – these features sometimes malfunction after a long period of time, which leads to customer dissatisfaction.
However, the overall customer review for Airquest is pretty good and satisfactory.
Customer review for Goodman is noteworthy. Customers gave Goodman 4,600 five-star reviews, whereas the one-star reviews are very low- only 44.
Professional checkup is necessary for every complicated appliance. Goodman recommends taking help from a professional while installing and having your Goodman heat pump checked by a professional at least once a year.
Airquest has some unique features in its heat pumps. It has an advanced temperature control system which will give you the utmost comfort.
Other than that, it has superior summer dehumidification, a multi-speed fan motor for even temperatures, and communicating capability in its high-end heat pump.
Goodman has features that make it more durable. Louvered coil guards, factory-installed filter driers, and contactors with lugs help to increase the performance.
Which One Will Be The Best Fit For Your House?
There are no strict guidelines to follow when choosing a heat pump for your house. Rather you have to observe the pros and cons of your most preferable ones.
Airquest and Goodman both are good choices for your house. But if you want something simple yet performs better, Goodman is for you.
However, if you are the one who loves different features and technology in one product, Airquest is for you. Though you have to pay some extra bucks for this, you will get some additional attributes in Airquest.
Frequently Asked Questions (FAQs)
Who is AirQuest made by?
Airquest is made by International Comfort Products. Airquest is the subsidiary of this company. But most importantly, International Comfort Products itself is a division of United Technologies Corporation.
Is Goodman as good as Carrier?
Carrier heat pump is almost similar to Airquest in the case of their efficiency and price. Goodman heat pump is more budget-friendly than Carrier. Goodman's parts are also easily replaceable than the Carrier's.
Is Carrier and Goodman the same company?
No, they are not the same company. Goodman Manufacturing is an independent subsidiary of an American company name Daikin Group. On the other hand, Carrier is owned by United Technologies Corporation. Carrier recently announced that they are shifting their America-based manufacturing plant to Mexico.
Is Goodman as good as American Standard?
Although the heat pump compressor from Goodman has a longer guarantee, American Standard is more efficient if you want a high-end heat pump. Both brands are trustworthy.
Final Words
You need to be aware of the features and working capacity more closely if you're thinking about buying or updating your heat pump. You and your family may save money and energy all year long by choosing the right one.
Besides, you have to be careful about your budget also. We hope that the thorough analysis of Airquest vs. Goodman will help you to make up your mind and select the perfect fit for your home.