Do you want a gorgeous upgraded look in your kitchen, an elegant fireplace, or perhaps a dramatic change to your wall?
AirStone does the trick effortlessly, giving you the awe-inspiring transformation you wanted. I'm not trying to kill the buzz, but believe me; it's nothing but frustration with the wrong adhesive.
AirStone adhesive is undeniably useful and up to the task. Nonetheless, there are a couple of other substitutes that you can consider. After all, who doesn't enjoy having a list of options? I, personally, do!
Alternatives To AirStone Adhesive
Granted, AirStone adhesive is exceptional, but you never know! You might decide to switch things up a little bit. Here are the alternatives: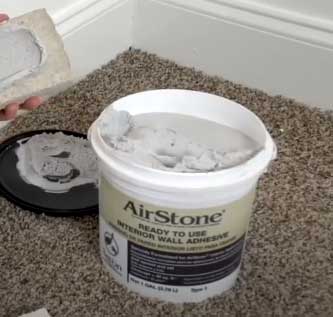 Latex Caulk
3M Double-sided Mounting Tape
Cement Board Tape
VersaBond Mortar
Polyurethane Caulking
Masonry Glue
Power Grab N Bond
Type N Mortar
Silicone Caulk
Thinset
Let's talk about them in-detail:
Latex caulk, or acrylic, is a water-based substance that provides great adhesion to stone and wood material. It is similar to silicone except that once it is cured, you can paint if you wish.
Moreover, you can remove dirt using soap and water instead of a chemical ingredient. It is applicable easily and seamlessly and has high resistance to chalking and cracking.
Latex is more convenient for internal operations, which don't involve constant exposure to moisture.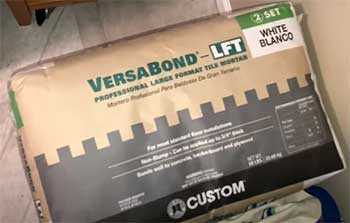 VersaBond is a powerful bond, an all-purpose product that works as an adhesive on walls and floors.
After spreading this mortar, give it time to dry so it can hold the AirStones.
VersaBond has increased stability, which provides long-lasting performance.
This mortar adopts SPUR technology that enables better elasticity. Also, it cures much faster compared to most products.
Due to high water resistance and strength, polyurethane is a perfect substitute for AirStone adhesive. The single-component substance is flexible and versatile enough to provide excellent results on walls.
Polyurethane caulking is durable and can hold stones without wearing them out for long periods.
The name itself hints at where I'm going with this product. Masonry glue is designed to work marvelously on stones. Simply grab your application gun, and you're ready to go!
The process is short and easy. Before anything, make sure the surface is dry. Once the glue has fully cured, use a utility knife to remove the adhesive.
One of the greatest benefits of this item is that you never have to worry about sagging happening so long as it has completely cured.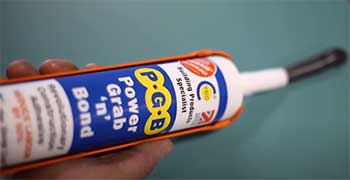 Excellent fungal resistance, zero shrinkage, and minimum skinning time; are all the amazing features you can enjoy with Power Grab N Bond.
This moisture-free adhesive ensures versatility and a firm grab followed by phenomenal performance.
With this product, the surface to be applied doesn't have to be dry. You can also apply it on wet surfaces and still achieve optimal results.
This remarkable adhesive alternative features tribrid polymer technology that provides extremely powerful bonding.
Another multi-purpose adhesive substitute you can use is Type N Mortar. This product mix encompasses sand, cement, and lime. This mortar type is perfect for all weather conditions and extreme temperatures.
It's used as glue to join stones, bricks, and other components. The installation process is fast, hence saving a lot of time. Type N Mortar comes with extra strength and longevity.
Due to its impressive strength of 750 PSI, there are reduced risks of cracks and spalling.
A silicone sealant is a gel-like, powerful, commonly used in home improvements.
This caulk is designed to be flexible and excellently stable during hot and cold temperatures.
It's highly durable and does not risk peeling or distortions.
This product has excellent moisture resistance, hence very convenient and fit for AirStone.
Unlike other adhesives, when applying silicone caulk to the AirStones, ensure it cures to the last bit. By cure, I mean fully let it dry if you want it to stick firmly to the wall. Absolutely worth a try!
This is an alkali-resistant tape that works magic when sticking AirStones. It is made of fiberglass, an added advantage since it increases its resistance to cracks.
Cement tape is super affordable and very easy to apply. You don't need to worry about spending money on labor. Good news; you can do the process by yourself.
What's more, the tape has insane resistance to shrinkage and tears. Before you place the tape, ensure you have removed the initial material on the surface.
3M Double-sided Mounting Tape
3M is a heavy-duty, waterproof tape that you can use as an adhesive for your AirStone installation. The item has pressure sensitivity on both parts, enabling gluing without visible fasteners.
The self-sticking mechanism offers maximum convenience and is less time-consuming. Due to the in-built foam core present, a perfect balance between conformability and sturdiness is maintained.
In addition, the product application is user-friendly, so don't worry if you try this out for the first time.
Another product you can try out is a thin-set. But first, before applying it, ensure you thoroughly scrape off bumps or rough edges from the sides of the stone till you get a smooth surface.
However, you don't have to sand the back of the stones since the dust will negatively impact the sticking process.
Once that's done, you can move to the installation part. Begin at the ground position and work horizontally. A major pro of thin-set is its affordability and availability.
Do you need this binder?
Good tidings; you can get it whenever and wherever.
Is AirStone Adhesive Worth A Try?
Yes, yes, and yes! The quality, durability, reliability, and performance of AirStone adhesive are over the top. But hey, it doesn't hurt to be open to new possibilities and substitutes because every product has an upside and a downside.
Again, I'm rooting hard for stone adhesive, but the ultimate choice is yours. Based on the attributes of the different products, where do you stand?  
Frequently Asked Questions (FAQ)
Can you use thinset on AirStone?
Yes, you can. But first, you have to scrap off any bumps that might be present on the stone. Also, avoid sanding the back side because the dust hinders the adhesion process.
What is the best adhesive for a stone veneer?
SRW Lock adhesive is powerful, durable, and works like a charm on stone veneer. The technology put in place is at full capacity to vertically lock your stone in a matter of seconds.
Can AirStone be applied over drywall?
AirStone can easily and efficiently be applied on drywalls and other surfaces, including bricks and concrete. For accurate results, begin the application at the corner and tightly put the stones together.
How do you attach AirStones?
Apply a layer of adhesive at the back of the stones using a putty knife for proper spreading. Then make sure you evenly and gently press the stone to distribute the adhesive.
Closing Remarks
There you have it! AirStone adhesive alternatives are put in one piece. As I said, the adhesive is a good choice, but only restrict yourself to one option if you are utterly content with the results.
The significant features to look at in your adhesive are durability, strength, performance, quality, and the installation procedure. The boring era is over; get that banging wall using AirStone adhesive or its alternatives.
Remember, every day counts, so don't waste a second!