Whether you're building a DIY subfloor or want to recommend the best to your closest pals, the tug-of-war between AdvanTech and DryMax has always been a nail-biter. Even for professionals who know very well about subflooring.
So yes, we've all been there. But allow us to clear the air. This article will discuss the similarities, features, and differences between the DryMax and AdvanTech subflooring. By the end, you will know which product to invest in.
So, let's dive in!
A Quick Comparison Table
| | | |
| --- | --- | --- |
| Specifications | AdvanTech | DryMax |
| Additional Sealing & Painting Coats     | Not needed but applicable | Not needed but applicable |
| Protection | Moisture-resistance | Moisture-resistance |
| Adhesive | Present | Present |
| Sanding | Not needed | 500-day no sanding guarantee |
| Nail-holding power | Excellent | Good |
| Durability | Excellent | Great |
| Construction | High-density, fastener-holding, groove-profile, high-precision tongue, non-visible seams | Single-layer, tongue and groove, clear edge seal |
| Non-squeaky feature | Effective | Good |
| Stiffness | High-strengthening | Strengthening |
| Installation | Easy, not quick comes with guidelines | Easy & quick, comes with guidelines |
| Warranty | Lifetime | Lifetime |
Key Differences Between Advantech And DryMax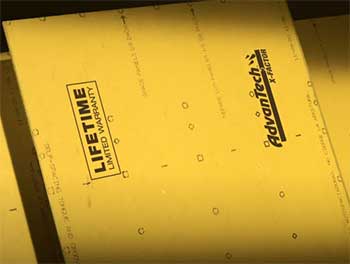 Well, this feature can be a huge hit or miss. Generally, the AdvanTech subfloors come with specific oil-based primers with latex or oil top coats or stains.
But there's no denying that you can apply a stain or paint if needed and according to your preference.
Usually, with the DryMax OSB grade, it's no different, either.
However, most users still go ahead with additional top layers of paints and stains simply to enhance the appearance.
And hey, if you get ahold of good quality top coats, they might last a long time too, so it's a win-win! Protective Features
Thanks to thoughtful manufacturers, the Drymax subfloors have intricate designs with moisture resistance. Since the subfloors have water and moisture-resisting properties, they can actively and consistently prevent issues like edge swells and thickness throughout their lifetime of service.
So, you know you're putting your money in the right basket.
Moreover, the design also has a transparent edge sealant that prevents moisture intrusion and avoids time-consuming and costly sanding and joint repairs. Luckily, Advantech isn't far behind in this game.
Their construction comes with a great combination of nail-holding power, which meshes well with moisture-resisting technology.
These two work together to make the product incredibly long-lasting. Moreover, Advantech doesn't allow any squeeze-in points for moisture or water either, as they come with robust panel-to-joist connectivity and sturdy adhesive for even greater security.
The Advantech subfloor beats most of its contenders due to its absolute sturdiness. Their high-density, engineered, strengthening wood comes with unparalleled stiffness and durability.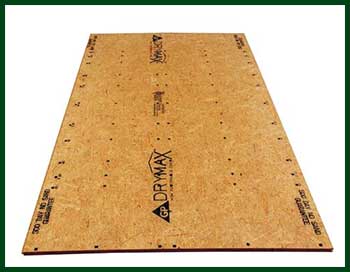 Moreover, rest assured you will get a quiet and flat floor after installation because of its fastener-holding capacity like no other.
Let's face the horror of a squeaky floor; we've all been there but thankfully, not anymore!
Furthermore, the high-precision tongue, groove profile, and sanded flooring ensure firm placement along with the possibility of eliminating seam visibility.
The floors also feature structural integrity with their natural stone usage, which minimizes the risks of cracks and promotes preservation.
On the other hand, Drymax has a single-layer flooring and panel that goes beneath the pads, carpets, or hardwood floors. In terms of strength and stiffness, it comes close to the Advantech subfloors.
This is also where their best-known feature, moisture resistance, becomes more excellent play as it enhances the subfloor's overall durability.
Drymax knows that most users feel overwhelmed with installing their subfloors, especially if it's a DIY project. But, they have solved that stress for the users just in cue with their easy and speedy installation process.
Drymax subfloor products come with fastener printed guidelines that aid users in installing the product in no time and with zero hassles.
On the contrary, Advantech's installation is also made more straightforward with its groove profile and precision tongue, which also arrives with a patented fastener guide. It's as easy as it can get, but you can also avail professional help and assistance from their website and customer service.
According to a loyal user of Advantech, it's 'flat out the best,' and that remark speaks volumes about the product's nature and service. The reviews and aftersales experience of Drymax are no different, as it's hugely moisture resistant and long-lasting.
Moreover, both products come with a lifetime warranty, and that promise is kept throughout.
Which Subfloor Is Better For You?
Let's sum up this discussion and deliver our final thoughts. Which product is the best fit for you?
Well, the best solution would be Advantech, and here's why. Users love to enjoy investments that last longer than expected, and with Advantech, consumers get that bonus benefit no matter which of their models they invest in.
Moreover, Advantech promotes unparalleled durability, longevity, stiffness, and quiet flooring systems that are tough to recreate. For the price point, you will not only acquire quiet floors but one that will require no frequent adjustments, fixes, or top layers.
On the other hand, if you're still eyeing Drymax and can suffice with above-average quality subfloors and definite guarantees, the company will serve you well. Although it's a tad notch below Advantech, it's still a satisfactory investment that will last longer than expected.
Frequently Asked Questions (FAQ)
What's the best subfloor material?
The best subfloor material is plywood, which has been since 1950—the best preferable choice by contractors and the 3/4″ tongue and groove plywood.
Which is stronger AdvanTech or plywood?
Advantech is known to be more robust due to its consistency in plywood quality, moisture resistance, and high durability.
Is AdvanTech stronger than OSB? Advantech comes with proper manufacturing precision, and resin technology thus contributes to higher protection and performance.
Is it OK for AdvanTech to get wet?
Advantech is constructed to withstand and resist extensive exposure to moisture and water with its 500-day, no-sanding warranty.
Conclusion
Let's get real; there's nothing more frustrating than a squeaky floor, whether for a quick trip to the fridge for some ice cream or general walkabouts. Luckily, from this AdvanTech vs. Drymax discussion, we have a clear winner in eradicating this issue.
The Advantech subfloors have much more to offer in terms of performance, durability, and long-lasting service. Of course, there's no denying that the Drymax floors are great too, but Advantech takes the winning cup just by a smidge.